"If it looks like a rat and smells like a rat, by golly, it is a rat" - Terrel Owens
"It is only when the tide pulls back do you see who is naked" - Anonymous
"Toto, I've a feeling we're not in Kansas anymore" - Dorothy
If early 2014 has taught us anything, it is that we are in a completely different market mindframe than we were in 2013...especially as it relates to biotech stocks. As the biotech market undergoes this "correction" and euphoria wears off, we are finding out quickly who is for real and who is not. I feel that the 3 quotes listed above best capture the current environment, and are especially applicable to the stock I am writing about in this article.
TherapeuticsMD, Inc. (NYSEMKT:TXMD) is one that I have kept an eye on recently for a variety of reasons. Given its close proximity to the technically and psychologically important $5 level, I am focusing on it (among a basket of other trading strategies) closely, as a big move appears to be imminent.
In situations like this, I tend to resort to Miss Cleo for her insight as to where a stock is headed in the near term. She did absolutely nail her calls on GALE and PRAN recently, but she was way off on the MNKD advisory panel…so I figured another method might be more appropriate here. Unfortunately, I couldn't find my magic 8 ball, Jeeves is now retired from the Q&A game, and all the world's supply of Ouiji boards are being used to find the Malaysia Airline Flight 370 plane.
So I did the next best thing and reviewed the history, charts, and features of stocks with similar characteristics to TXMD and decided to develop some sort of formula or checklist.
A couple of company 10Ks, and a little bit of detective work was all it took before I realized that the next move for TXMD is very, very obvious.
The points that I bring up in this article are fundamental, significant red flags and there are numerous cases of stocks to pick from who exhibit(ed) these "qualities"…as well as a significant decline in share price.
The Formula
X= (A+B+C+D+E)*i
where:
A= a stock and company with a convoluted history filled with a questions
B= a company who boldly proclaims to have a billion dollar market opportunity despite numerous obstacles
C= a company that pays for its stock to be promoted and pumped
D= a stock that makes a parabolic move upward in a relatively short timeframe, despite no apparent fundamental reason
E= significant insider selling by multiple individuals
i= the degree to which a near term, unaccounted event could escalate selling in the stock
Let's see if TXMD exhibits any of these features
1.) Have a shady, convoluted history filled with reverse mergers, shell companies, and a slew of company executives who have "interesting" pasts. (Another stock example: VEND)
TXMD was incorporated as a Mining Company, and remained that way for over 100 years until 2008 when a series of "shelling" and acquisitions began. The company's 10K describes it well:
"On October 3, 2011, we changed our name to TherapeuticsMD, Inc. On October 4, 2011, we closed a reverse merger with VitaMedMD, LLC, … We were incorporated in Utah in 1907 under the name Croff Mining Company. Prior to 2008, Croff's operations consisted entirely of oil and natural gas leases. Due to a spin-off of its operations in December 2007, Croff had no business operations or revenue source and had reduced its operations to a minimal level although it continued to file reports required under the Securities Exchange Act of 1934, or the Exchange Act. As a result of the spin-off, Croff was a "shell company" under the rules of the Securities and Exchange Commission, or the SEC. In July 2009, Croff (I) closed a transaction to acquire America's Minority Health Network, Inc. as a wholly owned subsidiary …On June 11, 2010, we closed a transaction to acquire Spectrum Health Network, Inc. as a wholly owned subsidiary…"
The reverse merger was made effective on October 4th, 2011 and involved a significant exchange of common stock. At the Effective Time, all outstanding membership units of VitaMed were exchanged for shares of common stock. In addition, all outstanding VitaMed options/warrants were exchanged and converted into options and warrants for the purchase of common stock. Essentially, the aggregate result was 70,000,000 shares being exchanged and in the hands of a select few. More on this later…
These are very important points to bring up because it these types of companies are notorious for having management teams and insiders who have worked together before in some capacity. Rather than rehash information that is available elsewhere, I will encourage everyone to check out this great article by Street Sweeper for more information and detail on TXMD, including the effect recent insider sales had on the stock performance.
Verdict: YES
2.) Have a business focused on the development/sale of products that already exist and/or offer no therapeutic advantage to existing products…BUT make sure it can be proclaimed as being a MULTI BILLION DOLLAR MARKET opportunity so investors will be able to justify paying for the stock (examples: BPAX, AMRN)
Reading through the TXMD SEC filings consisted of an outlandish proclamation soon followed by a statement expressing concerns. Specifically, some of the quotes from management about the market opportunity were laughable to say the least, and something that a reputable, legitimate company would never do. In the first 4 introductory pages of the latest 10K, the company uses the word "billion" in 12 different instances (see the 10K HERE).
I never thought I would find myself saying this, but this is actually on par (and possibly worse) with the infamous Amarin Joe Z quote: "If you offer me $15 a share, I am waiting," Zakrzewski said in a phone interview today. "If you offer $30, $40, $100 it's a different story. There is a lot that can happen and the situation is very fluid."
Upon writing this article, I became thoroughly disgusted with this company and the fact that they are actually trying to run HRT despite numerous studies showing the correlation to an increase in breast cancer, among other risks. Numerous studies have concluded that HRT risks DO NOT outweigh the benefits.
Here are some quotes/statistics:
From Livescience.com: "In 2002, a trial looking at the effects of estrogen and progestin therapy was stopped after 5 and a half years, when researchers found the treatment increased the risk of invasive breast cancer by about 25 percent."
From the NEJM: "In summary, the increased risk of breast cancer associated with estrogen-plus-progestin therapy declined markedly soon after discontinuation of the therapy and was unrelated to a change in the use of mammography. This finding supports the hypothesis that the recent reduction in the incidence of breast cancer among women in certain age groups in the United States is predominantly related to a decrease in the use of combined estrogen plus progestin."
Unless TXMD has a novel approach that is not only more efficacious than current treatment, but also solves the safety risks, then I assign a less than 5% chance that any of their "products in development" will ever come close to hitting the market. I personally have a hard time believing that these guys would be the ones to crack the code either. Additionally, the FDA has made it clear their current stance on "bioidentical" hormone therapy (this applies to one of their formulations in phase III trials). From the FDA's wesbite

IF, TXMD does in fact proceed and continue on with all 3 phase III trials, they will need to raise a significant amount of capital. According to various data, the current cost of large phase III trials averages at least $45,000 per trial. The company says it best in their 10K:

That leaves TXMD's other "business"… distribution/manufacturing of generic nutritional products/vitamins. This business generated net revenue of less than $10M for FY13, less than 50% of the company's SG&A expenses. I'm stating the blatantly obvious here, but nutritional supplement/vitamin distribution is an extremely low margin business and offers very, very little in terms of growth prospects.
From a stock valuation perspective, a PE ratio for these types of companies is historically in the mid/upper single digits. I'll be generous and say that TXMD can grow this business at 20% a year without having to do a major cash raise. There is almost 0% chance of positive earnings even 5 years out, so I'll use a P/S multiple. At 20% YOY growth, and a RIDICULOUS 10X Sales multiple, the companies market cap would be ~$250M (that of course is making a bold assumption that they don't raise capital and dilute).
To top it off, the company's patent protection is essentially non-existent.
Verdict: YES
3.) Capitalize on a quasi-bubble in small cap biotech by paying to have your stock promoted by the likes of The Dream Team Group and other "investor relations" firms (EXAMPLE: GALE)
It is blatantly obvious that the stock promoting over the last 7 months has been the primary driver for the upside move in TXMD. I think the following screen captures and short captions tell the story as best possible.
I really think that I can get this point across by simply posting some screenshots and posting captions.
MISSION IR= The DREAM TEAM GROUP= Lawsuits and an SEC Investigation into GALE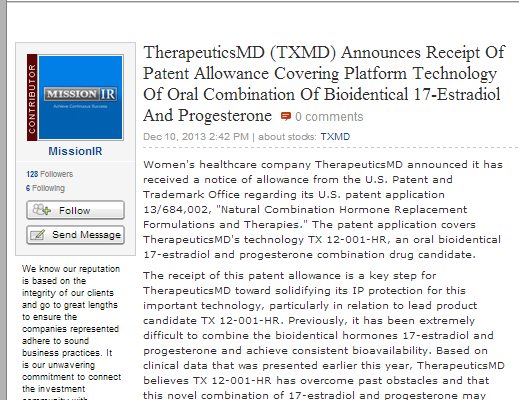 AKA: "Our client, TXMD, paid us to say nice things about it so we are obligated to"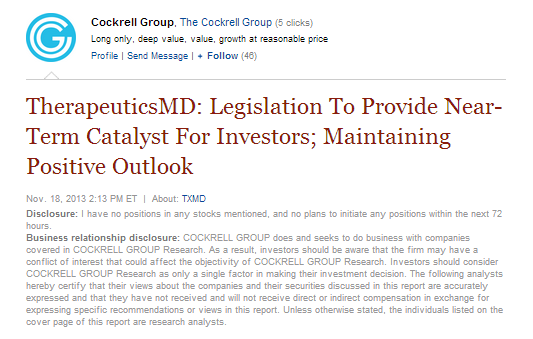 This promotion piece caused a 20% move in 5 days. It has since been taken down

Mark Ahn wishes he used Draco instead of the DTG. Draco is DTG on steroids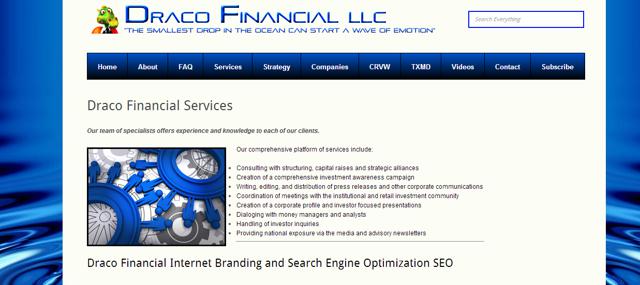 Verdict: YES
4.) Have a stock that makes a 200%+ parabolic move up within a matter of months for no logical or underlying fundamental reason (EXAMPLE: PRAN)
In mid-August 2013, TXMD was a $2.00 stock…7 months later it was up over 300% at its peak. As the chart below illustrates, TXMD formed an ascending channel on its way up, and is now trading in a descending bearish channel on the way down. Unfortunately for TXMD longs, the basic law of gravity is in full effect here, and what went up is now coming down.
It doesn't take a technical analysis guru to recognize the importance of the $5 level. I predict that level will soon be reached, and the subsequent targets will be also reached (as marked by the blue arrows).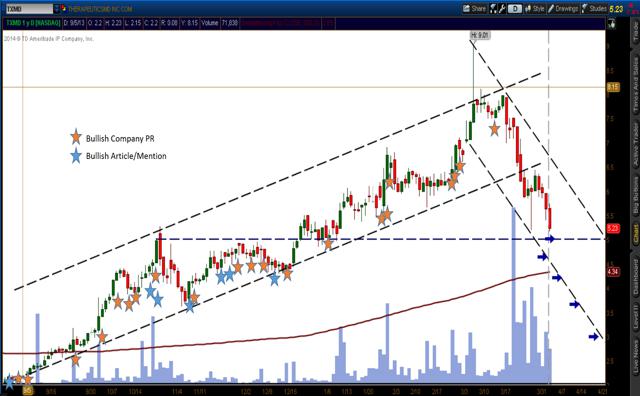 Verdict: YES
5.) Massive insider selling that marks the beginning of the end of the parabolic move
This is cut and dry….the insider selling has been significant as of a late, while insider buying has been non-existent. For a more extensive view of the insider transactions, you can go to this site.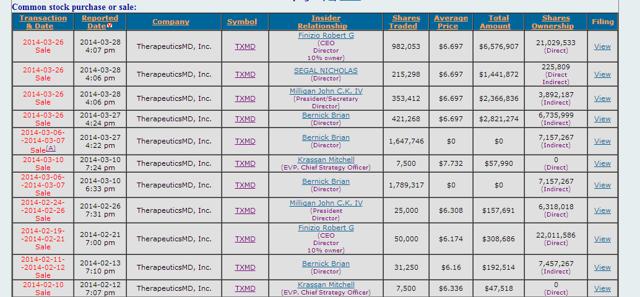 This only paints part of the insider selling picture though.
Verdict: YES
i.) Supplements which could escalate nearterm downside
Imminent expiration/termination of a lock up agreement
Remember the lock up agreement I mentioned earlier…well, as of 5:00pm on April 4th, it is terminated.
70,000,000 shares are now free to be sold for the first time since 2011. Given the urgent, significant desire shown by insiders to hurry and sell "before it's too late"…I anticipate some heavy sell volume coming in very soon.
"As required by the terms of the merger agreement with VitaMed dated July 18, 2011, we entered into Lock-Up Agreements with stockholders covering the aggregate of 70,000,000 shares of our Common Stock issued pursuant to the merger or reserved for issuance pursuant to stock options and warrants. Each stockholder agreed that during a lock-up period from the date of the lock-up agreements until 18 months thereafter they would not make or cause
any sale of our common stock. After the completion, each stockholder agreed not to sell or dispose of more than 2.5% of the stockholder's aggregate Common Stock or shares reserved for issuance under stock options and warrants per quarter over the following 12-month period, or the Dribble Out Period. Upon the completion of the Dribble Out Period, the Agreements will terminate."
So the vast majority of any potential stockholder selling was prohibited for a period of 30 months starting October 4th 2011. If I am adding this up correctly, the lock up agreement officially terminated after this past Friday, April 4th. This is easily the biggest negative near term catalyst for TXMD, especially after seeing how the stock has been punished as a result of the "minimal" recent insider selling. The company warns of this in their 10K:
"The market price of our common stock may be highly volatile, and you could lose all or part of your investment.
The trading price of our common stock on NYSE MKT is likely to be volatile. This volatility may prevent you from being able to sell your shares at or above the price you paid for your shares. Our stock price could be subject to wide fluctuations in response to a variety of factors, which include the following:
increases in our common stock available for sale upon expiration of lock-up agreements"
While the "IPO Lock-up" Myth does exist in today's market in many instances, this lock-up termination is much, much different in my opinion. I believe any sort of significant insider selling volume will be devastating to the stock price.
Summary
TXMD has all the signs of a pump and dump company. Couple that with the termination of the reverse merger lock-up agreement, and an amazing opportunity exists to capitalize on the imminent downside in the stock. Additionally, individuals who are long TXMD shares should strongly reassess their positions at this point, as a lack of near term catalysts and an imminent capital raise will create additional downside pressure.
In the coming weeks I plan to conduct more due diligence into this name and gain some insight some industry experts in the fields of forensic accounting. I also plan to potentially submit some of my various findings to the SEC as a complaint/tip into potential securities laws violations.
TXMD combines the worst qualities of names like GALE, VEND, AMRN, and PRAN. And as a result, along with other numerous reasons mentioned in this article, I feel there is 50% near term downside. In the long run, TXMD appears to be a quality terminal short candidate.
Disclosure: I am short TXMD. I wrote this article myself, and it expresses my own opinions. I am not receiving compensation for it (other than from Seeking Alpha). I have no business relationship with any company whose stock is mentioned in this article.