Buying Gold as Insurance?
Insurance against what? Insurance against a market sell off? Insurance against inflation or the end of the world? If you are holding 10% of your portfolio in Gold or the (NYSEARCA:GLD) as insurance, you really ought to have an answer to these questions. In decades past Gold was seen as a safe haven. A store of wealth that is unaffected in times of recession, currency devaluation or some other mythical nightmare scenario. I no longer believe this tried and true philosophy is entirely accurate. I also believe that the idea of taking a loss as insurance is also folly.
So why is the philosophy no longer accurate? I believe that the nature of gold itself has changed. It is still a base metal and a member of the periodic table; that is not what I mean. I guess I meant that its value to us has changed. If we go back in history to the early 1900s gold had very few uses, it was hard to obtain and was worth a lot of money. Fast-forward to today and most people own more gold in the form of technology than they ever would have done in the 1900's. It is now relatively easy to extract and as a result is of less value to us. Gold has not even kept up with inflation over the last 100 years, a fact which is often cited by gold bugs as a reason to be long. Gold actually has a thousand more uses and should be considered a commodity just like Aluminum. It is interesting to note that before about 1900 and prior to the invention of electrolysis, Aluminum was much more valuable than gold. It is only because of technological innovation that aluminum has become so common place and inexpensive.
It is also because of technological innovation of other kinds that gold has not kept pace with inflation. The same technological innovation has increased demand and the number of uses for gold and yet we still have not kept pace with inflation. In fact the average home dose a better job of keeping up with inflation than gold does. In an inflationary environment equities should always do well. The companies they represent are the printing presses of the economy and should be unaffected by inflation. They will just produce more dollars. For example;
If the price of corn goes up due to inflation, General Mills just increases the price of cereal to compensate. This in turn translates into higher earnings and a higher P/E and then a higher price for the stock. As long as a company has positive earnings, it will just produce more dollars to compensate for the fact that the dollars are worth less.
So using gold as insurance against inflation may be pointless.
During a market sell-off, there is always the traditional flight to safety. The dollar gains strength and there is an increased demand for gold. Why this happens, I have no idea as it should be counter intuitive. There is a well documented inverse correlation between Gold and the USD. As the dollar gains strength gold becomes cheaper in dollar terms. The days on which Gold and the dollar trade in the same direction should be treated as an aberration, kinks that will get worked out over the coming months. It is true that the frequency of these occurrences has increased over the last 20 years or so, and will probably continue to increase as we find ever more uses for the yellow metal.
So gold as insurance against a market selloff is limited by dollar strength and may be only temporary.
I guess that brings us to a recession. During the last recession consumers did not stop buying technology. They would give up a lot of things like eating out, but still had to have the latest smartphone. Does this mean we should consider these industries to be recession proof? I think it is still a little early to tell. Will people react differently in a subsequent recession? I may be the wrong person to ask as my cell phone has more than 2 buttons. I do know that demand for jewelry went down, but that is a very small part of the global gold market. I would imagine that in a bad enough recession we would see demand for gold in its many industrial uses dwindle. If demand dwindles it generally has a negatively affect price, unless you cut supply.
So finally we come to some sort of crisis in the dollar. Due to the inverse correlation between gold and the dollar, gold would act as a decent form of insurance against uncertainty in the US dollar. Unlike a normal inflationary environment which is predictable, a crisis in the dollar could cause problems for the companies behind the stocks. Many other things would also do well including most foreign currencies. So why choose gold?
If not gold, what are the alternatives and why are they a better choice?
The Alternatives
As I said in the last paragraph, almost all foreign currencies would do well against the dollar. The most obvious time to buy them would be during periods of dollar strength, while there is a sell off underway. Forex trading is not for everyone and can also be risky. You cannot hold foreign currency in your 401K
So what to do?
There are always the ETFs. Emerging markets are always a good source of growth. During times of dollar weakness these ETFs should always gain in value and as such are a good hedge against inflation fears and dollar uncertainty. We have all heard the term BRIC countries. For over a year now I have preferred the CABIs; China, Africa, Brazil and India.
Most of you will know just how hated and unloved Brazil has been for the last 2 years. The country has seen around 18% currency devaluation to the dollar. The Brazilian ETF (NYSEARCA:EWZ) has two banks in its top ten holding and between them they make up about 14% of the total fund. It should be safe to say that they should not have had a good 2 years.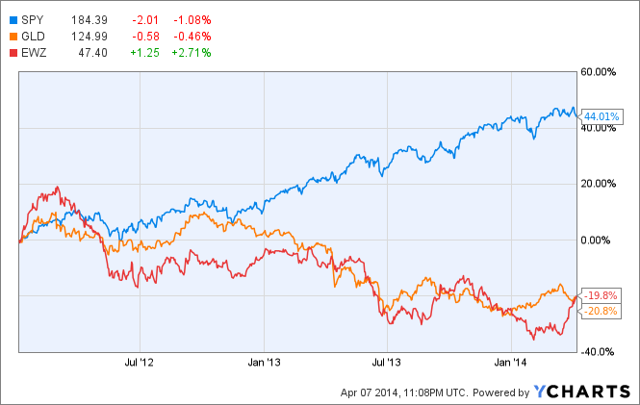 SPY data by YCharts
I will use the (NYSEARCA:SPY) to represent the S&P500 in all of my charts to act as some sort of market comparison.
So over the last 2 years on average the GLD has outperformed EWZ. They are currently sitting in exactly the same position about 20% down. However, this does not take into account the 3.6% yield that the Brazilian ETF pays in the form of a semiannual dividend. Once you include the dividend Gold comes in second. It is however still a loss and you would still be paying for your insurance and that is not good enough. The trouble with any ETF is that you are getting a basket of shares. You take the good with the bad and you don't have to do much research. Picking a winning stock in Brazil is the same as picking a winning stock here in the USA. As we are looking at this from the insurance point of view let's stick to nice stable industries like Utilities, Healthcare, Pharma or Banking. With the currency devaluation going on you would imagine that the two banks have suffered. You would expect them to have underperformed the rest of the ETF, especially if you look at them in terms of their ADR.
ITAU UNIBANCO HLDG SA (NYSE:ITUB) is the funds #1 holding, Banco Bradesco Sa (NYSE:BBD) is #4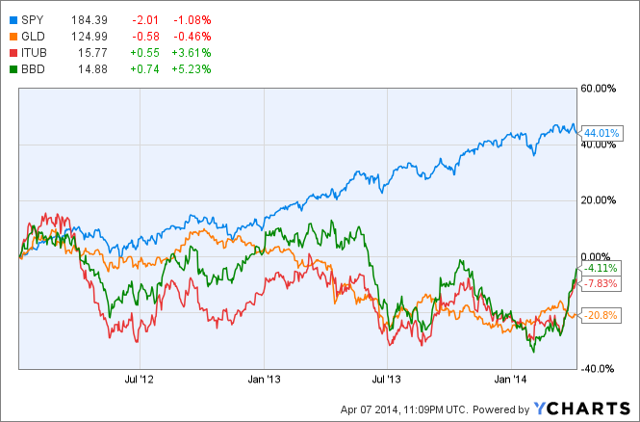 SPY data by YCharts
As we can see both have outperformed the EWZ and are near flat over the last 2 years. Once you include the dividends Itua Unidanco 5.2% yield and Banco Bradesco 7.5% yield you start making some money. Now that is cheap insurance. Remember that this is during a climate that should have been the worst possible for both of these banks. I prefer BBD for a number of reasons, but the 7.5% yield certainly helps. At the end of January I released an Instablog about going long during a time of dollar strength as the ADR was going on sale. This was also a theme I covered in my article Quick Picks for 2014.
So let's take a look at the other countries in turn.
China (NYSEARCA:FXI)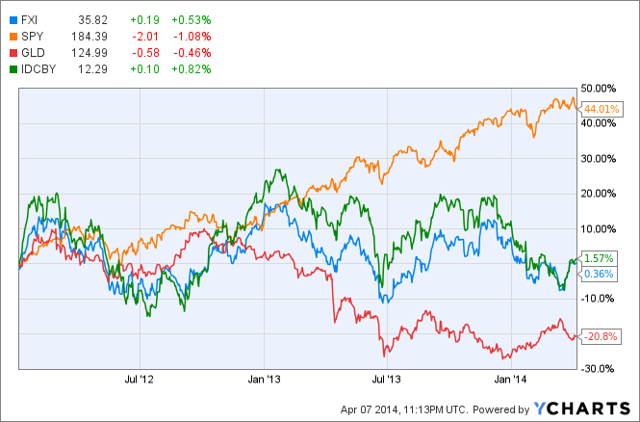 FXI data by YCharts
Again when picking an ADR here I ended up with a bank. Industrial And Commercial Bank Of China Ltd (OTCPK:IDCBY) in addition to the stock performance above you can expect a 6.37% yield.
India (BATS:SMIN)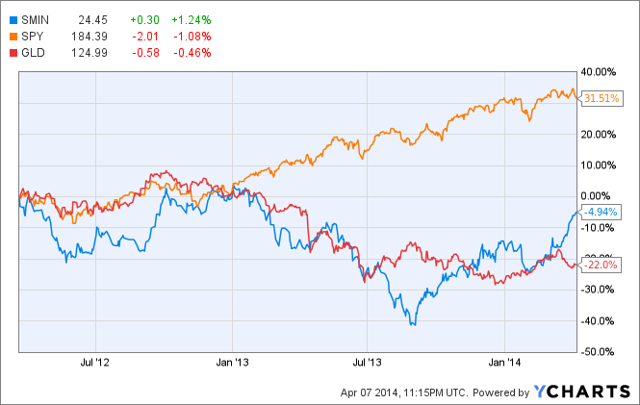 SMIN data by YCharts
Very new ETF relatively. It has had some decent gains from the lows. So far I have been unable to find an ADR I am comfortable with.
Africa (South Africa) (NYSEARCA:EZA)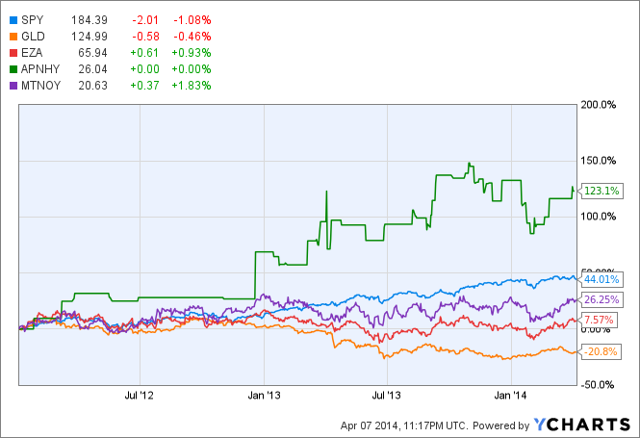 SPY data by YCharts
Looking at the performance of the ETF you should be able to see why I prefer Africa to Russia. I would note that once again picking an individual ADR would have served you better. In this ETF there are two I would consider: #2 in the fund's holdings is Mtn Group Limited (OTCPK:MTNOY) a solid telecommunication company with a 7% yield and
#8 in the fund, Aspen Pharmacare Holdings PLC (OTCPK:APNHY) only yields 0.6% but growth makes up for it a weak dividend in this traditionally defensive sector.
If emerging markets are a little too risky for your taste there are always alternatives. In a real dollar crisis the Euro would probably do very well as a default currency. I recently covered Abengoa (NASDAQ:ABGB) as part of my Eco Friendly series. It is a renewable energy, construction/ engineering, utility company based out of Spain. It also has the benefit of exposure to all of the markets listed above through various projects it either owns or operates. In addition they have a growing presence here in the USA.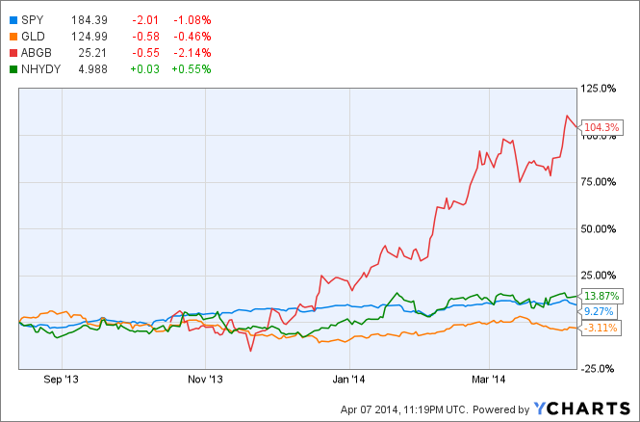 SPY data by YCharts
If you Like Europe outside of the euro, Norsk Hydro (OTCQX:NHYDY) based in Norway, is another alternative that I also covered as part of my Eco Friendly series. Think of them as a more environmentally friendly Alcoa Aluminum (NYSE:AA). I will also point out that Norsk Hydro is due to release earnings at the end of the month.
Conclusions
I am not saying that you should not hold any gold in your portfolio. I am saying that in many cases 10% is perhaps too much. Diversification is a key concept here, not only in industry and sector but also in the underlying currency. Do not end up with 5 banks from across the globe. Do not end up with 5 diversified industries from a single market.
You should have noticed, with the exception of Abengoa, that every one of the ADRs and ETFs were green today, on a down day for the market. In many instances, ADRs can provide the same protection that many investors look for in gold. In a variety of situations they will outperform gold while you are waiting. The time to purchase and gain the greatest effect is generally during a market down turn or at times of excessive dollar strength relative to the local currency. They have the advantage of being easy to hold in tax preferred accounts.
There are plenty of other options aside from what I have listed here. I chose them because in many cases I have already completed an article about them. There is nothing to stop you finding your own, just make sure you do your homework. With that said, I will leave you with the track record from the bottom of the last sell-off, March 2009). It speaks for its self, more so once you add in the annual dividends.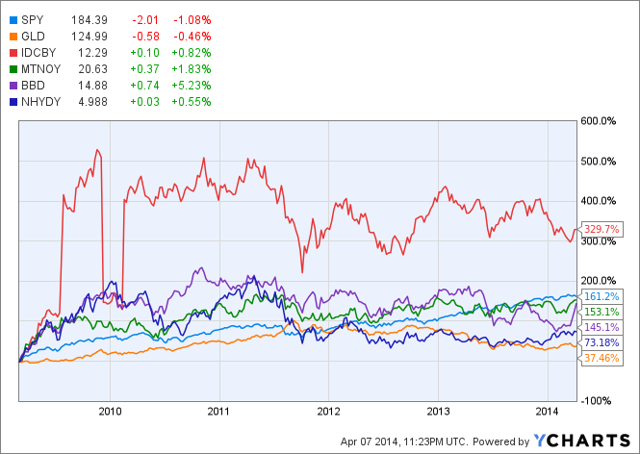 SPY data by YCharts
Disclosure: I am long NHYDY, ABGB, BBD, GLD. I wrote this article myself, and it expresses my own opinions. I am not receiving compensation for it (other than from Seeking Alpha). I have no business relationship with any company whose stock is mentioned in this article.
Additional disclosure: This article may contain certain forward-looking statements. I have tried, whenever possible, to identify these forward-looking statements using words such as "anticipates," "believes," "estimates," "expects," "plans," "intends," "potential" and similar expressions. These statements reflect my current beliefs and are based on information currently available. Accordingly, such forward-looking statements involve known and unknown risks, uncertainties and other factors which could cause actual results, performance or achievements to differ materially from those expressed in or implied by such statements. I undertake no obligation to update or provide advice in the event of any change, addition or alteration to the information contained in this article, including such forward-looking statements.