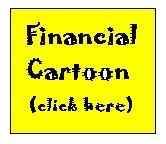 Outlook: This was the week of dour economic news. Such news included slowing global manufacturing data which was one of the few bright spots in the economic pantry. This was accompanied by a 30% drop in the index of pending homes sales, an anemic jobs report with respect to the private sector only adding only 83,000 jobs and a drop in consumer confidence from 52.9 in June to 62.7 in May.
Consumers MIA: With consumers representing 70% of GDP, the more troubling aspect of the recent economic data is that consumers' expectations over the next 6 months plunged to 71.2 in June from 84.6 the previous month.
A Brief Respite: So, while second quarter earnings results may provide some encouragement as corporations have benefited from greater productivity and inventory restocking, these earnings will represent rear-view mirror driving.
Future Ain't what it Used to Be? This will place greater emphasis on companies' future expectations when announcing 2nd quarter results. Further complicating financial visibility is financial reform, future tax policy and the true cost of implementing health care reform.
Crossing the Information Desert: However, with little new economic data, summer vacations and earnings seasons not getting under "full swing" for weeks, volatility should remain high and volume low.
Investing by Holding Your Nose: Reflecting on the previous market swoon relating to our domestic financial crisis that bottomed in March of 2009, those that held their nose and purchased high-quality stocks benefited from the market's subsequent rise.
For those who believe we're heading to another recession there is good reason to avoid this strategy. However, dividend focused ETFs such as iShare Dow Jones Select Dividend Index (NYSEARCA:DIA) and SPDR S&P Dividend (NYSEARCA:SDY) should be considered as defensive with potential for subsequent price appreciation. Corporations are currently hording boatloads of cash.
CEF Weekly Review: The 13 closed-end fund (CEF) types on average posted a 1.5% decrease for the week ending 7/2/10. The high-low spread was +5.2% vs. +3.5% the previous week with respective highs of 0.8% vs. 1.5%. On an aggregate, unweighted basis the weekly average price change for the 500 plus CEFs was down 0.1%.
The PowerShares CEF Income Composite (NYSEARCA:PCEF), an ETF that invests in taxable income CEFs, declined 1.8% for the week. The S&P 500 dropped 5.0% for the week and is down 8.3% YTD.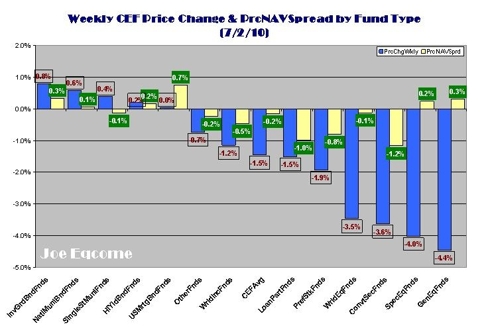 (Click here for YTD CEF Performance. The table is based on a smaller CEF sample size as all the data fields are not available for the CEF universe.)
The Eqcome CEF Fear Index was flat for the week. The average price decrease was 0.1% versus a 0.1% decrease in the NAV. The CBOE Volatility Index (VIX), which typically moves inversely with the stock market—but is mostly a measurement of volatility based on stock options' premiums—advanced 5.6% after advancing 19.1% the previous week.
The CEF Fear Index moderate action the past few weeks versus the more volatile response of the VIX may be a function of the heavy weighting of CEFs in the fixed-income sector as investors flee risk.
The S&P 500 average daily trading volume was up 4.3% for the week to 4.9 billion shares. Volume spike 56.4% on Tuesday to 6.1 billion shares when the S&P plunged 3.1%. This led to serial losses the balance of the week.
CEF Weekly Fund Type Performance: Investors' anxiety compounded this week. CEF fund type performance was again weighted towards fixed-income oriented fund types. InvGrdFnds was the leader again the second week in a row advancing on average 0.8%. Equity-oriented fund types experienced significant price declines.
The PrcNAVSprds [*] typically move in the direction of stock prices. ConvtSecFnds, LoanPartFnds and PrefStkFnds experienced a decline in price but experienced an even greater decline in respective NAV. So, in theory the stock price failed to reflect the underlying drop in net asset values.
Weekly CEF Winners and Losers: Both the winners and losers this week were logical candidates for the fear trade.
One of the CEFs with the greatest positive spread was Western Asset IG Defined Opportunity Fund (NYSE:IGI). IGI is an investment grade corporate bond CEF with a target date of 2024. The current monthly annualized yield is 5.78% and it's trading at a slight premium of 4.5%. IGI price advanced 6.1% while its NAV advanced 0.7% generating a positive PrcNAVSprd of 5.4%. Investors obviously viewed the fund type as a safe port.
The CEF having one of the greatest negative PrcNAVSprd for the week was Cushing MLP Total Return Fund (NYSE:SRV). SRV invests in energy oriented master limited partnerships mostly oil and gas. Its price declined -3.6% while its NAV advanced 3.5% generating a negative PrcNAVSprd of -7.0%. SRV's current quarterly annualized yield is 10.75% and trades at a 22.1% premium.
Economic & Earnings Outlook: (Click here for next week's economic calendar; click here for earnings' announcements and estimates.)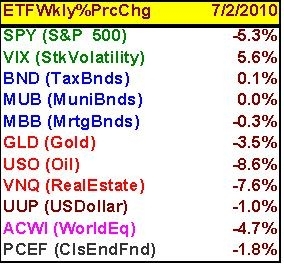 ETFs: For a more detailed EFT performance by sectors, click here.
Insider Trading: The first couple of days in July saw some small scattered insider buying. Barbara M. Baumann, a director of Putnam Funds purchased 100 shares of 5 of its closed end funds.
(Click here for a hyperlink to the Joe Eqcome's CEF Weekly Insider Report.)
CEF Distribution Announcements This Week: The following is a link to a table of CEF distribution announcements this week as well as the previous week's with yet expired ex-dividend dates. The list is not intended to be inclusive. (Click here for Joe Eqcome's
Weekly CEF Distribution Announcements)
Significant CEF Corporate Events: Neuberger Berman Income Opportunity Fund (NOX) and Neuberger Berman High Yield Strategies Fund (NYSEMKT:NHS) announced that the stockholders of each Fund have approved the proposal to reorganize each Fund into a newly formed fund, named Neuberger Berman High Yield Strategies Fund Inc. The new fund's common stock is expected to be listed on the NYSE Amex. The Funds currently anticipate that the reorganization will be completed during the third quarter of 2010.
CEF Focus Stock for the Week: Pimco High Income Fund (NYSE:PHK) numbers continue to be baffling with regards to its current distribution and portfolio returns. Here are the following data points:
PHK's imputed earnings yield on its NAV based upon its current distribution rate is 17.7% on its fixed income bond portfolio.

Let's be generous and assume interest expense on PHK's 33% leverage is zero and there is no advisory fee; that would imply an effective portfolio yield of 11.7%.

Given PHK's average coupon is 8.5% that would imply that it has purchased its entire portfolio at a 30% discount.

Since PHK's investment strategy is to include investment grade corporate bonds, which currently makes up 21% of its $1.5 billion portfolio, it is unlikely that such a deep discount could have been achieved in this fixed income segment.
According to PHK's recently available Section 19 notice for May, approximately 17% of its monthly distribution is return of capital. This seems significantly below what would be implied by what its portfolio would be generating as NII according to the example above.
Could it be possibly paying out unpaid cumulative NII? Probably not, since the average UNII is currently -$0.068 per share.
So, how is PHK generating a NII which would seem on the face of it difficult to achieve. Given Pimco's massive portfolio holdings, it's probably easy to play musical chairs with some of the investments.
I wouldn't bet against Bill Gross given his direct involvement in PHK as "all stops" will likely be pulled to preserve or minimize the disruption to the distribution. But I'd like to know how's it's mechanically possible to achieve the results they're achieving while trading at a 46.4% premium.
Disclosure: Author owns a diversified portfolio of CEFs that include BIF, PCEF as well as DVY and SDY

---
[*] All things being equal, price and NAV should move in tandem. A price movement greater than the NAV generates a positive PrcNAVSprd and may be interpreted as negative on a near-term basis and indicate that the stock is overvalued relative to its NAV which in theory is the stock's intrinsic value. The opposite would be true for a negative PrcNAVSprd.