Bed Bath & Beyond Inc. (NASDAQ:BBBY) is set to report FQ4 2014 earnings after the market closes Wednesday, April 9th. Bed Bath & Beyond is one of the largest chain retailers of household goods. In January, BBBY shares dropped 12.5% after the company missed quarterly expectations. Frigid temperatures and heavy snowfall have played a big part in hindering retail sales this winter. This quarter Wall Street has lowered its expectations for Bed Bath & Beyond and it's expecting year over year EPS decline of 4.8% and a yoy revenue decrease of 5.3%. Here's what investors expect from BBBY on Wednesday.
The information below is derived from data submitted to the Estimize.com platform by a set of Buy Side and Independent analyst contributors.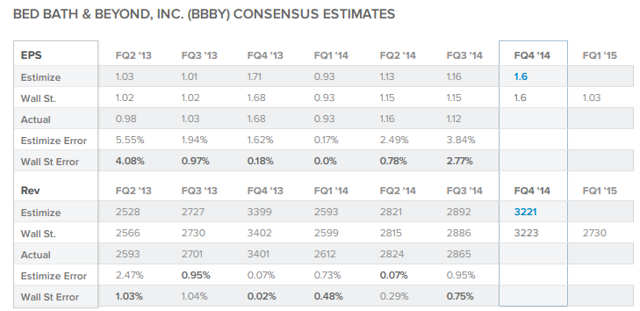 (Click Here to see Estimates and Interactive Features for Bed Bath & Beyond)
The current Wall Street consensus expectation is for Bed Bath & Beyond to report $1.60 EPS and $3.223B revenue, while the current Estimize.com consensus from 14 Buy Side and Independent contributing analysts is $1.60 EPS and $3.221B in revenue. This quarter the buy-side as represented by the Estimize.com community is expecting Bed Bath & Beyond to report in-line with the Street's EPS projection but come up a couple of million dollars short on sales.
By tapping into a wider range of contributors including hedge-fund analysts, asset managers, independent research shops, students, and non-professional investors Estimize has created a data set that is more accurate than Wall Street up to 69.5% of the time, but more importantly, it does a better job of representing the market's actual expectations. It has been confirmed by Deutsche Bank Quant. Research and an independent academic study from Rice University that stock prices tend to react with a more strongly associated degree to the expectation benchmark from Estimize than from the Wall Street consensus.
The magnitude of the difference between the Wall Street and Estimize consensus numbers often identifies opportunities to take advantage of expectations that may not have been priced into the market. In this case we are seeing almost no difference between the two groups' expectations.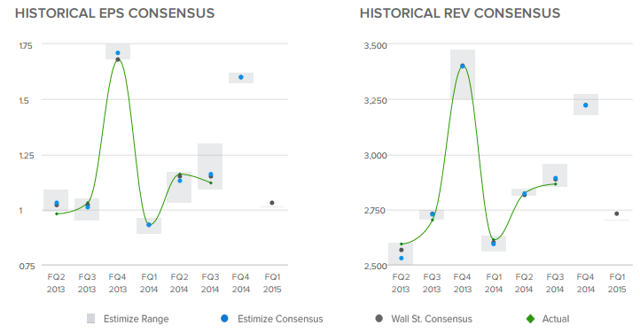 The distribution of estimates published by analysts on the Estimize.com platform range from $1.57 to $1.62 EPS and from $3.175B to $3.275B in revenues. This quarter we're seeing a smaller than normal distribution of estimates on Bed Bath & Beyond.
The size of the distribution of estimates relative to previous quarters often signals whether or not the market is confident that it has priced in the expected earnings already. A narrower distribution of estimates signaling more agreement in the market, which could mean less volatility post earnings.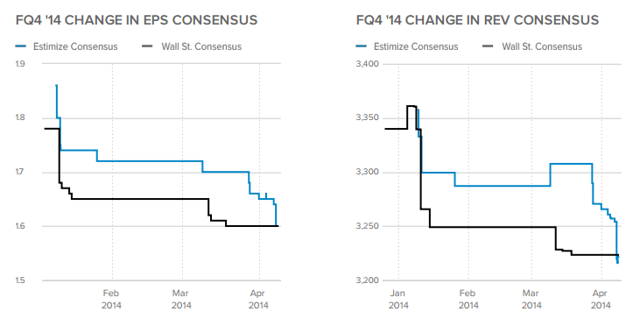 Over the past 4 months, the Wall Street EPS consensus fell from $1.78 to $1.60, while the Estimize consensus dropped from $1.86 to $1.60. Meanwhile, the Wall Street revenue forecast declined from $3.340B to $3.223B before the report, while the Estimize forecast also slipped from $3.357B to $3.221B. Timeliness is correlated with accuracy and downward analyst revisions at the end of the quarter are often a bearish indicator.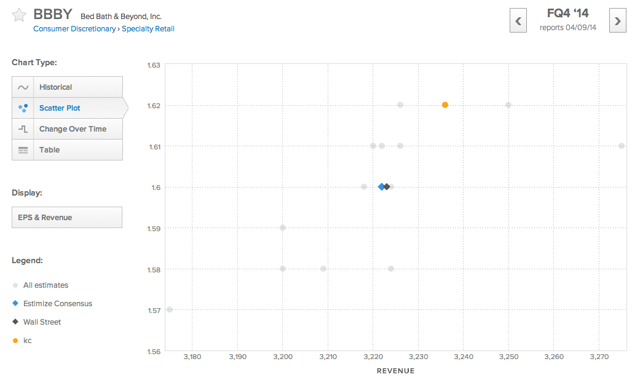 The analyst with the highest estimate confidence rating this quarter is kc, who projects $1.62 EPS and $3.236B in revenue. kc is rated as the top analyst so far in the spring earnings season and is ranked 31st overall among over 4,000 contributing analysts. Over the past 6 months, kc has been more accurate than Wall Street in forecasting EPS and revenue 58% and 50% of the time respectively throughout over 250 estimates. Estimate confidence ratings are calculated through algorithms developed by deep quantitative research, which looks at correlations between analyst track records and tendencies as they relate to future accuracy. In this case, kc disagrees with the Estimize community and is making a bullish call expecting Bed Bath & Beyond to beat the community's expectations on both the top and bottom line.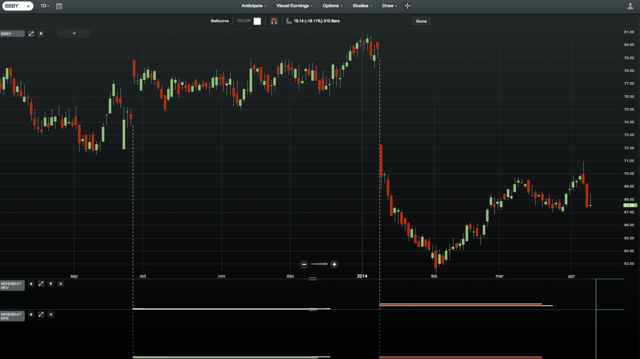 Bed Bath & Beyond stock has performed poorly over the past 3 months, mostly due to a shocking earnings miss last quarter. The harsh winter weather will come into play again this quarter and contributing analysts on the Estimize.com platform have lowered their estimates accordingly. This quarter the Estimize community has established its expectations slightly below the bar set by Wall Street.