| | | |
| --- | --- | --- |
| Company | Share Price (4/4/2014) | Target Share Price |
| Centene | $59.63 | $72.00 |
Company Overview
Centene Corporation (NYSE:CNC) is a diversified healthcare services company that operates primarily in the Medicaid Managed Care and Specialty Services segments. The core Managed Care segment provides Medicaid and related coverage to under- or uninsured individuals and represents over 90% of the business by revenue. It also offers long-term care and special needs services through government subsidized programs. The Specialty Services segment offers pharmacy services for complex conditions. It also provides health insurance, healthcare services, and health management programs that cover primary and specialty physician care. Finally, Centene offers care management software that automates administrative tasks to state and commercial organizations. The company is based in St. Louis, Missouri and has 8,800 full-time employees.[1]
Industry Analysis
Structure and Key Players:
Centene operates in the highly competitive $500 billion Medicaid, dual, and exchange market.[2] The industry has seen a major shift towards the privatization of government-managed healthcare, and experts forecast the trend to continue as the ACA phases in towards full implementation.[3] With $10.8 billion in total revenues in 2013, Centene holds 2% of the gross market. Major competitors in the Medicaid space include Molina Healthcare (NYSE:MOH) and WellCare Health Plans (NYSE:WCG), which earned revenues of $6.42 billion and $9.5 billion, respectively. Other key players include individual state governments, which mandate contracts and reimbursement rates, as well as smaller state insurers.
Market Trends:
The passage of the Affordable Care Act and the creation of health insurance marketplaces is expected to enroll 7 million new individuals--although recent reports suggest the figure may be lower.[4] Over the next decade, that figure is expected to rise to 25 million, representing over 3.5x growth. In addition, Medicaid expansion is expected to add health coverage for approximately 17 million additional low-income adults and children in 2014.[5] Naturally, the increase in enrollments provides a significant opportunity for Medicaid managed care organizations that have the ability to capitalize on new enrollees via health exchanges and/or state government premium subsidies. However, there are numerous caveats to an expanded market. First, Medicaid MCOs with business lines in opt-out states such as Texas and Florida may find limited short- to medium-term growth potential as a result of the ACA. Second, revenue growth is highly dependent on the success rate of winning government contracts to privately manage Medicaid programs. Finally, a large percentage of new enrollees may be high-risk patients that reduce profitability.
Strategic Analysis
Overall Strategy:
Centene's strategic core operating principle is to provide high-value Medicaid services to low-income adults and children through a cost-effective network of providers. The company operates through a regionally dominant strategy that favors local economies of scale, customer captivity through state government contracts, and strong provider networks. The local, decentralized approached is balanced by a "centralized infrastructure of support functions such as finance, information systems, and claims processing."[6] Centene's traditional core is the Midwest and particularly in Southern states including Texas, Georgia, Ohio, South Carolina, and Florida.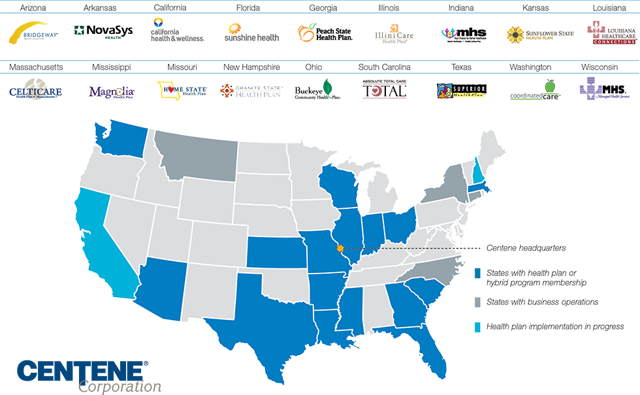 [7]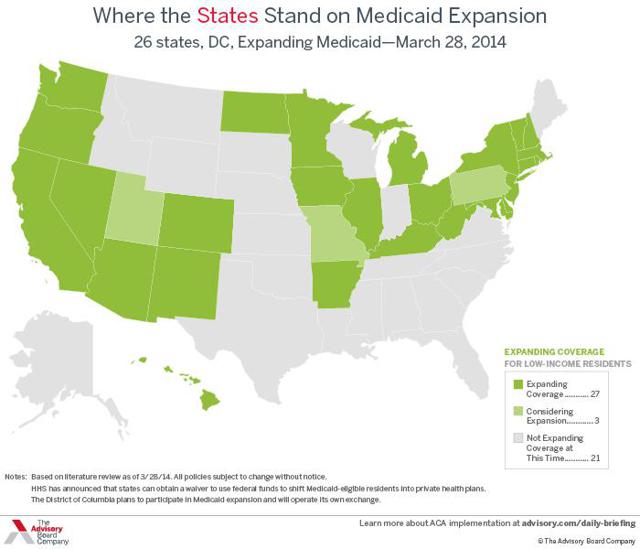 [8]
Selected Financial Metrics: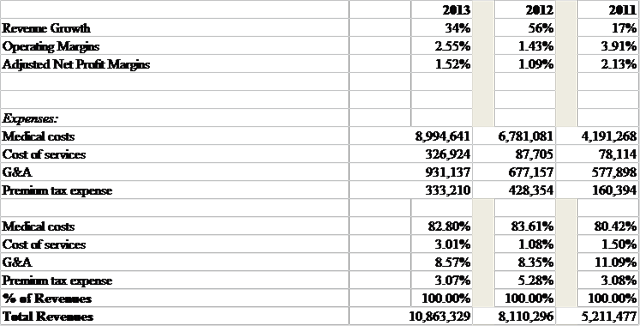 Main Strategic Strengths and Catalysts:
· Strong catalyst from ACA and numerous resulting contract wins: In September 2013, Centene's Florida subsidiary, Sunshine State Health Plan, was awarded a major managed medical care contract.[9] Two months later in November, Centene's subsidiary, California Health & Wellness, was awarded a Medicaid contract for 19 counties in California. Centene further received contracts in Kansas and New Hampshire.[10]
· Focus on growing markets: Centene tends to focus on entering or expanding in fast growing markets including California, Texas, and Florida.
· Consistent operating performance: Centene has achieved a compound annual growth rate of revenues of 26.3% over the last five years and a total cash flow from operations of $382.5 million. [11]
· Medicaid expertise: The company has over twenty years of experience and expertise in managing Medicaid programs. It has successfully entered numerous markets and reached solid profitability in a large percentage of them.
· Increased value-creation through divestiture of unprofitable Medicaid programs: In July 2013, Centene decided to exit the Kentucky Medicaid market, citing an unfavorable, high-cost environment. The company plans to continue divesting risky, expensive states in favor of penetrating high-value markets.
· Healthy balance sheet with room for leverage: While Centene's debt/EBITDA multiple is 1.93x, its actual debt capacity is far greater. Net debt/EBITDA is actually negative (-.88x) given nearly $1 billion cash on the balance sheet. Given Centene's rapid top-line growth, expansion strategy, and solid ROA, the company is seemingly underleveraged.
Main Strategic Risks and Concerns:
· Highly concentrated (government) payer mix: Centene's Medicaid managed care business represents over 90% of its revenues and thus is highly vulnerable to political risk at the state level. Mitigating this concern, however, is that Medicaid is administered on a state-by-state, as opposed to federal, basis, thereby creating a measure of built-in diversification against "stroke of the pen" risk.
· Possibility of future Medicaid price cuts: Increasing costs have brought great scrutiny over the last decade about the sustainability of Medicaid at its current reimbursement levels. However, reimbursement risk sometimes reveals itself to be a benefit, particularly in a political and economic climate engaged in discussions about poverty and inequality. Last year, for example, Texas state officials discussed an increase in the Medicaid reimbursement rate.
· Revenue concentration risk: 37% of Centene's revenues came from Texas, a Medicaid expansion opt-out state. Moreover, five states--Texas, Georgia, Ohio, Florida, and South Carolina--account for an estimated 75% of Centene's revenue.[12]
· Coverage expansion risk: While additional Medicaid enrollments due to the ACA represent a significant financial opportunity, a significant percentage of new enrollees may be chronic, high-risk patients with long-term managed care needs.
· New market risk: While Centene's history of entering new markets has been successful, on the whole new markets are expensive to enter given high infrastructure, marketing, and administration costs, and thus represent a greater risk than expansion within existing markets.
Valuation and Recommendation
Centene Analyst Price Target Summary
| | |
| --- | --- |
| Mean Target: | 69.63 |
| Median Target: | 70.00 |
| High Target: | 84.00 |
| Low Target: | 59.00 |
| No. of Brokers: | 16 |
[13]
Summary:
Centene is an excellent company with solid operating capabilities, high growth prospects, and sensible value-creating strategies. While the stock appreciated considerably in 2013, it still has room to grow given high future revenue growth through new contract wins and existing expansions. Modeling 30% top-line growth in premium and service revenue from 2013 results in an estimate of $14.1 billion for this year. Management, similarly, has guided investors to expect total revenues of between $13.8 and $14.3 billion.[14]
With earnings per share of $2.94 and assuming 30% earnings growth in 2014 and 20% in 2015 (i.e., consistent bottom-line flow-thru), a baseline estimate of forward 2014 EPS amounts to $3.80 (management guidance is between $3.50 and $3.80) and 2015 EPS to $4.58. Competitors Molina and WellCare currently trade at 14x and 12.5x forward estimated 2015 EPS. However, given Centene's higher growth projections, better margins, and excellent record of value-enhancing strategies, I applied a 15.5x to 16x multiple, resulting in a price target of $72 and potential for 20%+ appreciation from the current share price over the next year. As such, I rate Centene Corporation as a solid "Buy."
Pro Forma Income Statement: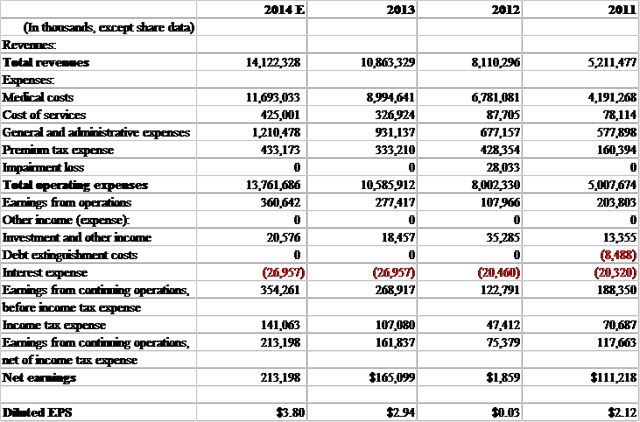 ---
[1] finance.yahoo.com/q/pr?s=CNC+Profile
[2] Credit Suisse Initiate Coverage Research Report
[3] Ibid.
[4] Congressional Budget Office
[5] Ibid.
[6] Centene Corporation 2013 10-K
[7] www.centene.com/wp-content/uploads/2013/...
[8] www.advisory.com/daily-briefing/resource.../
[9] http://finance.yahoo.com/news/florida-medicaid-announces-intent-award-100000897.html
[10] finance.yahoo.com/news/health-insurer-ce...
[11] Centene Corporation 2013 10-K
[12] Cantor Fitzgerald Equity Research Report
[13] finance.yahoo.com/q/ao?s=CNC+Analyst+Opinion
[14] finance.yahoo.com/news/health-insurer-ce...
Disclosure: I have no positions in any stocks mentioned, and no plans to initiate any positions within the next 72 hours. I wrote this article myself, and it expresses my own opinions. I am not receiving compensation for it (other than from Seeking Alpha). I have no business relationship with any company whose stock is mentioned in this article.