While the market has been under some pressure lately, there's a group of names that has fared pretty well. The cigarette names have held up a bit, led by international giant Philip Morris (NYSE:PM). Shares of Philip Morris are approaching three month highs, and have bounced more than 11% from their 52-week low.
However, it's time for investors to take a small step back. We already know that Philip Morris is going to have a down year in 2014 as the company invests in new products and takes a huge hit from currencies. While it is nice to see shares rebounding here, the rally may have gotten ahead of itself. Investors may be shifting towards safety and away from the momentum names for the moment, but if the momentum group comes back Philip Morris may be the first to suffer. Today, I'll discuss the latest news, discuss current quarterly and yearly expectations, and detail what Philip Morris investors need to do now.
Recent news:
I've gotten some questions lately on the most recent news involving Philip Morris and its production facilities. The first piece of news was that the company is closing its Australian cigarette plant after 60 years and shifting production to South Korea. As the article states, there are two reasons for this move. First, the cigarette market in the country has been declining for a decade. Second, high production costs and currencies are making exporting a losing business. Hopefully, by closing this facility, Philip Morris can reduce some of its currency risk. Remember, the company guided to a huge currency hit in 2014, more than double the size of 2013's impact.
The second piece of news is somewhat related, as the company will be stopping production at its factory in the Netherlands. Like the other move, European cigarette demand has come down, and the company doesn't see volume recovery as likely. Investors really should take this news in stride. We know cigarette volumes are declining a bit at present, so the company should cut some of its expenses at the same time. 2014 is supposed to be a down year for the company, and Philip Morris will be launching new reduced risk products later this year and into 2015. Taking some production out of the equation is the right move, but it shouldn't really change the long term picture. Now, let's take a look at some of the numbers as earnings season approaches for the space.
Current expectations:
When comparing Philip Morris to others in the space, I look at three other names: Lorillard (NYSE:LO), Altria (NYSE:MO), and Reynolds American (NYSE:RAI). The following table is one I've used in several articles for this industry. It shows current expected growth in terms of both earnings per share and revenues. These are the analyst estimates for 2014 and 2015, as well as a two-year total. I've also provided each company's dividend yield as another way to compare these names. The yellow highlight indicates the leader in that specific category. This is my first full update of these numbers since late February. A quick reminder on the Philip Morris numbers. These are analyst estimates. Philip Morris has guided to 6% to 8% currency neutral EPS growth in 2014, which takes out a $0.71 currency hit. Including currencies, Philip Morris guided to EPS of $5.02 to $5.12 in 2014, compared to $5.26 in 2013.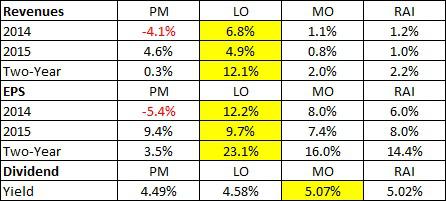 We have seen Philip Morris estimates creep up a little lately for both years. In terms of the near future, Q1 revenue estimates have risen from $6.94 billion to $7.00 billion in recent weeks, and EPS estimates are up a penny to $1.17. While you always like to see rising estimates, Q1 revenues are still expected to fall by 7.7% and EPS to drop from $1.29 to $1.17. Revenue and earnings decreases are expected to improve throughout the year, but 2014 is going to be a down year. That's one reason why I think this recent rally in the stock needs to be looked at with some caution.
Lorillard is still expected to be the two year leader, although Philip Morris is making a run for first place in 2015. Since my last update, Lorillard analysts have upped both their 2014 and 2015 EPS estimates. Altria and Reynolds are battling for third place in 2015, with Altria maintaining a slight advantage in 2014 due to the extra earnings growth and higher current dividend yield. Reynolds has seen its revenue estimates for both years decrease since my last update, with its 2015 EPS number coming down a penny. Altria has not seen any changes in estimates since my last full update.
As these stocks have moved, the dividend yield gap has narrowed a bit. In my February article, Reynolds had the highest yield and a 75 basis point advantage over Philip Morris. That gap has come down. Altria now has the highest dividend yield, and maintains a lead over Philip Morris that is less than 60 basis points.
Current valuations:
You could have the greatest company on earth, with great growth, dividends, buybacks, etc., but that doesn't mean it will be the best investment. Sometimes, it all comes down to valuations. If that "greatest company" is just too expensive, it might not be worth it. As those who follow me know, Philip Morris' valuation against the rest of these names is one item I've tracked extensively in the past. The following table shows valuation metrics for each company in this article, as of my last full update and now.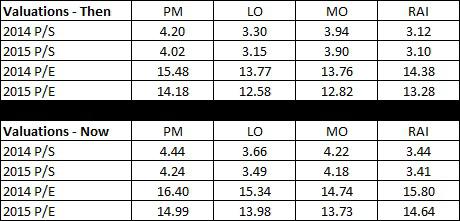 Anyone that has read my continuous coverage of Philip Morris knows that PM shares trade at a premium. Investors have been willing in the past to pay for a solid amount of growth and a sizable buyback. I've continued to track that premium, on both a price-to-sales and price-to-earnings basis, with the results found below (compared to my last full update).

There are some key points to make. Yes, since my last full update, the premium Philip Morris trades at has come down. However, the 2014 premiums have increased in the past few weeks. During March, I did a key questions for 2014 article for Philip Morris. At that article, the 2014 premiums stood at 14.79% for price to sales and 4.14% for price to earnings. Since that article was primarily focused on 2014, I did not do a 2015 calculation at that time. You're still paying a premium for Philip Morris in 2014, despite what's supposed to be a lackluster year. This is another reason why I'd wait for a pullback in shares before entering.
Overall analyst opinions:
I always like to look at what the professional Wall Street analysts think when it comes to the names in this space. The following table shows the average analyst rating, where a 1.0 is a strong buy and a 3.0 is a hold (a 5.0 would be a sell). The table also shows the average, or mean, price target currently, and the upside to that target from Tuesday's close. You can view Philip Morris' current analyst opinions here.

Every name has seen a ratings change since my late February article. Philip Morris and Lorillard have seen their numbers decrease by 0.1 (PM was at 2.4), which means analyst see them as a stronger buy. Altria's rating has increased by 0.1 (meaning a weaker buy), and Reynolds' rating is up by 0.2. Philip Morris has seen its average price target rise by 64 cents, with Lorillard's up by $1.68, Altria's down by $0.03, and Reynolds' down by $0.44. Philip Morris has the most upside to the average target, which has been the case in the majority of my updates. All of these names have seen their "upside" come down since late February, with Lorillard and Reynolds now trading above their average price targets.
Starting to meet some resistance:
I wanted to do a quick update on some technicals because they show the stock may be getting a little overheated in the short term. In the chart below, you can see the stock against its 50 and 200 day moving averages, as well as its bollinger bands.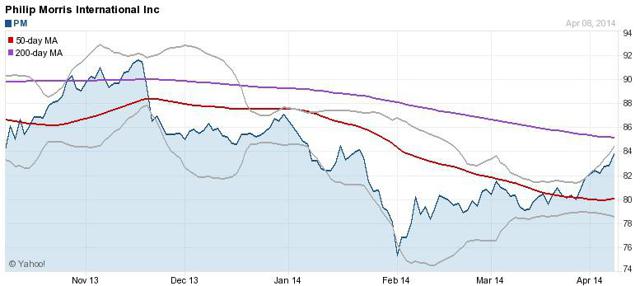 Click to enlarge
(Source: Yahoo! Finance)
The first thing to note is that the 50 day has started to level off. I noted in the past that this moving average would be a level of resistance as long as the stock stayed below it. Once it broke above, which it recently did, this level should be support. Should shares start to head lower, a rising 50 day could be good for the stock. The second item you'll notice is that the stock is close to its upper bollinger band. This has been a level of resistance in the past, and shares usually pull back a little from it. Additionally, the stock is getting close to its 200 day moving average, which is still on the decline. I could see a little more upside to $85 perhaps, but it looks like the recent run is coming to an end at the moment.
Final thoughts:
Philip Morris shares have rallied recently, but investors shouldn't rush in just yet. This is still going to be a down year for the company, and we'll get the first set of results in the next few weeks. While I thought the fall from $91 to $75 was a bit much, I think the subsequent rally back to $84 has been a little too fast. I would like to see some solid financial results to support this rally, because if Q1 results don't come in great, shares probably head back to $80 or lower rather quickly.
So what should investors do here? Well, I wouldn't buy at current levels, but I wouldn't short this name either. I would let the stock calm down, and buy on the next pullback. I think a good starting range for buying is the 4.75% to 5.00% annual yield area. However, the company has already paid out the $0.94 quarterly dividend three times, meaning it should only be paid out once more. In my past articles, I've stated I'm targeting a raise to $1.00 per quarter later this year. At that rate, Philip Morris would pay out $3.94 over the next twelve months to shareholders. Using the yield numbers above, that gives us a range of $78.80 to $82.95, with a midpoint of $80.87. The midpoint should be a good number to follow, because the 50 day moving average is a little over $80 now and could get close to that midpoint value in the next couple of weeks.
Disclosure: I have no positions in any stocks mentioned, and no plans to initiate any positions within the next 72 hours. I wrote this article myself, and it expresses my own opinions. I am not receiving compensation for it (other than from Seeking Alpha). I have no business relationship with any company whose stock is mentioned in this article.
Additional disclosure: Investors are always reminded that before making any investment, you should do your own proper due diligence on any name directly or indirectly mentioned in this article. Investors should also consider seeking advice from a broker or financial adviser before making any investment decisions. Any material in this article should be considered general information, and not relied on as a formal investment recommendation.