Callaway (NYSE:ELY) pre-announced a weak quarter on June 14th, prompting the Street to quickly turn negative on the name. The company will hold a conference call July 28th, where they will kitchen sink the quarter and flush out impatient longs.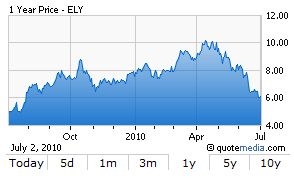 This is a 2012 earnings story, per the company's financial projections, so the stock price will be weak in tandem with their historically weakest quarters of the year. If we get large shareholders throwing in the towel, with the name down 25% YTD and 40% from its YTD high, this sets up as a good trade in our favorite trading name.
Callaway's stock price is seasonally weak in the last two quarters based on a front-end loaded sales cycle. Buying the stock within 6 weeks of the Tour Championships and selling it within 6 weeks of The Masters has produced an average return north of 40% over the last 5 years. Last year we stepped up early and bought in July near $5, and sold in April near $10.
Why does this happen? As Callaway reports positive earnings in the first quarter, analyst estimates trend higher and the stock price follows. As Father's Day, which is the equivalent of Christmas for ELY, passes there are few catalysts for the remainder of the year. Thus, estimates are cut and the stock price falls. You can invent a reason every year, as management does, but the result is strikingly similar. This year the euro offers a great excuse for a management team that is running low on mulligans. The Batman signal is up for activists, as there is a tremendous amount of value here but poor execution.
Currently, the Street is focused on the company's $6.60 tangible book value as support for the stock price, but TBV includes aged inventory. In this business, aged inventory doesn't fetch retail prices. BlueCut's TBV estimate is closer to $5.00.
Valuation:
'10 EPS : $.10
'11 EPS : $.30 - $.60 BlueCut: $.40
Cash/Share: $2.04
FCF: $.27 based new EPS
FCF Yield: 4%
Based on our estimate of a 2011 FCF yield of 8%+, we are aggressive buyers on weakness as the stock approaches $5. Our target is $8 which we arrive at by blending our DCF and book value, and discounting management's credibility. We have initiated a position at current levels, but are willing to make ELY a 20% position (as we did last year) if the same risk/reward opportunity presents itself.
In summary, we are willing to speculate on the operating business given that the company has no long term debt, $2/share in cash, and portfolio of IP worth $2. Ultimately, the delivery on the international growth will be what drives the stock price over the long-term. However, until an acquirer or activist shows up, the roller coaster will continue and we will be traders of the name.
View us on KaChing (see here).
Additionally, we are be buyers of ELYZP, but this 7.5% convertible preferred trades by appointment.
Disclosure: Author is long ELY and ELYZP