Current details for Matrix Service Company (NASDAQ:MTRX):
$9.54 on NASDAQ on July 2, 2010

52 week price range: $12.54 – 8.26

Diluted shares: 26.5 million

Market cap: $253 million

Net debt: $(52 million) – Cash exceeds debt.

Enterprise value: $201 million
Matrix Service Company is a contractor that primarily performs construction, repair, and maintenance services for major integrated oil companies, independent petroleum refiners, pipeline, terminal, and marketing companies. Most of this activity is performed in the US.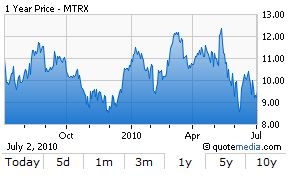 Cap ex and maintenance spending by Matrix's clients has been constrained by the severe economic slowdown and the related decline in oil prices. However, the economy is now improving, oil prices have risen, and the company is seeing signs of pending improvement in some key areas of its service offerings.
The company has recently experienced an increase in bid activity for the construction of aboveground storage tanks, which is the single biggest business of the company. Also, the prospect for repair and maintenance connected with petroleum refineries appears more favorable, and finally, the company's electrical and instrumentation business continues to grow.
Quarterly earnings will now likely rise sequentially and year over year for at least the next year, and given this, the stock is currently undervalued relative to estimated earnings for the company's fiscal year ending June 30, 2011. My estimate of revenues, EPS, and EBITDA for this forward period is $613 million, $.80, and $47 million respectively.
Currently the stock is trading at a P/E ratio of 11.9 times my estimate of forward earnings and enterprise value is 4.3 times EBITDA. My estimate of fair value in the near-term is $12.50 per share, reflecting a P/E ratio of 15.6 and an enterprise to EBITDA multiple of 6.0. As a frame of reference the all-time high stock price was $30.36 per share in November 2007.
click to enlarge images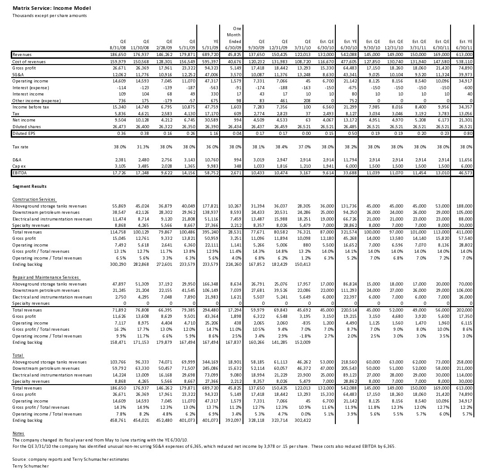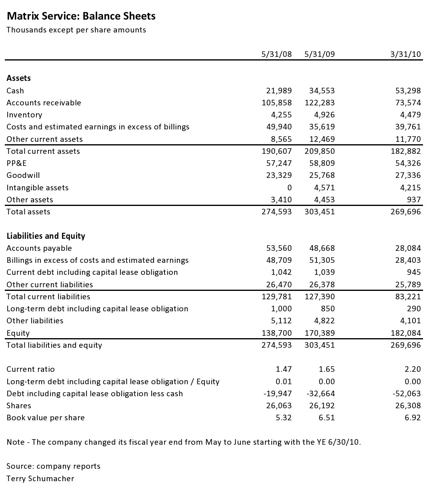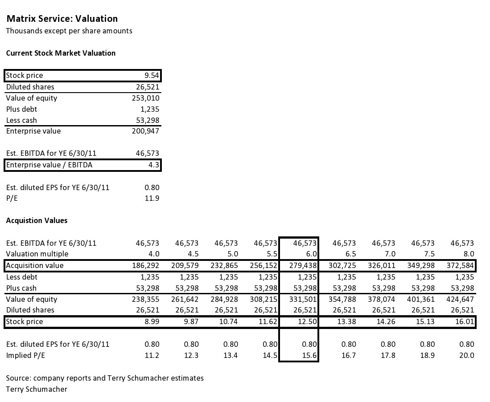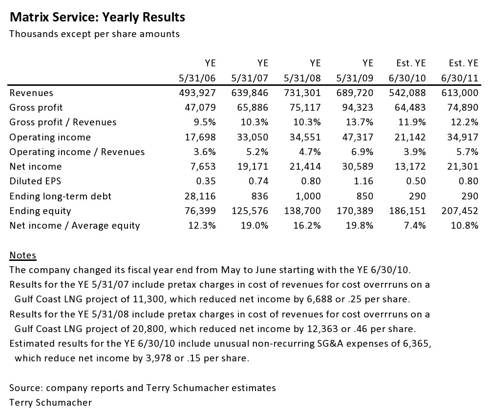 Disclosure: Terry Schumacher owns shares of MTRX.