To be blunt, Navidea Biopharmaceuticals (NYSEMKT:NAVB) has been a poor performer over the past year. Furthermore, anyone who reasoned as I did and saw the share price movement following the Crede financing deal last October as a buying opportunity, is likely looking at a loss now unless the managed to buy near the bottom. Pro subscribers can see the article here. NAVB's chart over the last year is below.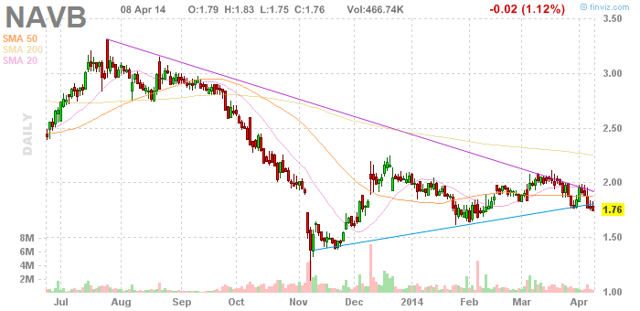 Source: Finviz.com
Despite the poor price performance, I remain bullish because Navidea as a company has done largely as well as I expected it to, and in some cases (like introducing Manocept to the pipeline), pleasantly exceeded expectations. NAVB has proven itself to be a poor trading vehicle, which is how I initially viewed it, but with each new PR release--and there have been many--the company seems to be achieving better positioning. So, although I've said it before, I believe it is only a matter of time until the stock makes significant gains.
Lymphoseek on Track to Take Market Share
Since receiving a temporary CMS reimbursement pass through C-code on October 1st last year, sales of Lymphoseek (LS) have begun to ramp up nicely. President and Chief Business Officer Dr. Thomas H. Tulip noted on the Q4 2013 conference call that 80% of customers have reordered and had this reassurance about market penetration rates:
I've looked for comparisons and found a few innovative premium price therapeutics launched in recent years[.]... The very best disease launches leading to very substantive sales of well-known products did not exceed 10% market share after the first year on the market. So Lymphoseek compares well as we will certainly get beyond 10% penetration in the first year.
This, along with the reiterating the projection for LS to reach a majority market share within 10 to 14 months.
While sales into its principal markets ramp up, Lymphoseek is also poised to enter new markets. Navidea currently has two separate sNDA's pending with the FDA that could meaningfully expand LS' label. The first was granted the fast track designation and priority review for use in patients with head and neck cancer. Of particular note, there is currently no other agent approved for sentinel lymph node detection in these patients, meaning that LS would be the de facto option for sentinel lymph node detection. The PDUFA date is set for June 16th.
The second sNDA has to do with increasing Lymphoseek's flexibility: expanding the label to include sentinel lymph node mapping and allowing procedures to be scheduled up to two days after injection. The PDUFA date is October 16th.
In addition to the two sNDA's pending review in the US, Navidea is also working on expanding Lymphoseek abroad. On March 19th, Navidea held a meeting with the Committee for Medicinal Products for Human Use (CHMP) of the European Medicines Agency (EMA). According to Navidea's press release, the CHMP found the safety and efficacy data for melanoma and breast cancer submitted in support of the Marketing Authorization Application (MAA) to be adequate. They are, however, reviewing the phase 3 head and neck cancer study. While this review will delay the MAA process somewhat, it will hopefully result in a larger European market from launch.
Ultimately, EMA approval is very likely sometime later this year given the positive view from the CHMP so far. The real questions are whether it will include approval for use in head and neck cancers and how long the CHMP review will go on before the MAA is approved. Management remains confident as well, as the release states:
Navidea believes the course of the review continues to be supportive of its market development plans and outlook for material revenue from Europe beginning in 2015...
Also note that Navidea already took on Norgine BV as a distribution partner for LS last November, so a sales ramp would likely happen very quickly following approval.
Oxford Loan and Financial State
On March 6th, Navidea announced it had taken on $30 M debt with an 8.5% coupon rate and used most of it to pay down its GE debt. The GE loan was for $25 M and held a coupon rate of 9.83%. The company paid about $26.71 M including pre-payment and final payment fees to end the loan agreement in connection with taking on the Oxford loan. In addition to having a lower coupon, until April 1st 2015, Navidea only has to make interest payments on the Oxford debt and it is no longer forced to keep excessive amounts of cash on its balance sheet due to loan covenants (the GE loan required that they keep six months worth of operating capital at all times, or as of December, 2013 $22.6 M in cash on hand).
For the reasons above, this latest loan will give Navidea greater financial flexibility but does not directly enhance its cash position by much. With less restriction to its cash and some $30 M remaining under its credit facility with Platinum Montaur, Navidea is in a very well capitalized position from which to continue developing its robust pipeline. CFO Mr. Brent Larson stated in the conference call that the company had no intentions of tapping equity financing options in the near term, so dilution should not be a great concern going forward.
Declining Short Interest
Navidea has been plagued by a high short interest in its stock for a very long time now. However, as the chart below indicates, the past year has seen an almost continuous reduction of that short interest.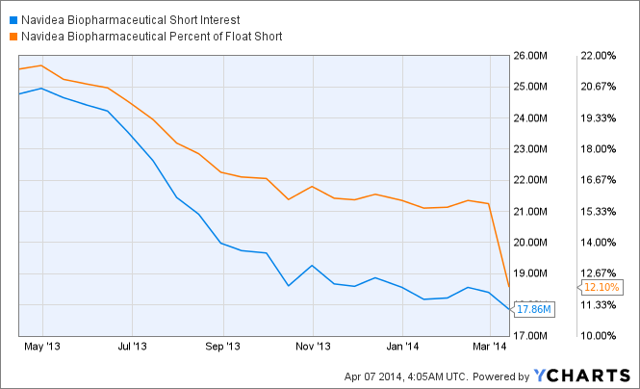 NAVB Short Interest data by YCharts
Shorted shares as a percent of the float has fallen roughly 40% while the number of shares short has fallen roughly 30% from this time one year ago.
On one hand this could be read as reduced bearishness on the stock, but unfortunately, the lower short interest is likely at least in part due to the stock's very low price--you don't short a company that has already hit bottom. Either way, one of the big overhangs for the stock is being whittled away; shorting shares adds to selling pressure that can be used to put a cap on the stock price or even shake out conservative limit orders. The stock has had a history of facing greatly increased selling pressure following positive news events, which I believe is in part due to increased shorting at those times.
As a frustrated Navidea shareholder, I'll take the silver lining of the depressed share price and cross my fingers that it continues to represent great buy and short covering opportunities. I've continued to hold my shares (initially purchased prior to LS approval) and add further to my holdings, most recently just under $1.80/ share. I believe that the stock is deeply discounted at its current level given the outlook for LS, the strength of its late-stage pipeline (NAV 4649 for Alzheimer's and NAV 5001 for Parkinson's), and the many possibilities opened up by its Manocept Platform (which I intend to write about in the future).
I have long since given up on trying to time this stock or offer short term guidance, but Navidea continues to execute very well in my opinion. Hopefully, someday in the not-too-distant future, its stock will reflect that.
Disclosure: I am long NAVB. I wrote this article myself, and it expresses my own opinions. I am not receiving compensation for it (other than from Seeking Alpha). I have no business relationship with any company whose stock is mentioned in this article.