Competitive Technologies (AMEX:CTT) has had a difficult time of late--like many other biotechs and medical device companies which had appreciated dramatically prior to presenting at the American Society of Clinical Oncology (ASCO) early last month . Unless there was some clinical data that was both very positive and very surprising (meaning "better than expected" results) many of these stocks have sold off.
And CTT was no exception. With CTT trading 44% off its recent high of $3.64, a look at the "whys" and "whens" may prove timely to determine if there may be good reasons to take advantage of this retracement.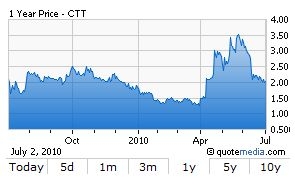 Trading currently at $2.03, CTT has a total market cap of only $26 Million at a time when the company's revolutionary chronic pain therapy technology is just beginning to build awareness in both the medical and investment communities. There is some institutional ownership already--a healthy 12% that gives some confidence that private research analysts have done their due diligence and advised their firms to take a position in CTT. But with the promise of two peer-reviewed medical journal articles within the next two months, specifically in the Journal of Pain and the Journal of Pain and Symptom Management, CTT is poised to execute on what every company ultimately needs to be successful--increasing sales and profitability.
But first, a quick review of Competititve Technologies. CTT has the exclusive worldwide rights to the Calmare(R) pain therapy medical device--a technology that utilizes a low electrical current of 5 milliamps emitted to the central nervous system through electrodes placed on the patient's skin on either side of the pain area. Through the application of sixteen proprietary electrical impulse algorithms programmed in the medical device, the technology targets the body's C-fiber pathway (which transmits slower and chronic pain signals) versus the acute pain pathway.
These electrical signals perform as artificial neurons to "re-program" the brain's receipt of the pain message to offer long lasting pain relief instead of just "blocking" the pain message. Clinical evidence has shown pain relief lasting up to 12 months in some patients. Indeed, there have been patients that have yet to experience a return of the pain. This revolutionary technology is non-invasive, non-narcotic and largely unknown in the US until recently - when Thomas J. Smith, M.D., Endowed Chair of Palliative Care Research and Medical Director of the Thomas Palliative Care Unit Virginia Commonwealth University's Massey Cancer Center, cited clinical results at the at the American Society of Clinical Oncology (ASCO) Annual Meeting. The ASCO presentation on patients with Chemotherapy-Induced Peripheral Neuropathy (CIPN) concluded
Calmare therapy relieved refractory CIPN pain quickly and significantly, with minimal side effects.
Some pain relief is durable for months but some requires retreatment and maintenance.
4 of 16 had complete disappearance of pain.
Patients experienced a 64% reduction in pain.
Some patients had return of complete or partial normal sensation, and relief of numbness, as well as relief of pain.
In a second venue at the ASCO meeting, Charles L. Loprinzi, M.D. Regis Professor of Breast Cancer Research in the Mayo Clinic's Division of Medical Oncology presented additional clinical data on the Calmare(R)
The global pain relief drug market was approximately $50 Billion in 2009. In the US alone, there are about 76 Million people with pain, including 60% -70% of diabetics which have experienced some nervous system damage, 30%-40% of patients undergoing chemotherapy for cancer that suffer from Chemotherapy-induced Peripheral Neuropathy (CIPN) and patients suffering from phantom limb syndrome, failed back surgery, sciatica, spinal stenosis, shingles etc.. When faced with a need for a non-narcotic pain management regimen, the Calmare system offers clinicians an effective solution. The problem with narcotic painkillers is well-known: uncomfortable and sometimes dangerous side effects, difficulties with patients maintaining the oftentimes rigorous adherence to dosing and frequency (treatment compliance) and diminishing effectiveness (tolerance). The increasing recognition amongst palliative care professionals that a non-narcotic alternative therapy to chronic pain relief is necessary is CTT's market opportunity.
CTT's target markets include hospitals, nursing homes, hospices, cancer treatment centers and pain management clinics. A key consideration in assessing the market potential of the Calmare system is that many potential clients such as hospitals, cancer treatment centers and pain management clinics will have a need for multiple units per location. One current CTT client, Calmar Pain Relief, initially purchased two units and discovered a need for two more units in just one clinic in Rhode Island. (Calmar Pain Relief has signed a sales agreement to purchase a minimum of 20 units by the end of 2010 for approximately $1 Million and has plans to open clinics in 10 cities in the next 18 months with an anticipated need for an additional 40 units.)
Contrary to most royalty and licensing agreements where a company is dependent upon another company's "best efforts" on converting a technology into profitable sales, CTT has adopted the "shared sales" business model. CTT is actively involved in the marketing and distribution of the Calmare units in order to realize higher revenue per unit sale. Significantly for future sales, CTT's U.S. sales force has expanded from only 5 sales representatives in February to the current 35 reps with additional distributors already identified and currently being vetted prior to sign up.
Follow the money....When a foreign distributor buys a unit, CTT recognizes revenue of $8,000 to $10,000 per unit. For example, in the current quarter ending July 31, CTT has announced it is shipping 60 units to its European distributor Episteme Life Sciences--translating into revenue of $480,000-$600,000. However, every unit sale in the United States is revenue of $20,000-$25,000 per unit for CTT. With the total cost to the client of only about $55,000/unit, the Calmare system is very affordable and can be easily leased through equipment leasing companies if preferable.
The company has recently made substantial progress in expanding its marketing and sales reach with the Department of Veterans Affairs' Federal Supply Schedule Service accepting CTT's application to be an approved vendor for its Calmare(R) Pain Therapy Treatment to the Department of Veterans Affairs, the Department of Defense, the Indian Health Service, the Bureau of Prisons, and State Veteran Homes. Again, the need for multiple units at many of these locations holds great potential for future sales. According to USA TODAY (3.12.10), 3.8 million prescriptions for pain relief were written for US military personnel in 2009. Already, the Walter Reed Army Medical Center in Washington, D.C., has joined the growing list of organizations that will treat pain patients with CTT's Calmare(R) Pain Therapy Treatment, as authorized by the Surgeon General of the U.S. Army and Commanding General of the U.S. Army Medical Command. There are 153 VA Medical Centers, 768 VA Outpatient Clinics and 232 VA Vet Centers.
Previously announced, yet still under the radar: There is an undisclosed company (one of the largest networks of community oncologists and cancer researchers with more than 500 affiliated sites of care and more than 1,300 physicians) currently evaluating the Calmare(R) technology for possible placement throughout its many locations.
So, why the weakness? Again, it appeared that there was much anticipatory buying going into the ASCO meeting with the first two abstracts ever to be presented on the Calmare(R) system scheduled. But CTT also recently announced a private placement in process for 2 million shares (which will give CTT a total of 13.6 Million shares outstanding). No one likes dilution, but the purpose is for expanding CTT's marketing and sales activities, along with increasing shareholder's equity to continue to meet AMEX's listing requirements. The company is quick to assure investors that the private placement will be competed and the company will meet the requisite shareholder's equity standards way before the AMEX panel meeting scheduled July 22, which will assure CTT's continued listing.
In summary, CTT may be an attractive medical technology investment for the non risk-averse investor looking for a high potential return on investment (ROI) from an emerging, yet inexpensive, technology with a huge potential market. As more sales, revenues and profits confirm market acceptance of CTT's technology, it would be reasonable to anticipate an increase in institutional ownership, effectively decreasing the public float for the near term.
Disclosure: Author holds a long position in CTT