It's difficult to properly describe GE (NYSE:GE), or for us old timers, the former General Electric Company. What started in 1878 as a pure play electric company, or more specifically, a light bulb company, has gradually evolved over the last 100+ years into what is considered a global conglomerate. But GE is so much more than that. We can't walk 10 feet without touching or listening to something produced by GE.
From the world's first light bulb and first radio broadcast, the GE products that have been a part of our lives are infinite it seems: toaster ovens, electric ranges, locomotives, radios, navy ships, generators, insulation, planes, X-rays, and radio stations, to name a few, and those were developed before 1922.
Needless to say, an early investor in General Electric would have had a pretty nice return over the years. It is still one of the 'safest' holdings an investor can have in her portfolio. And positive returns over the long-term are I hate to say, 'almost guaranteed'. But is it too diversified now? Does it provide no better return than the S&P 500? After all, it's business is so diverse, it could be considered a mutual fund, not unlike Berkshire Hathaway.
However, GE's longevity and safety does not necessarily mean it is immune to economic turmoil and stock price declines. It was affected back in 2007-2008 during the financial crisis as earnings per share dropped from $2.17 per share to $0.90 per share. Meanwhile, the dividend was cut in half from $1.24 per share to $0.61 per share.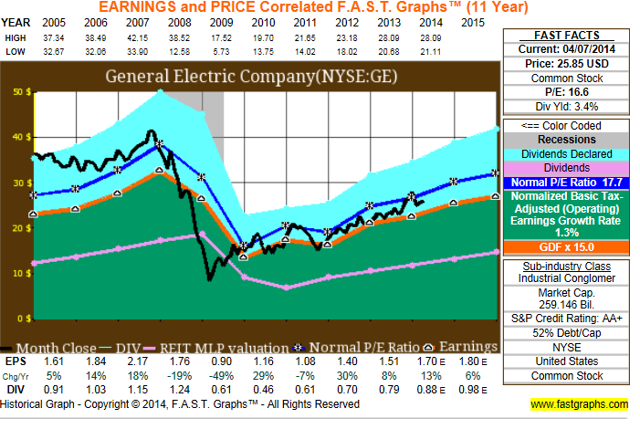 At a price of $5.73, GE stock had reached lows many investors never thought they would see again. Investors not already holding the stock saw an opportunity to jump in. Meanwhile, long-time shareholders finally had a chance to add to their positions. So far, it's worked out well. The stock hit a high of $28.09 in 2013 and almost touched that level again earlier this year. Investors that bought at the end of 2010, would have enjoyed a 16% annualized return through 4/7/2014, slightly outperforming the S&P 500's return o 14.1%.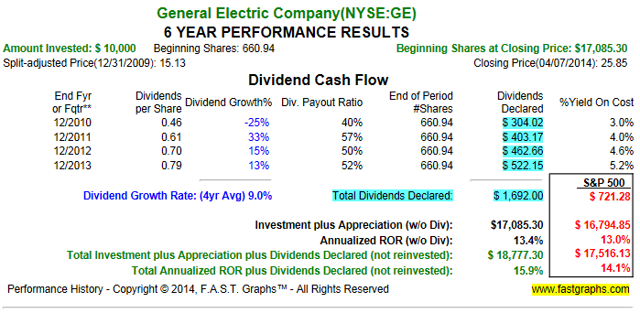 The question now is whether this 6-7% pullback while the S&P 500 has been flat, is a good opportunity for new investors to jump in, or old investors to add on?
Looking at the 5 year estimated earnings forecast for GE and applying a normalized PE ratio of 16 indicates a possible price of $43.06 by December 2019. Earnings are expected to increase in the double digits, a recurring EPS growth rate it hasn't experienced since the early 2000's.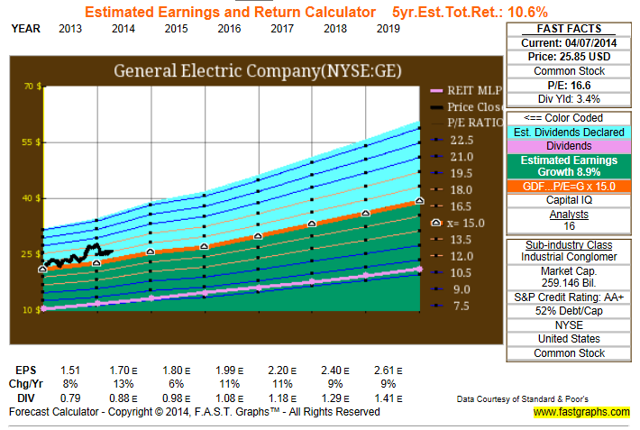 For a short-term investor, this may not sound so appealing. After all, the S&P 500 has a long-term average return of somewhere between 10-11% over 30 year periods, depending on the exact period being evaluated. For the long-term investor, however, this may be a very good entry point. Particularly after the 37% return on GE stock in 2013, which was a full 5% higher than the S&P 500. On a one year basis, GE is now underperforming the broader index.

GE is one of those stocks that should be a core holding in every investor's portfolio. It is challenging, however, to figure out when to get in if you haven't already, or when to add, if you still haven't reached your target allocation.
In my opinion, this little pullback in the stock even as the S&P 500 has remained flat is a welcome surprise that long-term investors should take advantage of.
Sources: Morningstar, FastGraphs
Disclosure: I have no positions in any stocks mentioned, and no plans to initiate any positions within the next 72 hours. I wrote this article myself, and it expresses my own opinions. I am not receiving compensation for it (other than from Seeking Alpha). I have no business relationship with any company whose stock is mentioned in this article.