Southern Company (NYSE:SO) is an American electric utility holding company based in the Southern United States. Southern Company holds the ownership of Alabama power, Georgia Power, Mississippi Power and Gulf Power, each of which is an operating public utility company. In addition, it also owns all the common stock of Southern Power Company, an operating public utility company. Southern Company owns and operates 46,000 megawatts of generation capacity and serves 4.4 million consumers in four states.
Southern Company Delivered Good Results
Southern Company performed well throughout the year and this resulted in healthy top-line growth. In the fourth quarter, the company reported $3.927 billion revenues, up by 6% compared to $3.703 billion in the fourth quarter of 2012. For the full year, the revenue of $17.087 billion grew by 3.3% from 2012. The strong results were driven by high electricity usage on the back of favorable weather conditions as well as improved industrial activity. Milder-than-normal temperatures boosted Southern Company's electricity demand. This brought about an upward movement in overall electricity sales and usage. Total electricity sales during the fourth quarter improved 3.4% from the same period last year.
Southern Company's total retail sales rose by 3.9%, reflecting higher demand from residential customers that increased by 6.0%. Commercial sales registered a year-over-year upward movement of 1.4%. In particular, industrial sales were boosted by a healthy 4.8%, lifting Southern Company's fourth quarter results. With approximately one third of the company's total retail sales coming from industrial customers, the direction of the economy significantly affects the fortunes of Southern Company compared to other utilities that are less dependent on their industrial component.
In 2013, the net income of $1.6 billion decreased by $706 million or 30% primarily due to $1.2 billion pre-tax charges for the revision of estimated costs related to the construction of Mississippi Power's Kemper IGCC.
In January 2014, the company announced a quarterly dividend of 50.75 cents per share marking the 265th consecutive quarter that Southern Company has paid dividends. The company increased the annual dividend by 3.6% in 2013 and 3.7% in 2012. The dividend of $2.0125 per share in 2013 was up from $1.9425 per share in 2012 and $1.8725 per share in 2011. Southern Company has maintained a payout between 73% and 77%. In 2013 the actual payout was 107%, however, excluding the revision charges the payout came out to be 74%.
Strong Cash Flows and Capital Investment Plan
The company's cash flow position improved during the years due to a 25% increase in operating cash flows. Southern Company's $6,097 million operating cash flows were up from $4,898 million in 2012. By the end of fiscal year 2013, allowing $5,463 million for capital expenditure, the company was left with $634 million in free cash flows compared to $89 million in 2012. Besides its strong cash flow position, Southern Company anticipates possible negative cash flows over the next three years due to ongoing power generation projects. Southern Company is heavily investing in increasing its generation capacity by building new generation plants and maintaining existing plants. To do so, company plans to spend $15.9 billion between 2014 and 2016.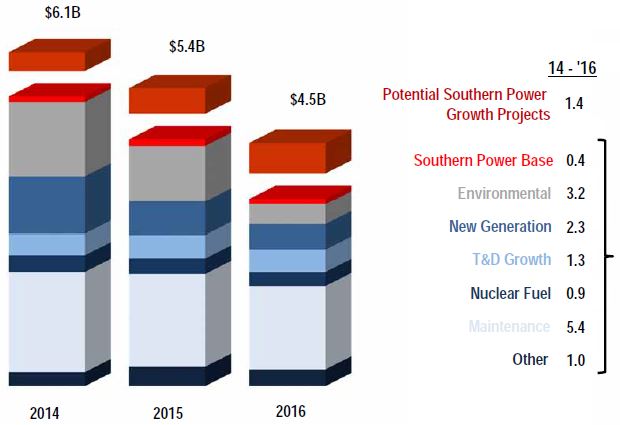 Source: Presentation
Southern Company's Vogtle Plant will be a Competitive Edge
Nuclear power generation is amongst vital energy resources. The U.S. is the world's largest producer of nuclear power accounting for more than 30% of worldwide nuclear generation of electricity. However in the current scenario, the U.S. nuclear power generation is suffering due to lower natural gas prices and excessive retirement of nuclear plants. Recently, Exelon (NYSE:EXC) decided to close its Oyster Creek unit in 2019 as its six power plants have failed to turn a profit during the past five years. In the last 30 years only a few nuclear reactors were built and in the coming years new facility building will remain low. Southern Company's plant Vogtle units 3 and 4 with a capacity of more than 2400 megawatt is under construction and the company expects operations to start in 2017 or 2018. By 2030, electrical demand is projected to increase by 27% in the Southeast. Older nuclear plants are retiring, only a few new plants are being constructed, and there is an expected increase in electric demand so this is an ideal situation for Southern Company and this new generation capacity will add significant growth.
Integrated Gasification Combined-Cycle Plant
Coal-fired electricity generation has traditionally been the largest component of electricity generation, representing 38% of total generation in 2013 and total coal-fired generating capacity of 310 GW. Mississippi Power, a subsidiary of Southern Company, is in the process of building an integrated gasification combined-cycle "IGCC" plant. This is the one of only two recent IGCC projects in the country and is expected to be operating by the end of 2014 with 582 megawatt generation capacity. This plant will help Southern Company to compete with Duke Energy's (NYSE:DUK) coal gasification plant.
To improve its renewable energy generation, Southern Company acquired the 139 megawatt Campo Verde Solar Facility in 2013 in partnership with Turner Renewable Energy. This acquisition has more than doubled Southern Company's solar capacity. Through this partnership Southern Company is also in the process of installing a 20 megawatt photovoltaic facility that is expected to be completed in 2014. These plants will increase the total capacity, and earnings are expected to increase after these plants begin operations.
Final Words
Southern Company's earnings per share are expected to grow at a CAGR of 4% to 5% between 2014 and 2016. Consensus forecasted EPS of $3.11 will imply a growth of 5.1% due to improved earnings from new generation capacity and $15.9 billion capital spending will also deliver improved earnings.
By applying an average payout ratio of 75% on consensus forecasted EPS, the forecasted dividend should be $2.07 per share in 2014, $2.15 per share in 2015, $2.22 per share in 2016 and $2.33 per share in 2017. This would result in a four year CAGR of 4% that is higher than the current dividend growth of 3.6% in 2013 and 3.7% in 2012.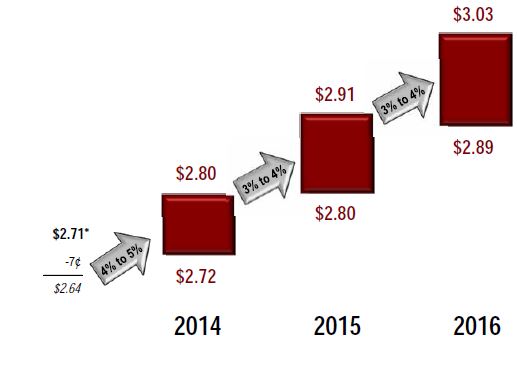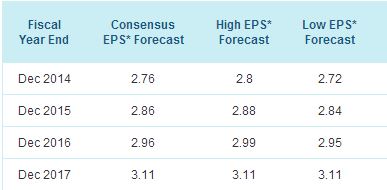 Source: Presentation and NASDAQ
Looking at the company's one year performance, the stock was trading between $47 and $48. Twelve months before the price declined to $40 in January 2014; however, now the stock price is recovering and trading at $43.29. Considering the earnings and dividend growth potential, Southern Company is an attractive stock amongst other utility stocks.
Disclosure: I have no positions in any stocks mentioned, and no plans to initiate any positions within the next 72 hours.
Business relationship disclosure: The article has been written by a Gemstone Equity Research research analyst. Gemstone Equity Research is not receiving compensation for it (other than from Seeking Alpha). Gemstone Equity Research has no business relationship with any company whose stock is mentioned in this article.