Alcoa (NYSE:AA) is the third largest producer of aluminum in the world, based out of New York City and operating out of Pittsburgh, PA. The company has over 61,000 employees and has been around since 1888.
It seems like it was just months ago that Alcoa released poor earnings, and the stock shot through the roof anyway. Sure enough, I look up, and Alcoa is reporting yet again.
I've been an Alcoa bull since the beginning of this year, citing a turnaround in aluminum prices, aerospace orders and partnerships with Ford (NYSE:F) and GM as reasons to be bullish the company throughout 2014.
Alcoa has traded brilliantly for shareholders, up 49.3% in the last 12 months and over 17% YTD in 2014 thus far. It's truly been a powerhouse to be invested in.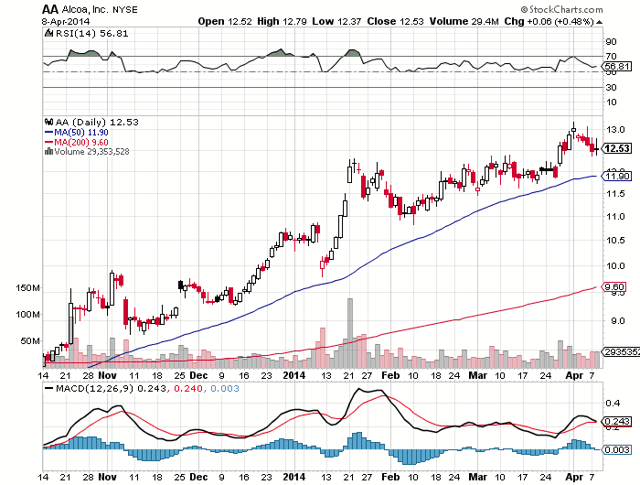 Yesterday, Alcoa beat Q1 earnings, posting $0.09 EPS versus analyst consensus of $0.05 and revenue of $5.45 billion, which missed estimates by $100 million. Mr. Market, however, liked the news and the company is trading up 3% pre-market on Wednesday morning thus far.
Alcoa's press release stated:
Net loss of $178 million, or $0.16 per share; excluding special items, net income of $98 million, or $0.09 per share
Revenue of $5.5 billion as realized aluminum prices fell 8% year-over-year
Record first quarter Engineered Products and Solutions after-tax operating income, up 9% year-over-year
Global Rolled Products profitability nearly tripled sequentially
Upstream segments improved performance for 10th consecutive quarter
Best quarterly Alumina after-tax operating income since 2011, up 59% year-over-year
Cash on hand of $665 million
Alcoa posted a much bigger loss the quarter prior, and these results indicate progress. The market is betting on a turnaround in aluminum prices and Alcoa's partnership with Ford, as well.
Aluminum prices have been on the decline over the past couple of years, but are forecasted to bottom and rise in the coming year. When they do, companies like Alcoa, who are taking on tons of new business (like Ford), stand to benefit in a major way - as do their shareholders.
Aluminum's spot price continues to be stagnant, but sentiment is that it will bottom this year, if it hasn't already bottomed. When the price rises, Alcoa stands to benefit in a major way.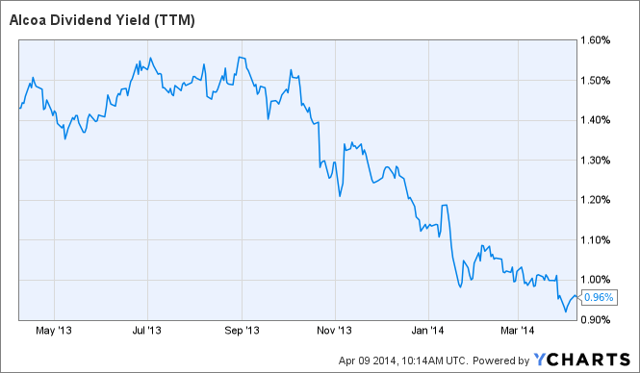 AA Dividend Yield (TTM) data by YCharts
Between Alcoa's continued moving in the right direction, its $665 million cash on hand, and its dividends, Alcoa seems like a good candidate to hold onto or add at these levels. As a result of the price moving up, Alcoa's yield has gone down, but once the company gets its feet on the ground and ceases to post a loss, they will likely address this by upping the dividend. My original price target this year for AA was $15 and I continue to contend that it is possible at this point. If Alcoa shows major steps in the automotive industry and if aluminum prices recovery sharply, we could move through $15 towards $17.
I'm bullish on Alcoa. Best of luck to all investors.
Disclosure: I have no positions in any stocks mentioned, and no plans to initiate any positions within the next 72 hours. I wrote this article myself, and it expresses my own opinions. I am not receiving compensation for it (other than from Seeking Alpha). I have no business relationship with any company whose stock is mentioned in this article.