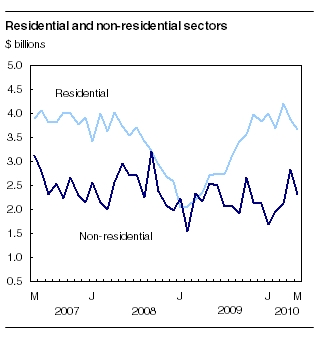 This morning, Statistics Canada reported a staggering 10.8% drop in Canadian building permits. Permits for residential construction decreased 5.3% while non-residential construction fell 18.3%.
So, is the Canadian real estate market finally reverting to the mean? It may be too early to make a comprehensive statement, but the leading indicators are starting to look soft — especially since over the last year, "the average home price [in Vancouver] has risen 14%, to around C$1 million."
As those in the US know, once the bidding lust for houses starts to wane, everyone seems to awaken and ask, "Wait a minute. Is a 2,000 square foot house really worth over $1 million?" These are the inquiries which turn real estate dreams into nightmares.
Looking at the big picture, Statistics Canada concludes:
Nationally, municipalities approved 17,124 new dwellings in May, down 4.4% from April. The decline was largely attribuable to single-family dwellings, which fell 6.5% to 8,168 units. The number of multi-family units approved declined 2.4% to 8,956.
If Canada continues to raise interest rates, investment in new projects should continue to cool as the cost to borrow money increases. After a strong run, this could prevent the type of insane over-building the US saw in places like Miami, Florida. However, if business activity slows too quickly and fear starts to spread, the current economic king of North America may slip off the throne …
Disclosure: No positions