Bank of America Corporation's (NYSE:BAC) share price has jumped by more than 40% in one year. Credit could be given to CEO Brian Moynihan, who has launched a cost-cutting program known as Project New BAC. The initiative will allow BAC to save $8 billion per annum by mid-2015. Back in 2013, the bank laid off 25,073 employees, leaving only 242,117 employees as part of the program.
While that only reflects just bottom line improvements, the macro factors could become favorable very soon given the Crimean impact on Russia that is pushing investors to invest money abroad. We will talk about these points later in this article. First, let's have a look at how BAC performed during 2013.
2013 Performance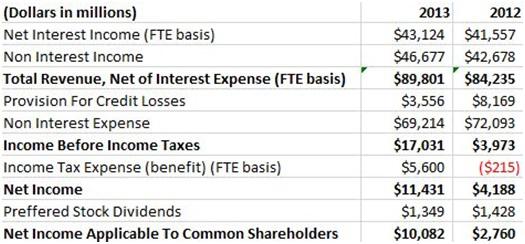 Source: 10K
Net interest income increased $1.6 billion to $43.1 billion in 2013 compared to 2012. The increase was primarily due to reductions in long-term debt balances, higher yields on debt, lower rates paid on deposits, higher commercial loan balances and increased trading-related net interest income getting partially offset by lower consumer loan balances, as well as lower asset yields and a low rate environment.
Improvements in home loans and credit card portfolios resulted in provision for credit losses decreasing $4.6 billion to $3.6 billion in 2013 compared to 2012. Non-interest expenses followed a similar trend, partly owing to the cost-cutting plan BAC is going through. The net result was diluted EPS rising 260% last year.
Project New BAC
BAC started the project in 2011 to completely renovate the bank's operations given the number of lawsuits it faced, forcing a series of multi-billion dollar settlements taken from investors' pockets. How effective has this program been so far? To answer that question, let's look at BAC's performance improvement over the recent period.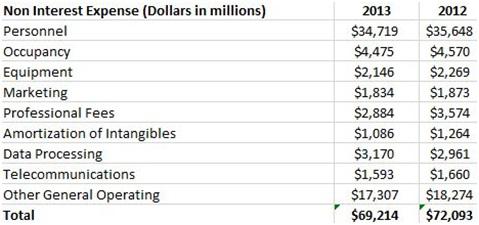 Source: 10K
Overall non-interest expenses for the year were $69 billion, reflecting a decrease of 4% from 2012. Personnel expense decreased $929 million in 2013 as BAC continued to streamline processes and achieve cost savings. Professional fees decreased $690 million, due in part to reduced default-related management activities in legacy assets and servicing. Due to Project New BAC, efficiency was achieved in certain non-interest expense categories. The bank is already realizing approximately $1.5 billion per quarter of the total $8 billion per annum target by mid-2015. Therefore, the program seems well on track.
The other most important measure is the yield on earnings assets that improved 21 bps from Q2 in 2013 to 2.55% in Q4. Lately, this trend has not been present in the banking sector for a while, therefore, praise could be given to the bank's sole effort. The attention to core operations and cost cutting has reduced expenses significantly at the moment, boosting profits. The bank's better-than-expected performance in the last quarter caused it to deliver full-year earnings of more than $10 billion for the first time since 2007, or post the financial crisis in 2008.
There are some reasons to believe why BAC's operations will continue improving. First, the Federal Reserve is in the midst of narrowing its stimulative quantitative easing policy. Last December, the Federal Reserve decided to taper its quantitative easing policy by $10 billion per month to $75 billion. During January, this figure improved by another $10 billion per month to $65 billion. The consensus estimate is that the Federal Reserve will continue to reduce the size of its QE program throughout 2014. The tapering will help grow the bank's interest margin, as witnessed over the last two quarters, and the Federal Reserve's plans will gradually reduce liquidity in the economy, helping interest rates to grow.
Second, BAC achieved its program target for 2013. Provided these efforts are sustained, operating margins over the next coming years will gradually improve as non-interest expenses are kept low across major operating divisions.
Crimean Situation Impact
Another favorable impact could be coming from Russia. Russia's equity market has fallen 18% so far this year. Foreigners have dumped the country's stocks, bonds, and the Russian ruble, following the March invasion of Crimea. The country is facing economic sanctions that could worsen if the crisis escalates. This environment has led to the Russian market being one of the cheapest in the world at the moment.
This is good for BAC in two ways. First, the trend of steady inflow of assets that persisted in 2013 has allowed BAC to report a 10% increase in client balances to $2.37 trillion, and a record yearly revenue jump of 7.7% to $17.8 billion for its Global Wealth & Investment Management (GWIM) business may continue as wealthy Russian investors who have access to international markets and corporations withdraw funds from Russian markets along with the international investors to insulate themselves from a further decline in broader Russian markets, and choose to invest internationally through international corporations. Also, a former Russian finance minister and a member of Putin's economic council cautioned last month that sanctions could drive an extra $50 billion of capital outflows from the Russian economy per quarter. Secondly, the cheaper Russian market will provide a good investment entry point to acquire international equity at discounted value and push the profits of BAC's GWIM division further.
Bottom Line
BAC is changing overall at a great pace. This was seen through the reduction in provision of credit losses. Though not at the pace like experienced last year, if the economy and asset quality of BAC continues to improve, there will be additional reductions in the allowance for credit losses in future periods. The reduction was a major reason why profits improved last year. Another cost-cutting attempt was closing 327 US location branches in 2013, leaving about 5,151 in operation. Together with favorable federal policies, the Russian crisis, and the cost-cutting program in place, BAC should be able to continue giving strong returns to investors. Therefore, I recommend buying the stock.
Disclosure: I have no positions in any stocks mentioned, and no plans to initiate any positions within the next 72 hours. I wrote this article myself, and it expresses my own opinions. I am not receiving compensation for it (other than from Seeking Alpha). I have no business relationship with any company whose stock is mentioned in this article.