There's no doubt that Intel is a stock that's in a bit of a defensive stance at the moment. While continuing to try and generate more revenue for themselves - which, I believe the company will ultimately do - Intel continues to work through rebuilding its vision and ideas for innovation to monetize in the coming year. We'll have a bit more color on the company's plans next week.
Intel (NASDAQ:INTC) is set to report earnings after the market closes next Tuesday, April 15, 2014.
The company announced that it's going to be revamping the way that it's presenting its earnings this upcoming quarter, in order to provide more focus on its efforts into mobile. ValueWalk had the original report on this, out yesterday:
Operating income will be broken down into six groups: PC Client, Data Center, Internet of Things, Mobile and Communications, Software and Services Operating, and All Other. While there is a bit of reshuffling among the other categories, the main change is the addition of the Internet of Things group, described as, "Delivering platforms designed for embedded applications for medical, automotive, industrial, retail, and other market segments; as well as software-optimized products for the embedded and mobile market segments," in the company's announcement. It will include embedded chips that used to be under the Intelligent Systems group as well as Wind River Software, formerly part of the services operating segment.
Intel has traded exceptionally well over the last 12 months, up 23.7% alone and up a modest 3.7% YTD this year.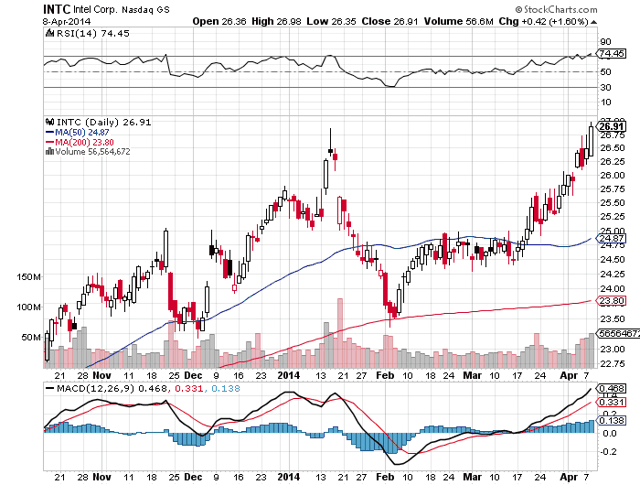 Click to enlarge
The company currently has a market cap of $133 billion and has traded in the range of $21.06 to $27.12 in the last 52 weeks.
Analysts are going to be expecting EPS of $0.37 on revenues of $12.81 billion for the quarter ended March 2014.
(click to enlarge - source Yahoo Finance!)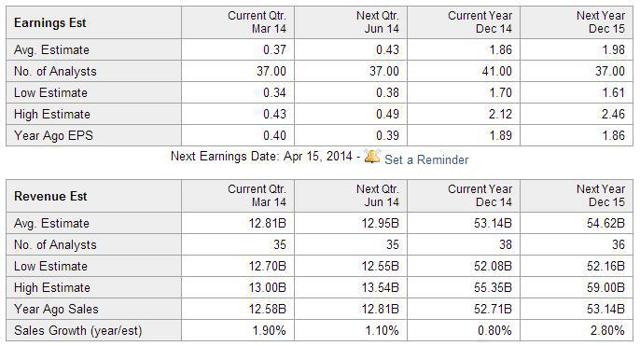 Click to enlarge
Recent news behind Intel occurred on the 7th, when Pac Crest upgraded the company to "outperform" on ascending corporate PC sales and Intel's new Xeon line. The stock had been gaining momentum upwards before this upgrade, and continued its multi-week move, pushing to highs near $27 yesterday.
Yesterday, however, Seeking Alpha reported that Intel was closing one of its Costa Rican facilities specifically due to waning PC sales and expectations of continued "soft PC demand":
Intel's Costa Rican chip assembly/test facility will be shut down and consolidated into the company's other global operations. Intel will continue employing 1K workers within the country.
Intel, which had 108K employees at the end of 2013, announced plans to lay off 5K workers in January. It has also stalled the opening of a cutting-edge Arizona fab (meant to produce 14nm CPUs) due to soft PC demand.
This looks like continued cutting to combat top line numbers that may not surprise to the upside for Intel.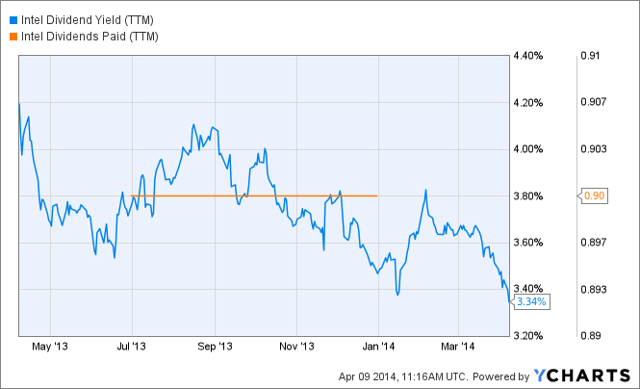 Click to enlarge
INTC Dividend Yield (TTM) data by YCharts
What I am not expecting this quarter is any type of dividend increase for Intel, even as the stock continues to move upwards. Intel's dividend occupies a fair amount of its cash at this stage in the game, where every dollar spent is crucial for Intel as they try and break out of the funk they're in. I suspect the dividend, which already pays an impressive yield of 3.34%, will stay put.
QTR is expecting Intel to meet earnings expectations, but not to exceed them. Often, I consider long straddles with options leading up to earnings, but this would not be a case where that would be an option. I'm not expecting much volatility out of Intel, and looking at the options pricing for next week, neither are traders. For May 2, 2014 options, the IV priced in is about 3-6%, and that's with 3 whole weeks of theta.
Although not invested in Intel for the short-term, it continues to be on a list of stock that I like for long-term growth. I expect earnings to not be an enormous event when it comes to movement in Intel's stock price, and contend that Intel will continue to merrily roll along its current path up to Q3/Q4.
Best of luck to all investors.
Disclosure: I have no positions in any stocks mentioned, and no plans to initiate any positions within the next 72 hours. I wrote this article myself, and it expresses my own opinions. I am not receiving compensation for it (other than from Seeking Alpha). I have no business relationship with any company whose stock is mentioned in this article.