Citigroup (NYSE:C) has had its fair share of self-inflicted black eyes over the past few years. The bank was terribly mismanaged leading up to and during the crisis, resulting in a massive bailout. Most recently, Citi has faced the fallout from the Mexico incident where lax or nonexistent internal controls let $400 million walk out the door. And then there's the business of the capital return plan rejection last month that was so embarrassing for Citi. These issues, however, are transitory and provide investors with a terrific opportunity to get into a global franchise at a discounted price.
In this article, I intend to explain why I bought Citi yesterday. To do this, I'll use a DCF-type model you can read more about here. Basically, it uses inputs such as earnings estimates, dividends and a discount rate in order to determine what the future value of the company is discounted back to a fair value target today. In other words, the model provides a price at which shares are a good value today based upon future expectations.
For this exercise, I used earnings estimates from Yahoo! Finance and I took a guess at what Citi's dividend will be for the next five years, which was challenging given recent events. I chose a discount rate of 9.5% as a compromise between risk and a margin of safety in the analysis and 3% as the perpetual growth rate. Finally, one thing I do specifically for banks in this type of analysis is use tangible book value versus traditional book value. This is a more accurate representation of a bank's value than traditional book in my view so I've decided that is the more useful metric for this kind of analysis.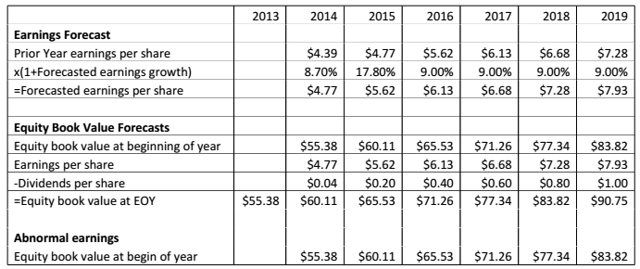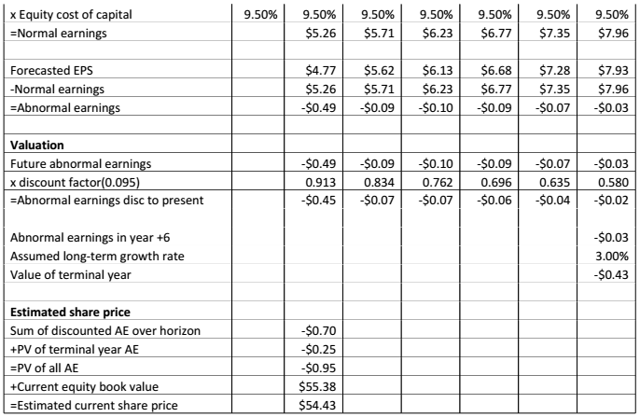 As you can see the model produces a fair value for shares of $54.43. What this implies is that Citi is a buy today at any price at or below $54.43 based upon the inputs I used in my model. Of course, any of them are subject to change but as a baseline scenario, this seems pretty reasonable to me. Now, what are the implications of this? First, it means that Citi is way undervalued at present given that it is trading about $8 lower than that price as of this writing. This provides an enormous margin of safety for those willing to take the plunge and own Citi.
Second, keep in mind that $54 is not a price target; it's a fair value for shares right now. Thus, the price target is actually much higher. There are a couple of ways to value Citi (or any other big bank for that matter) so we'll take a look at my two favorites to see where Citi stands. The first is tangible book value which I consider to be a great proxy for the intrinsic value of a bank, far more so than traditional book value that includes things like goodwill that don't have any actual value.
If we look at Citi's tangible book value it sits currently at $55.38, or nearly $9 higher than where shares are trading right now. But look what happens in the medium term if Citi hits its earnings estimates; by 2016 Citi's tangible book value will be around $70, or nearly 50% higher than today's price. And this assumes that Citi just trades at tangible book value when its competitors all trade for greater than tangible book. The point is there is a lot of room for expansion in the price of Citi just to be competitive with its peer group.
The other way to value a big bank is the old fashioned P/E ratio. Citi's peer group trades for around 11 times forward earnings so let's see what that would mean if Citi was assigned the same multiple. Citi is expected to earn $5.62 next year so if we assign that multiple we get a price of $61.82 in 2014, or a whopping 33% higher than today's price. If we look out to 2016 we would get a price next year of $67.43, and so on. Again, the point is that Citi has an enormous amount of room to expand its multiples of tangible book value and earnings in order to simply catch up to its peer group which indirectly provides a huge margin of safety for investors.
Citi is not perfect and it still has its fair share of issues that need to be worked out. However, the company is far too cheap to ignore at this point with earnings expanding rapidly and the share price being beaten down so much that it is trading for 8 times next year's earnings and only 84% of tangible book value. These numbers have no basis in reality and reflect downbeat sentiment from investors that will pass at some point.
Citi will trade with its peer group at some time in the not-too-distant future and when it does, $46 will seem like a bargain. I'm taking advantage of this clearance sale on Citi shares as a hold for a couple of years. My $62 price target represents 33% upside this year from today's price.
Disclosure: I am long C. I wrote this article myself, and it expresses my own opinions. I am not receiving compensation for it (other than from Seeking Alpha). I have no business relationship with any company whose stock is mentioned in this article.