"The time to buy is at the point of maximum pessimism."
This quote is attributed to one of this past century's most famed contrarian investors John Templeton. It was said that he always bought low and sold high. His investing style can be summed up as looking for value investments. Templeton called it "bargain hunting." Templeton's investing mantra was,
"Search for companies around the world that offered low prices and an excellent long-term outlook."
This statement properly reflects my position on Silver Wheaton's (NYSE:SLW) stock currently. Silver Wheaton's stock has taken a beating as of late. The stock is currently trading at 5 year lows. The precipitous drop in the price of silver in 2013 threw a monkey wrench into the company's profit margins.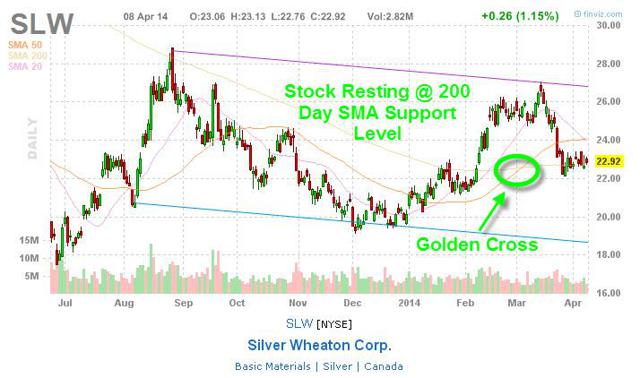 (Chart provided by Finviz.com)
The stock has suffered greatly due to these developments. Nevertheless, my contrarian nature has me intrigued with the stock. The stock is trading at historic lows at the same time the company's future outlook appears to be improving.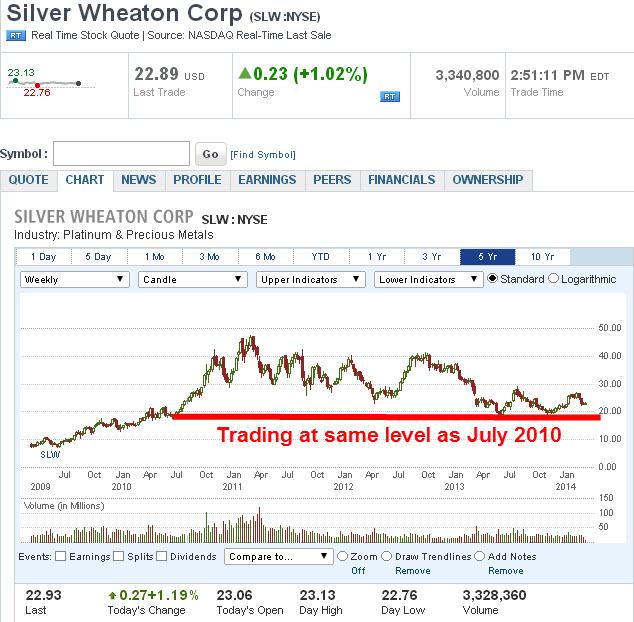 (Chart provided by CNBC.com)
On top of that, the stock pays a dividend and seems vastly undervalued based on the future outlook.
The stock trading at multi-year lows along with silver prices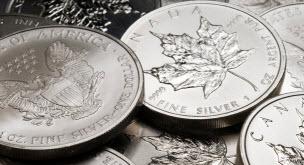 You have to buy low to sell high. You hear that all time. The problem is it is easy to say, yet very hard to do. Usually when a stock is trading at its lows there is a lot of bad news associated with company. Take Silver Wheaton right now for instance. Silver is currently trading at multi-year lows crimping the company's streaming margins.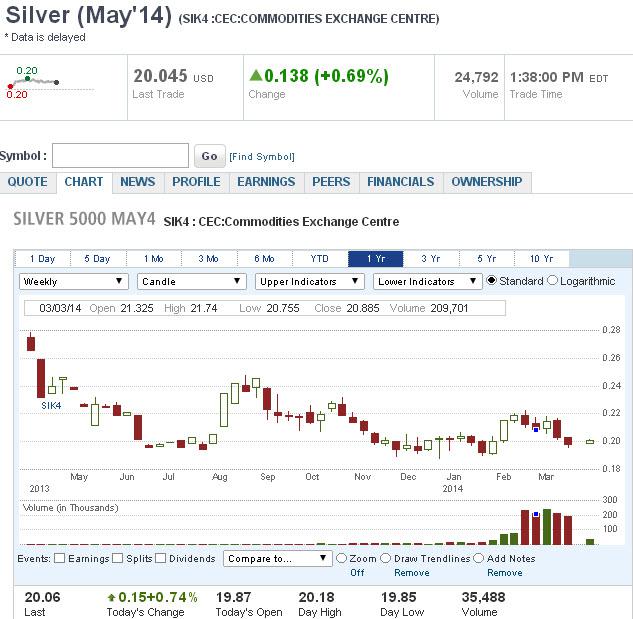 (Chart provided by CNBC.com)
Silver has fallen 30% since March 2013 from $28 to $20. A portion of the metal's current struggle may be attributed to Federal Reserve policy. Recently, new Fed chair Janet Yellen suggested interest rates could be hiked sooner rather than later. Talk of QE tapering by Bernanke early last year may also be reason for silver's decline over the past year.
Nonetheless, I believe last year was a so-called "risk on" year with market participants leaving safe haven investments such as gold and silver for high flying momentum stocks. This year I expect a reversal of fortune to occur. I posit we have not heard the last from Putin. Furthermore, I believe the new the industrial demand for silver will rise as the global economy regains strength.
Company management has well positioned Silver Wheaton for the future
Silver Wheaton has become the largest precious metal streaming company in the world in 10 short years. The company has a number of agreements where, in exchange for an upfront payment, the company has the right to purchase all or a portion of the silver and/or gold production, at a low fixed cost, from high-quality mines located in politically stable regions around the globe.
Based upon the company's current agreements, forecast 2014 attributable production is approximately 36 million silver equivalent ounces, including 155,000 ounces of gold. By 2018, annual attributable production is anticipated to increase significantly to approximately 48 million silver equivalent ounces, including 250,000 thousand ounces of gold. Other than the company's initial upfront payment, Silver Wheaton typically has no ongoing capital or exploration costs. Further, the company does not hedge its silver or gold production.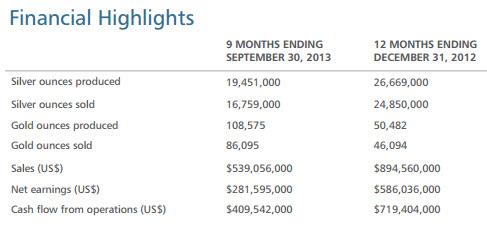 (Table provided by Silver Wheaton)
Chris Lichtenheldt, a mining analyst at Dundee Capital Markets, looked at his coverage universe to determine potential winners and losers in the silver business. Regarding Silver Wheaton he noted,
"Silver Wheaton Corp.'s business model includes a best-in-class cost base and a balance sheet that is solid above $15 an ounce silver."
The company is well positioned going forward. Any uptick in the price of silver and gold bodes well for the company.
Fundamental positives
Currently, Silver Wheaton is trading for a PEG ratio of approximately 1. The PEG ratio is a broadly-used indicator of a stock's prospective worth. It is preferred by numerous analysts over the price/earnings ratio because it also accounts for growth. Similar to the P/E ratio, a lower PEG means that the stock is undervalued. Many financiers use 1 as the cut-off point for PEG ratios. A PEG of 1 or less is believed to be favorable. As Warren Buffett would say, "Price is what you pay, value is what you get."
Furthermore, Silver Wheaton guided for exceptional production growth going forward. The company holds a portfolio of world-class assets including stakes in two of top five silver deposits worldwide. Moreover, the company is 100% unhedged, providing pure upside to increases in the price of silver and gold.
Finally, being a streaming company rather than a miner also has its fundamental advantages. The two major ones are low fixed operating costs and no ongoing exploration costs.
I submit as Silver Wheaton improves the bottom line going forward by increasing production and streamlining costs the stock will appreciate significantly from current levels. Not to mention what will happen if the price of silver rises substantially over the next year.
Downside Risk
The company can still make a profit with silver as low as $15 per ounce. If the global recovery fades and geopolitical risk subsides, the price of silver could drop even further. This would not be good news for the Silver Wheaton.
Conclusion
The US economy has had a weak start due to weather related issues, yet seems to be bouncing back as of late. If the US economy continues its upward trend along with the rest of the world, the industrial demand for silver should improve. Moreover, I am not so sure Putin will be satisfied for long with only annexing Crimea. I predict he has much bigger plans for Russian expansion. This may cause a pop in the spot price of silver as market participants flock to the precious metal as a safe haven play. As always, I suggest layering in to any position over time.
Disclosure: I have no positions in any stocks mentioned, but may initiate a long position in SLW over the next 72 hours. I wrote this article myself, and it expresses my own opinions. I am not receiving compensation for it (other than from Seeking Alpha). I have no business relationship with any company whose stock is mentioned in this article.