Investors continue to look for high yield. As recently as today, Mohamed El-Erian makes this observation and discusses some of the rationale in his blog entry on The Exchange. He attributes the quest for yield, almost any type of yield, to low economic volatility combined with low inflation which minimizes the risk of disruptively sharp economic fluctuations. Add the fact that cash is paying almost nothing and the opportunity cost of foregoing yield becomes even more significant. Finally, there's the widely held view that equity valuations may be approaching worrisome levels, so investors are looking harder at other avenues of opportunity.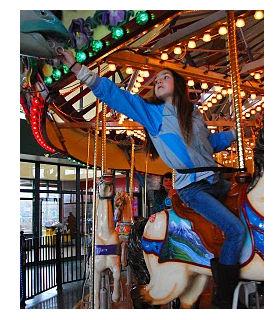 For those reaching for exceptional yield, UBS-ETRACS has been expanding its slate of 2x leveraged ETNs to high yield opportunities. They have been offering leveraged ETNs covering Business Development Companies, E-TRACS 2xLeveraged Long Wells Fargo Business Development Company ETN (BCDL), since May 2011, currently yielding about 15%; Master Limited Partnerships, ETRACS 2xMonthly Leveraged Long Alerian MLP Infrastructure Index ETN (NYSEARCA:MLPL), currently yielding about 10%; and Mortgage REITs, ETRACS Monthly Pay 2xLeveraged Mortgage REIT ETN (NYSEARCA:MORL), currently yielding near 20%, since October 2012 . These ETNs provide an investor with 2x leverage in these high-income sectors at a modest price through UBS's access to extremely cheap money based on 3 month LIBOR (0.85%).
More recently, at the end of 2013 UBS-ETRACS expanded their high-yielding, leveraged ETN portfolios to include one focused on Closed End Funds, ETRACS Monthly Pay 2xLeveraged Closed-End Fund ETN (NYSEARCA:CEFL) yielding about 18% (discussed here), and a broadly diversified offering, ETRACS Monthly Pay 2xLeveraged Diversified High Income ETN (NYSEARCA:DVHL), which opened in November 2013. I want to briefly discuss DVHL here.
DVHL is broadly diversified high income ETN. Its portfolio comprises 138 holdings from across the high-yield investment spectrum. One third of the portfolio is held in four ETFs covering emerging market sovereign debt, high yield corporate bonds, domestic preferred stock and high-yield municipal bonds. The 138 holdings include BDCs, MLPs, REITs (mortgage and equity), utilities and other dividend stocks. The total portfolio is composed of names familiar to the income investor. To illustrate I've tabulated the top 30 holdings (75% of the portfolio).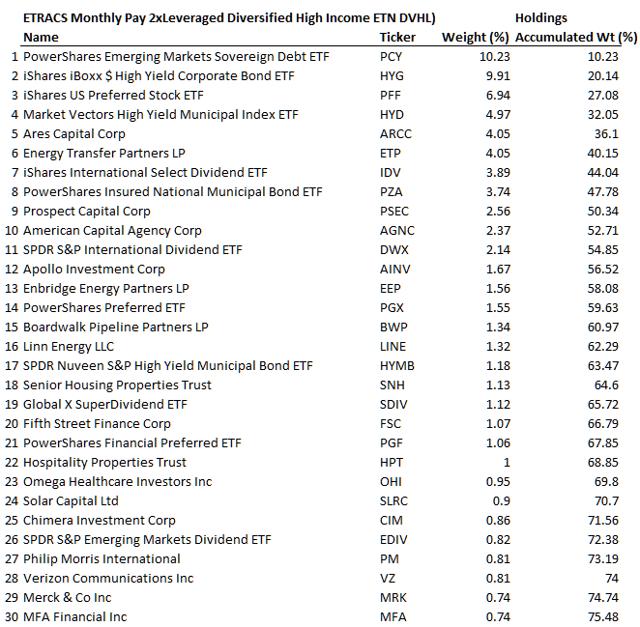 Breaking the portfolio down by asset classes reveals about 20% BDCs, 15% MLPs 13% Dividend Stocks, 12% REITs, 10% each Emerging Market Debt, Corporate Bonds, Preferred Stock and 1% Emerging Market Stock (not shown in chart).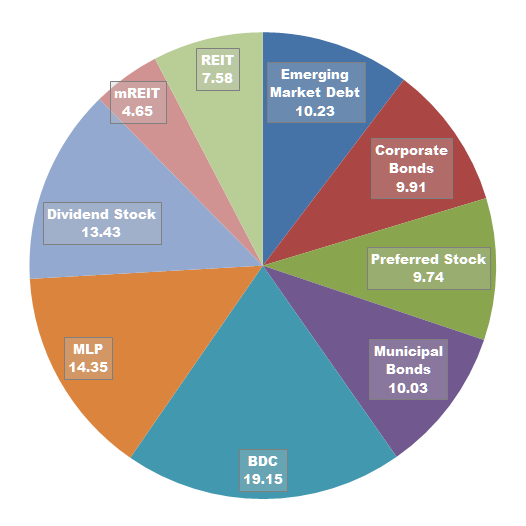 The chart below (from ETRACS) shows price performance since the ETN's inception:

The ETN is currently yielding about 14% (including April's pending distribution). Combined with the price return of 9.7% this represents an annualized total return of 43% since its December 2013 inception.
DVHL offers a broadly diversified high-income portfolio of ETFs, Preferred Stocks, Corporate Bonds, World Sovereign Bonds, MLPs, BDCs, REITs and Dividend Equities. It offers the income investor the opportunity to buy this diverse portfolio at 2x leverage at a moderate price. Certainly there is high risk involved in any such investment, but the broad diversification should go a long way toward moderating that risk.
One might consider holding this ETN along with CEFL as closed end funds are an income asset class not included here.
I opened by citing opinions of Mohamed El-Erian. This would be an appropriate place to add his conclusion on the quest for high-yield: Watchful vigilance is key to investing in this area at this time. This will be especially true for anyone delving into a leveraged instrument such as DVHL.
Disclosure: I have no positions in any stocks mentioned, but may initiate a long position in DVHL, CEFLF over the next 72 hours. I wrote this article myself, and it expresses my own opinions. I am not receiving compensation for it (other than from Seeking Alpha). I have no business relationship with any company whose stock is mentioned in this article. I hold long positions is some of the components of DVHL's portfolio.