Retrophin (NASDAQ:RTRX) is a biotechnology company run by CEO Martin Shkreli. Mr. Shkreli has an impressive track record, but I believe some recent actions should raise red flags.
Overview
Retrophin was founded by Martin Shkreli in 2011 out of the offices of his hedge fund, MSMB Capital Management.
We are a fully integrated biopharmaceutical company focused on the development, acquisition and commercialization of therapies for the treatment of serious, catastrophic or rare diseases. We regularly evaluate and, where appropriate, act on opportunities to expand our pipeline through licenses and acquisitions of products in areas that will serve patients with serious, catastrophic or rare diseases and that we believe offer attractive growth characteristics.
Retrophin has lately been focusing heavily on the acquisition part of its business description. Retrophin lists its goals as being:
Expand our product pipeline by pursuing additional acquisitions of pharmaceutical products that have a profound impact on patients' lives.
Develop a sustainable pipeline by employing disciplined decision criteria.
Evaluate the commercialization strategies on a product-by-product basis to maximize the value of each.
Retrophin currently has two drugs that are being marketed, two in Phase 3 studies, three in Phase 2 studies, and four in pre-clinical studies.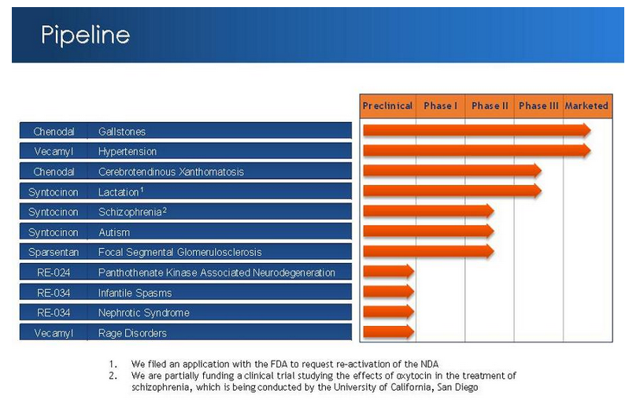 Combative CEO
There is no doubt that Mr. Shkreli understands Wall Street. He has spent most of his life working for various hedge funds and then starting his own. His Twitter presence is interesting and I recommend you follow him, but a recent tweet of his stood out to me.
@ValueTraderSam it's not a bad question but your insolent and accusatory tone is intolerable. we're an M&A focused company, that's why.

- Martin Shkreli (@MartinShkreli) March 11, 2014
M&A Companies
So what do M&A focused companies need? Either a stock price that continues climbing to do stock-based deals or a large cash position. From the most recent 10-K we can see that RTRX doesn't have a particularly strong cash position.

With only around $6 million in cash RTRX does not have the cash position to do the large scale M&A deals that it is seeking to do. Retrophin did raise $40 million in January, but then promptly did a deal. So the cash position is higher than stated on the 10-K. The terms of the deal are here. For example, Retrophin purchased the privately held Manchester Pharmaceuticals for $62.5 million (source). The deal included an upfront payment of $29.5 million. The deal calls for $11 million to be paid every three months in three installments. So the cash position is higher than stated on the 10-K it will still likely need to raise capital if it wants to continue to do more deals. The Manchester acquisition got RTRX their first two marketable drugs and allowed RTRX to provide guidance for the first time.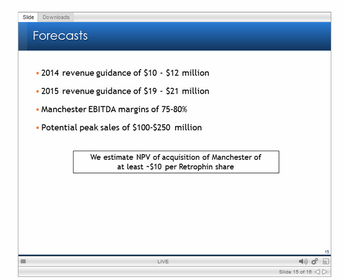 Soon after the deal closed Retrophin announced that they were dramtically increasing the price of the drug.
On April 3, 2014, Retrophin, Inc. (the "Registrant") provided notice to the wholesaler of its Chenodal® product that effective immediately, the Registrant had increased the price of a package of 100 250mg tablets of Chenodal from $9,460 to $47,300.
Insider Purchases
So if a company wants to be M&A focused but does not have a large cash position then it needs a high stock price. A high stock price allows it to issue equity or to do stock based deals. One way to get a stock price higher and get investors behind your stock is to show a large number of insider purchases. And Mr. Shkreli has been doing just that. His process, however, seems a little strange. Mr. Shkreli has been purchasing shares in relatively small amounts at a very fast pace.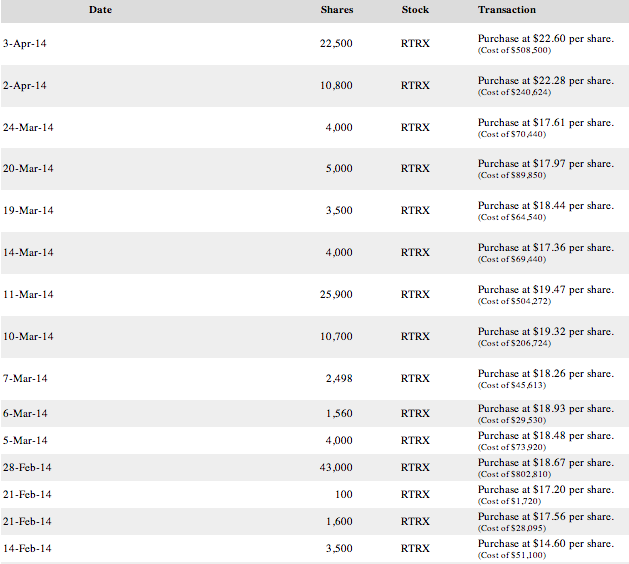 Source: Yahoo Finance
Mr. Shkreli already has a huge stake in the company. (His stake is around 15% of the company, including options). He owns almost 3 million shares. You can view his recent purchases here. While insider buying is obviously a positive, I believe that Mr. Shkreli is making small insider purchases to keep the stock price high. It looks good and convinces other investors that the stock is cheap, and it may very well be. With a high stock price RTRX can do secondaries to raise capital and acquire companies. RTRX did a 7 million share secondary this January which priced at $8. Biotechnology companies, especially developmental stage ones, rely on secondaries frequently to fund their work, and I don't have a problem with that, as that is what capital markets are for.
That is also the reason that I am not short RTRX. Mr. Shkreli is clearly very smart and understands Wall Street very well. If his strategy works then he will create a tremendous amount of shareholder value as well as value for himself. Since Mr. Shkreli has admitted that the focus of the company is M&A RTRX will likely need more cash than an ordinary developmental stage biotech company. If Mr. Shkreli can keep doing M&A deals with a high stock price then RTRX stock will likely to continue to do very well. If rare drug pricing breaks down (which allowed RTRX to raise the prices after the Manchester acquisition) then it may struggle. If the biotech market as a whole breaks down and takes RTRX down with it then it will not be able to raise as much money, or do deals as big as they hope or want to do. I am not short RTRX because I believe that if the strategy works it will work in a big way. I am not long the stock for the reasons listed above. I'm just someone observing the situation, and would love to have a discussion about RTRX in the comments below. I am well aware that many people will consider my thesis about insider purchases to be ridiculous, but I do think it is something that people should at least consider.
Disclosure: I have no positions in any stocks mentioned, and no plans to initiate any positions within the next 72 hours. I wrote this article myself, and it expresses my own opinions. I am not receiving compensation for it (other than from Seeking Alpha). I have no business relationship with any company whose stock is mentioned in this article.