The last time I wrote about ConocoPhillips (NYSE:COP) I stated, "The reason for selling the stock was because it was at its 52-week high and I saw that I would be paying the same now for future earnings as I did for past earnings which to me is indicative of no growth." During my quarterly portfolio change-out in mid-August 2013 I decided to sell Conoco out of the portfolio and replace it with Transocean (NYSE:RIG) because I believed Transocean had a lot of value relative to Conoco. ConocoPhillips explores for, produces, transports and markets crude oil, natural gas, natural gas liquids, liquefied natural gas and bitumen on a worldwide basis.
On January 30, 2014, the company reported fourth quarter earnings of $1.40 per share, which beat the consensus of analyst estimates by $0.07. In the past year, the company's stock is up 19.7%, excluding dividends (up 23.83% including dividends), and is beating the S&P 500, which has gained 19.23% in the same time frame. With all this in mind, I'd like to take a moment to evaluate the stock on a fundamental, financial and technical basis to see if I should be adding Conoco back into the basic materials sector of my dividend portfolio.
Fundamentals
The company currently trades at a trailing 12-month P/E ratio of 10.88, which is inexpensively priced, but I mainly like to purchase a stock based on where the company is going in the future, as opposed to what it has done in the past. On that note, the 1-year forward-looking P/E ratio of 11.19 is currently inexpensively priced for the future in terms of the right here, right now. The forward P/E value that is higher than the trailing twelve-month P/E value tells us the story of earnings contraction in the next year. Next year's estimated earnings are $6.26 per share while the trailing twelve-month earnings per share were $6.44. Next year's estimated earnings are $6.26 per share and I'd consider the stock inexpensive until about $94. The 1-year PEG ratio (8.43), which measures the ratio of the price you're currently paying for the trailing 12-month earnings on the stock while dividing it by the earnings growth of the company for a specified amount of time (I like looking at a 1-year horizon), tells me that the company is expensively priced based on a 1-year EPS growth rate of 1.29%. Below is a comparison table of the fundamentals metrics for the company for when I wrote all articles pertaining to it.
| | | | | | | | |
| --- | --- | --- | --- | --- | --- | --- | --- |
| Article Date | Price ($) | TTM P/E | Fwd P/E | EPS Next YR ($) | Target Price ($) | PEG | EPS next YR (%) |
| 21 Aug 13 | 65.98 | 10.69 | 10.78 | 6.12 | 91 | 1.53 | 6.95 |
| 09 Apr 14 | 70.07 | 10.88 | 11.19 | 6.26 | 93 | 8.43 | 1.29 |
Financials
On a financial basis, the things I look for are the dividend payouts, return on assets, equity and investment. The company pays a dividend of 3.94% with a payout ratio of 43% of trailing 12-month earnings while sporting return on assets, equity and investment values of 7.8%, 18.3% and 11.6%, respectively, which are all respectable values. Because I believe the market may get a bit choppy here and would like a safety play, I believe the 3.94% yield of this company is good enough for me to take shelter in for the time being. The company has been increasing its dividends for the past 13 years at a 5-year dividend growth rate of 13.3%. Below is a comparison table of the financial metrics for when I wrote all articles pertaining to the company.
| | | | | | |
| --- | --- | --- | --- | --- | --- |
| Article Date | Yield (%) | Payout TTM (%) | ROA (%) | ROE (%) | ROI (%) |
| 21 Aug 13 | 4.18 | 43 | 6.3 | 15.4 | 10.7 |
| 09 Apr 14 | 3.94 | 43 | 7.8 | 18.3 | 11.6 |
Technicals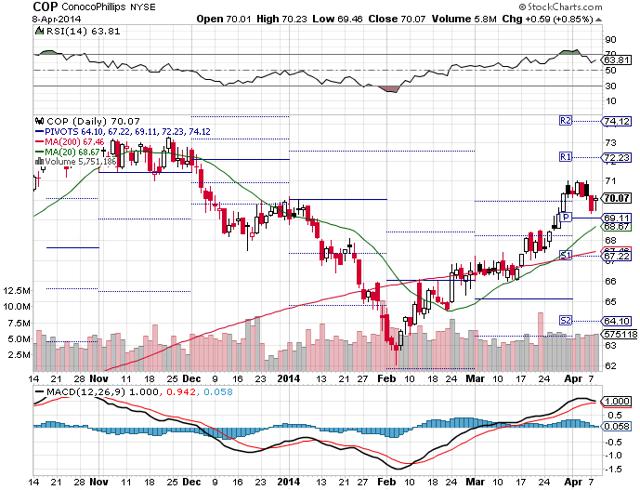 Click to enlarge
Looking first at the relative strength index chart [RSI] at the top, I see the stock is dropping from overbought territory with a value of 63.81. I will look at the moving average convergence-divergence [MACD] chart next. I see that the black line is just about to cross below the red line with the divergence bars decreasing in height, indicating bearish momentum. As for the stock price itself ($70.07), I'm looking at $72.23 to act as resistance and $69.11 to act as support for a risk/reward ratio which plays out to be -1.37% to 3.08%.
Conclusion
Thought I left this stock about eight months ago, it is still trading higher on future valuations when compared to trailing twelve-month valuations. Fundamentally, the company is inexpensively valued on next year's earnings but I just don't like to see earnings contraction estimates in the year ahead. Financially, the dividend is solid and is well supported by earnings. Technically, the stock is near overbought territory and can be due for a drop. Due to the overbought technicals, earnings contraction expectation, and extremely low near-term earnings growth potential, I will not be pulling the trigger on this name right now.
Because I swapped out Conoco out for Transocean in my dividend portfolio, it is only fair that I provide an update from the swap-out date. From August 19, 2013, Conoco is up 3.99%, while Transocean is down 10.57% and the S&P 500 is up 11.83%. My change out is not doing too hot right now, but I firmly believe Transocean has a lot to catching up to do.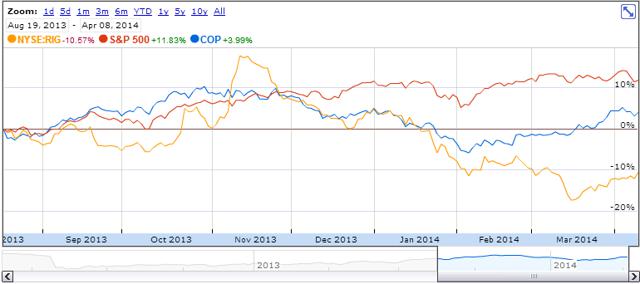 Click to enlarge
Disclaimer: This article is meant to serve as a journal for myself as to the rationale of why I bought/sold this stock when I look back on it in the future. These are only my personal opinions and you should do your own homework. Only you are responsible for what you trade and happy investing!
Disclosure: I am long RIG. I wrote this article myself, and it expresses my own opinions. I am not receiving compensation for it (other than from Seeking Alpha). I have no business relationship with any company whose stock is mentioned in this article.