Investors in Facebook (NASDAQ:FB) should recognize that liquidity matters. Specifically, the free flow of liquidity from the Federal Reserve has had a direct impact in high-beta names like Facebook. The stock has surged, of course, news events have helped, and the addition of the stock in numerous indexes has brought more buyers to the table too, but the liquidity for companies like this is what really matters.
In order for the demand to remain for companies like FB, whose P/E multiple simply makes seasoned investors reminiscent of the .com era, a few things must be true. First, the market must look attractive enough (it does not need to look great) for fast money to perceive a reward by taking a position. Second, company-based news must have positive attributes and encourage investment too. And finally, and most importantly, the perceived liquidity by these potential investors must also be there.
Notice that I did not mention earnings results. For companies like this, earnings are far less of an issue, and sometimes, investors even embrace no earnings at all, but the other factors absolutely play a role.
In fact, in my opinion, liquidity is the most important part, and therefore, we must look at the spigot from the FOMC to define real net liquidity. This is being done more for the investor than the trader in FB, because traders take positions with the intention to sell, where investors take them with the intention of holding, and anyone who intends on holding FB from here must also understand the liquidity risks that exist for names like this.
The real net stimulus of the FOMC has brought money to the stock market that would not otherwise have been there, that added liquidity to the environment, and some of that liquidity has found its way into stocks like FB, Tesla (NASDAQ:TSLA), and other high-P/E plays, but what happens when the spigot is turned off?
According to our macroeconomic analysis, the real net stimulus is already turned off. As of April 1, 2014, the net real stimulus of the FOMC, after taking into account domestic UST operations, was actually a slight drain on liquidity in the US economy. This is largely the reason why the high-flying stocks have fallen so much recently, but there is a good chance that a decline could be very rewarding for traders.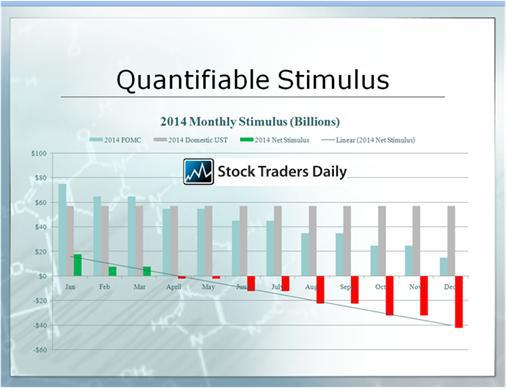 According to our liquidity chart, investors who intend to hold FB should seriously reconsider their decision, because if tapering continues, the liquidity for names like this will continue to dry up, and eventually, they will get hit just like the .coms did, but for a trader who has a short-term horizon, FB may actually be a very good play.
According to our real-time trading report for FB, if the stock moves back into its longer-term channels, after breaking slightly, it will be in parity with slight breaks of longer-term support in the Nasdaq as well, and that would make it a compelling buy with direct market correlation, but a buy with the intention of selling at resistance too.
According to our observations, FB could be an excellent trade if the reversal is confirmed, but it is a very poor investment given the liquidity drawdowns that so far are slated to occur.
Disclosure: I have no positions in any stocks mentioned, and no plans to initiate any positions within the next 72 hours. FB was called as a buy with condition triggers, target prices, and stop losses, for clients of Stock Traders Daily.
Business relationship disclosure: By Thomas H. Kee Jr. for Stock Traders Daily, and neither receives compensation from the publicly traded companies mentioned herein for writing this article.