Due to a historically cheap valuation versus gold, more rarity than gold, more industrial uses than gold, and geopolitically risky supply, the outlook for platinum (NYSEARCA:PPLT) is strong. Compared to gold (NYSEARCA:GLD) and silver (NYSEARCA:SLV), I believe platinum has the most upside potential.
The first strength for platinum is relative valuation. Platinum on the other hand is still trading very cheaply to gold at 1.1. The previous ten-year average for the platinum has been 1.5. This disparity will likely revert to the mean. Due to the oversold conditions in the precious metals market, I expect this ratio to be corrected by a rise in platinum instead of a decline in gold prices.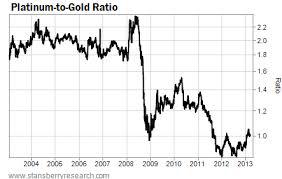 Source: Stansberry Research
What accounts for this historical spread is platinum's greater rarity than gold. The world's platinum production only amounts to six percent of the world's gold production, which is also equals just one percent of the world's silver production. Unlike gold with 88% of current reserves are used for jewelry or investment, platinum's usage is 76% industrial. Due to industrial uses in automobile manufacturing, platinum does not have a large above ground stock available to sell like gold (easier to sell jewelry than rip exhaust pipe out of your car). Emerging markets have been more than able to replace the declining demand of automobiles by Americans, so platinum demand will rise with this shift in production.
The final catalyst for platinum is the geopolitical risks in the supplying nation South Africa. South Africa is the dominant producer of platinum with the country composing of 80% of global reserves. Due to strong labor unions and government policy, South Africa's labor market is highly inefficient. The miners unions have significant negotiating power to hold wages above the market rates of other emerging economies and have a frequent track record of striking. These strikes usually result in large increases in platinum supply as reserves become inaccessible to the open marker. Since platinum takes six months to refine, delays in production due to strikes can cause severe supply shocks. The next two biggest producers are Russia and Zimbabwe. They are not the most stable countries geopolitically either.
Overall, platinum should recover in price either due to its status as a precious metal amongst economic weakness or in a time of recovery due to increased industrial demand higher miner strike risk. Platinum is the only precious metal to make a higher lows since July 2013 and its cheap relative valuation makes it an attractive buy. Major support levels are at both $1400 and $1300, per ounce, so any stops should be set slightly above or below these levels.
Disclosure: I have no positions in any stocks mentioned, but may initiate a long position in PPLT over the next 72 hours. I wrote this article myself, and it expresses my own opinions. I am not receiving compensation for it (other than from Seeking Alpha). I have no business relationship with any company whose stock is mentioned in this article.