It's hard to find a public company comparable for Pacific Health Care Organization (OTCQB:PFHO) because the flourishing workers' compensation cost containment service company faces very little competition in its California market. Just like Pacific Health Care, CorVel Corporation (NASDAQ:CRVL) provides services and solutions to reduce workers' compensation costs, though more on a national and large scale. Pacific Health Care does targets more on a regional and local scale so the result is they don't step on each other's toes much. Coincidentally, these guys are walking distance away from each other at a mere 2.2 miles, but when it comes to valuation they should be worlds apart.
Both Pacific Health Care and CorVel have traded at $50 recently so it makes comparison of the two somewhat easier. To begin with, both companies have a tangible book value between $3.50 and $4.00 per share. Cash per share for both companies is in the $1.50s, and trailing 12 month EPS for both companies is also in the $1.50s. It's all eerily close.
Where the similarities start to diverge is with the most recent quarters and the growth rates. Back in the calendar third quarter, Pacific Health Care passed CorVel in earnings per share with $0.42 compared to CorVel's $0.41. For the fourth quarter, it was $0.51 compared to again just $0.41 for CorVel.
For years, CorVel has had between 5% and 10% top line growth and flat-like bottom line. The pace has picked up nicely on a year-over-year basis, but not so much on a sequential quarterly basis. Meanwhile, Pacific Health Care is growing rapidly. I borrowed a spreadsheet from Quoth the Raven and filled in the latest numbers which should speak for themselves as to sequential growth in addition to year-over-year revenue up 43% and EPS up 122%:
| | | | | |
| --- | --- | --- | --- | --- |
| Quarter | EPS | Revenue | Enrollees | $ per Enrollee |
| Q4 '13 | $0.51 | $1,892,818 | 578,000 | 3.27 |
| Q3 '13 | $0.42 | $1,703,570 | 548,000 | 3.11 |
| Q2 '13 | $0.36 | $1,592,608 | 550,000 | 2.90 |
| Q1 '13 | $0.25 | $1,384,110 | 537,000 | 2.57 |
| Q4 '12 | $0.23 | $1,311,000 | 516,000 | 2.54 |
| Q3 '12 | $0.23 | $1,326,801 | 442,000 | 3.00 |
| Q2' 12 | $0.23 | $1,123,911 | 403,000 | 2.79 |
| Q1 '12 | $0.20 | $1,065,457 | 388,000 | 2.75 |
| Q4 '11 | $0.06 | $803,893 | 370,000 | 2.17 |
| Q3 '11 | $0.09 | $864,397 | 348,000 | 2.48 |
| Q2 '11 | $0.06 | $613,677 | 318,000 | 1.93 |
| Q1 '11 | $0.03 | $549,826 | 288,000 | 1.91 |
| Q4 '10 | $0.05 | $542,550 | 286,000 | 1.90 |
| Q3 '10 | -$0.01 | $379,151 | 254,000 | 1.49 |
| Q2 '10 | -$0.04 | $346,400 | 245,000 | 1.41 |
In Pacific Health Care's 10-K filed on the last day of the quarter, the company guided for more growth. It stated,
We expect revenues to moderately increase starting the first quarter of 2014 from the services we offer our existing and new customers, mainly in the areas of MBR and UR.
Historically, any time the company has used the word "moderately" a significant sequential jump in revenue and EPS followed.
Year-Over-Year EPS Growth
Trailing 3 months
Trailing 6 months
Trailing 9 months
PFHO
122.0%
102.0%
87.0%
CRVL
56.0%
39.0%
44.0%
Pacific Health Care had higher EPS last quarter (and trailing nine months) of $0.51 and $1.29 respectively, versus $0.41 and $1.22 for CorVel. As you can see above, the growth rate for Pacific Health Care is more than double top and bottom line when compared to CorVel. It would seem that Pacific Health Care could and should justify a stock price at least double that of CorVel based on both higher EPS and more than double the growth rate. Using an annualized PEG ratio of last quarter, CorVel has a PEG of just under 0.6, compared to a PEG ratio of 0.2 to Pacific Health Care. If you were to use a PEG of 0.4, still one-third less than that of CorVel, that would make Pacific Health Care a $100 stock based on current financial performance. I believe it's fair to penalize Pacific Health Care by one-third simply because it's a microcap not yet trading on a national exchange and carries with it inherently more risk.
That target could get lifted if Pacific Health Care continues to execute well. Pacific Health Care is a very thinly traded stock with a somewhat shorter history than CorVel and with far less resources so it certainly has some risk. Pacific Health Care has mostly focused its business in the state of California, which means there is regulatory risk that could turn unfavorable at some point, though the company is expanding some of its services in other states. There could be other bumps in the road or CorVel could suddenly decide to compete with Pacific Health Care more directly on its regional and local business.
It would seem a buyout offer would be more likely than direct competition as the two companies seem like they'd make a good fit with a bonus of only being almost literally a hop, skip, and a jump apart from each other. Buyouts tend to be a long shot, but one never knows.
Regarding the potential changes in government regulations that are risks to both Pacific Health Care and CorVel but possibly more-so Pacific Health Care due to its higher concentration in the state of California, this is from the 10K filing. See especially the bold:
Managed care programs for workers' compensation are subject to various laws and regulations. The nature and degree of applicable regulation varies depending upon the specific services provided. Parties that provide or arrange for the provision of healthcare services are subject to numerous complex regulatory requirements that govern many aspects of their conduct and operations. Because managed healthcare is a rapidly changing and expanding industry and the cost of providing healthcare continues to increase, it is possible that the applicable federal and state regulatory frameworks will expand to have a greater impact upon the conduct and operation of our business.

As discussed above, the provision of workers' compensation managed care in the state of California is governed by legislation and secondary regulations. The services we provide have developed largely in response to legislation or other governmental action. Changes in the legislation regulating workers' compensation may create greater or lesser demand for the services we offer or require us to develop new or modified services to meet the needs of the marketplace and compete effectively. We could also be materially and adversely affected if the state of California were to elect to reduce the extent of medical cost containment strategies available to insurance companies and other payers, or adopt other strategies for cost containment that would not support demand for our services.

There has been considerable discussion of healthcare reform at both the federal level and in the state of California in recent years. Due to uncertainties regarding the ultimate features of reform initiatives and the timing of their enactment, we cannot predict which, if any, reforms will be adopted, when they may be adopted, or what impact they may have on our business or within the industry in which we participate. However, the most recent statutory change in California Workers' Compensation was SB 863, which had various provisions that became effective January 1, 2013 and others on January 1, 2014. While the general provisions effecting MPNs, utilization review, and bill review were favorable for employers, showing the importance of these programs and possibly expanding appeal and usage, other provisions created requirements on MPN administrators that many in the industry consider difficult to comply with. We have had and anticipate we will have a much easier time complying with these provisions than many of our competitors, since many of these requirements were similarly required under HCO regulations and already exist within our operations. Some examples of the new requirements include the Medical Access Assistant, the Physician Acknowledgement mandates, and quality assurance reviews of MPN providers.
There are two additional items of note. One, Pacific Health Care was named as the fourth fastest-growing small public company in Orange County, California: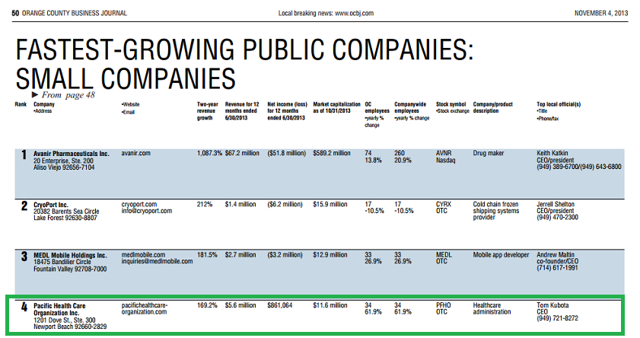 Second, is the insider transactions. While a host insiders at CorVel have been busy selling (click here as there are just far too many selling transactions to list), Pacific Health Care hasn't had any executives sell in years. In fact, the CEO (Tom Kubota) has only bought more Pacific Health Care shares in the open market over the last two years and as recently as a month ago (one of the same days CorVel's CEO was coincidentally was selling). As reported on Yahoo:
Insider Transactions Reported - Last Two Years
| | | | | | |
| --- | --- | --- | --- | --- | --- |
| Date | Insider | Shares | Type | Transaction | Value* |
| Mar 10, 2014 | KUBOTA TOM (Officer) | 100 | Direct | Purchase at $23.50 per share. | 2,350 |
| May 17, 2013 | KUBOTA TOM (Officer) | 1,056 | Direct | Purchase at $9.25 per share. | 9,768 |
| Apr 10, 2012 | KUBOTA TOM (Officer) | 5,240 | Direct | Purchase at $1.75 per share. | 9,170 |
Conclusion: Pacific Health Care Organization is the better buy over CorVel Corporation with much higher potential though it does carry with it much higher risk especially in short term day-to-day trading. If you annualize Pacific Health Care Organization's earnings of $0.51 last quarter, it trades with a P/E ratio of under 25, which seems speculatively undervalued on its own right given the rapid and continuous rise in revenue and EPS each quarter.
Disclosure: I am long PFHO. I wrote this article myself, and it expresses my own opinions. I am not receiving compensation for it (other than from Seeking Alpha). I have no business relationship with any company whose stock is mentioned in this article.
Editor's Note: This article covers one or more stocks trading at less than $1 per share and/or with less than a $100 million market cap. Please be aware of the risks associated with these stocks.