Th share price for Microsoft (NASDAQ:MSFT) has risen by 39% over the he past 12 months, largely outperforming an 18% return for the S&P 500 index. In my view, this quality dividend stock remains a buy at the current level due to solid fundamentals, strong dividend and share buyback growth prospects and cheap valuation.
To capitalize on the trend of increasing adoption of cloud computing, Microsoft has been actively developing and marketing cloud-based offerings. Among those, I believe the development of Office 365 and Azure could be the key for Microsoft's long-term success among fierce cloud competitors. The company is now in the early stage of transitioning its Office customer base into Office 365, which is offered through a software-as-a-service ("SaaS") model.
In my view, there are two primary benefits from this transition. First, as Microsoft continues to shift revenue generation to the SaaS model, it is believed that revenue visibility and predictability will improve largely given the upfront payment and gradual revenue recognition nature of SaaS products, and this is a desirable feature for a solid income investment. Secondly, Office 365's subscription model would give Microsoft better opportunities to upsell its other product offerings and thus should improve monetization per customer(especially for enterprise customers).
Going forward, as sales of Office 365 continue to ramp up, I expect management could provide detailed updates on revenue stability and upsell opportunities, which would act as positive catalysts on share price. On the Azure front, momentum continues to be strong as the public cloud service has been recently launched in China, making Microsoft the first global public cloud services provider serving the country, where the growth of the public cloud business is estimated to exceed the global average. In addition, management also announced a series of new features added onto Azure which would improve integration and configuration of the offerings, making the product more user-friendly to developers. I believe these initiatives would further strengthen Microsoft's competition for second place in the public cloud services industry (next to Amazon Web Services), which remains in its infant stage.
Microsoft has long been a robust cash flow generator. Over the past 10 years, the company has managed to generate an annual operating cash flow margin of at least 33% (see chart below). Given the relatively small portion of capital expenditure, annual free cash flow margin over the same period was at least 27%. As more revenue will be derived from SaaS/PaaS models, I expect cash flow generation to remain strong but with improved visibility.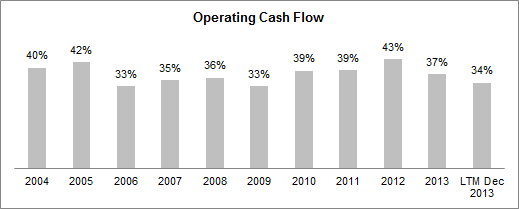 I have performed a cash flow forecast to illustrate Microsoft's cash distribution capacity. My calculation started with current consensus revenue estimates which predict that revenue will grow from $73.7B in fiscal 2013 to $98.8B in fiscal 2016, representing a 3-year CAGR of 8.3%. To be conservative, I have applied a 5% haircut to these estimates, which means that I would assume the revenue to reach just $93.9B by fiscal 2016, at a CAGR of just 6.4%. I then assumed the operating cash flow margin to stay flat at 32.5% through fiscal 2016, which is below its 10-year historical average at 37%. For capex, I put down $6.1B in fiscal 2014, which is slightly above management's guidance of $6.0B for the year. In subsequent years, I assumed the capex to grow by 10% per annum. In terms of cash distribution, I assumed annual dividend payment to grow by 20% per annum. It should be noted that the company has grown dividend per share by 21% CAGR since 2010, and my forecast is in line with this growth rate. As my analysis also projects continued share buyback, which would decrease share count over time, the per share dividend growth implied from my model would actually exceed 20%. For share repurchases, I put down $8.2B per year. As you can see from the chart shown below, Microsoft would have the capacity to repurchase shares worth a total value of $24.6B (~7% of current market cap) and maintain an annual per share dividend growth rate of at least 20% through fiscal 2016 while it still has at least a $2B cash surplus each year that can be deployed for acquisitions.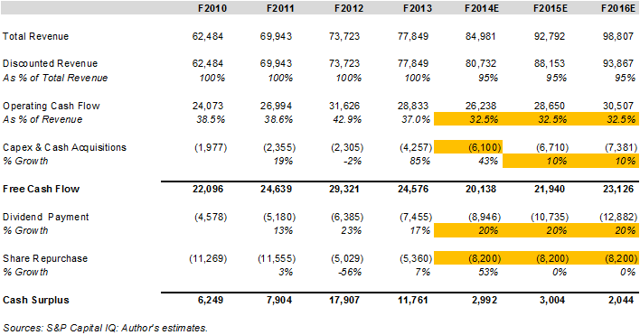 Click to enlarge
At ~$39, Microsoft trades at 12.9x consensus estimated 2015 EPS, compared to the S&P 500's forward 2015 P/E multiple of 15.8x. Despite the stock's significant outperformance over the S&P 500 in the past 12 months, the valuation discount only compressed slightly from a 12-month average of 19.3% to 17.9%, largely owing to the Street's recent upward EPS revisions (see chart below).

Click to enlarge
In my view, Microsoft's current valuation gap to the market still signals a buy because 1) the company's consensus long-term earnings growth estimate of 8.5% is fairly close to the average estimate of 9.0% for S&P 500 companies, 2) the company's EBITDA margin (~38%) and operating cash flow margin are notably above market averages, and 3) the stock offers a 2.8% dividend yield, compared to the S&P 500's average at just 1.9%, and the price is supported by potential large share buybacks. Looking forward, I expect a potential for multiple expansion as Microsoft continues to develop into a cloud-based firm, which generally commands a higher valuation multiple given the stability of revenue stream.
In conclusion, Microsoft's development strategies should ensure continued strong cash flow generation and improved financial visibility, which would benefit shareholders through strong dividend growth and return of capital. As the stock is still trading at a large discount to the market, income investors seeking technology exposure are recommended to buy the shares now.
All charts are created by the author, and data used in the article and the charts is sourced from S&P Capital IQ, unless otherwise specified.
Disclosure: I am long MSFT. I wrote this article myself, and it expresses my own opinions. I am not receiving compensation for it (other than from Seeking Alpha). I have no business relationship with any company whose stock is mentioned in this article.