Always on the lookout for new names to replace the stocks I've sold, I ran one of my favorite screens at TD Ameritrade. The results of running this screen which called for a 5% dividend yield or greater along with a 4 star or moderate buy from S&P are listed below: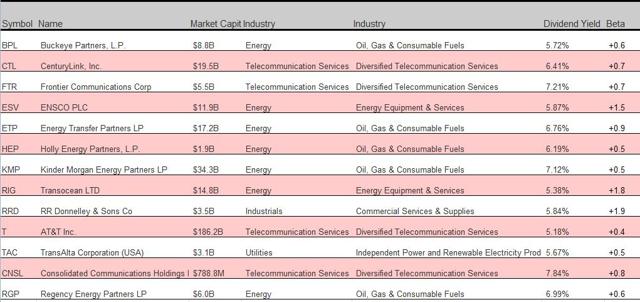 Two industries dominated this screen; energy and telecommunication services. Most of the energy issues on the list were limited partnerships; entities that deliver K1's which are usually sent late. This creates the difficult problem of filling out and calculating complex income tax forms at the last minute. Since I am no longer willing to deal with these income tax issues for the many portfolios I manage, they were removed from consideration.
I ran this same screen at Fidelity's website. The Fidelity screen offered different data than TD Ameritrade's screen and automatically eliminated LPs as well. The results are shown below:

This Fidelity screen offered annualized returns over various time periods, information I used to choose stocks for further research. Three companies offered excellent 5 year returns but recent 1 year returns were miniscule or showed a loss. They were Ensco (NYSE:ESV), CenturyLink (NYSE:CTL), and AT&T (NYSE:T). There were 3 stocks that had great 5 year returns and excellent 1 year returns as well; they were Ship Finance International (NYSE:SFL), Consolidated Communications Holdings (NASDAQ:CNSL), and RR Donnelley & Sons Co. (NASDAQ:RRD). It is interesting to note that 2 stocks showed up on the Fidelity screen, SFL and WIN, but were missing on the TD Ameritrade screen.
I chose to research all the companies with 5 year annualized returns over 10%; CNSL, CTL, ESV, RRD, SFL and T. Since it is possible for a company to have an event or events that hurt profits for a year, it does not mean it will carry through in the future. It is also possible that investors lose interest in a particular industry or company for some reason and it depresses the price of the stock. Issues with problems like this can be special situations where one can make considerable capital gains when profits and/or investor psychology turn around. Below is a short review of the key elements found on these companies used to judge the suitability for adding them to the portfolios I manage.
CNSL is a provider of communication services to residential and business clients in California, Illinois, Kansas, Missouri, Pennsylvania and Texas. The company is over 100 years old with its main offices located in Mattoon, Illinois. The company offers TV, internet and wired telephone services. The current dividend rate is $1.55 which represents a 7.8% dividend yield at the current selling price. The dividend is 2 times as high as the company's profit. It is certainly not likely that the dividend will be increased in the near future and it appears more likely that the dividend will have to be reduced. The trailing P/E is over 25 and the forward P/E is over 20. Its P/E is considerably higher than the industry average of 15. Insiders own nearly 7% of the shares while on the other hand 7% of the shares have been shorted. Ford Equity Research and The Street rate CNSL as a hold while Zacks regards it a sell. While these rating agencies noted the profit growth of the company from 1 year to the next, they also see problems with debt management and a weak operating cash flow.
Conclusion on CNSL:
I am not going to add this issue to the portfolios I manage. The odds of a dividend reduction and an accompanying price decline are much too high for my comfort. Pursue this high dividend provider at your own risk.
CTL is the third largest provider of communication services to residential, business and governmental clients in the US. In 2013 it operated about 13 million access lines in 37 states and served approximately 6 million broadband customers in North America, Europe and Asia. The main office is located in Monroe, Louisiana, traces its roots back to 1930 and considers itself a leader in the network services market. While the company has been losing landline customers, it has been adding high-speed internet and Prism TV customers. CTL has a large national fiber network that covers 240,000 miles.
CTL currently pays $2.16 per year which represents a 6.4% yield at its current price. CTL has also repurchased 50.8 million shares over the past year and a half as well. Since CTL had a loss for 2013, there is no trailing P/E and the forward P/E is around 13. Since the industry average P/E is 15, there is room to grow the P/E of CTL. If CTL were to sell at a 15 P/E, the price would go from the present $34.00 per share to $38.00 per share. Ford Equity Research, The Street and Zacks each rate CTL as a hold. S&P on the other hand gives 4 stars to CTL and has a $41.00 12 month price target. Ford did note that CTL has shown profit growth over the past 5 quarters even while gross revenue has been declining slightly. CTL is a strong company which is quickly moving from its legacy landlines to providing high speed internet and IPTV to its clients.
Conclusion on CTL:
I consider this company a good dividend stock with an adequate cash flow to continue paying its dividend and grow the company. The strength of the company and its businesses make this stock appear to be a good buy at its current price. I will be adding this issue to some of my accounts at a price of $33.00 or below.
ESV is a provider of offshore drilling services to the oil and gas industry throughout the world. Besides owning a fleet of 74 rigs, it also provides management services to other third parties who own rigs. It has been in business since 1975 and is headquartered in London, England. Yahoo Statistics indicate a trailing P/E of 8.32 and a forward P/E of 7.33. The current dividend rate of $3.00 with a 5.9% yield represents a payout of only 37%. This issue is also selling below its book value of $54.77 per share. While S&P has a 4 star rating on the stock, other rating companies rate ESV a hold. Credit Suisse currently has a hold on the stock, but has a target price of $63.00. That represents a better than 20% increase over the present price. Ford Equity Research and The Street rate ESV as a hold, meaning that they predict that ESV will move with the market. An interesting note from The Street article was that ESV is growing at a 15% rate or 2 times as fast as the industry average. Checking Zacks rating also indicated a hold while it ranked ESV at the top third of the industry.
Checking some other sources, Seeking Alpha has a recent article on ESV that suggests it is a good dividend stock to buy now. In summary, the company is among the least-levered of its peers, has a low payout ratio, a simple debt structure and is a blue chip name in this industry. The same author who wrote the previous article has one on The Motley Fool with a breakdown on where ESV's rigs are located as well as comparisons between other drilling services.
Conclusion on ESV:
I consider this a good stock for you to do further research. As for myself, I am in the process of adding this issue to the portfolios I manage.
RRD was founded in 1864 and is based in Chicago, Illinois. The company provides packaging and labeling products for businesses. It also provides other digital services for businesses such as graphics, print management and data analytics. RRD offers an annual dividend of $1.04, a 5.8% yield on its current price. The payout ratio represents 90% of its 2013 earnings. Its trailing P/E is 15 and its forward P/E is 10. This forward P/E indicates that RRD expects to increase its earnings considerably in the coming year. The share statistics offer some interesting highlights; currently 98% of stock float is held by institutions and insiders hold another 1.5%. On top of that, almost 9.5% of the shares are sold short. These statistics make one wonder whether there is going to be a short squeeze or if there is a negative story someone knows that's not yet been made public.
Ford Equity Research and The Street rate RRD a buy. S&P has a 12 month target price of $21.00 per share. Zacks has RRD at hold but considers it among the top 15% companies in the industry.
Conclusion on RRD:
RRD has transformed itself into a growing company. It pays a good dividend and appears to be on an upward trajectory in sales and profits. I plan to add this stock to the portfolios I manage. You may want to consider this issue as a possible dividend growth stock to add to your portfolio as well.
SFL owns a fleet of 22 oil tankers, 12 dry bulk carriers, 24 container vessels, 2 car carriers, 2 jack-up drilling rigs, 3 ultra-deepwater drilling units, 6 offshore supply vessels and 2 chemical tankers. The company operates, charters and sells these vessels. It maintains that many of its ships are on 10 year charters or longer with a $4.8 billion charter backlog. SFL's dividend is $1.60 annually and extends a 9.2% dividend yield at its current price. This dividend represents a payout ratio of 126%. This ratio is not as dangerous as it seems because SFL has many new ships where the depreciation is extremely high and has the cash flow to easily cover the dividend. Its trailing P/E is 17.5 and its forward P/E is 12. Several new ships are being put into service that will increase profits and cash flow.
The Street, Ford Equity Research and Zacks all have a hold on SFL. Zacks ranks the company in the top third of trans-ship companies. S&P has a modest buy on it with a 12 month target price of $20.00. This stock has a beta of 1.5, so one can expect a lot of movement in the price of the stock.
Conclusion on SFL:
I am willing to make SFL a part of my portfolios at a price below $17.00 per share. If it can be purchased at $16.50 per share or lower, I will definitely purchase the stock for many of the portfolios I manage. My recommendation to the reader is to take a close look at the volatility of this company. If one can stand the ups and downs that are likely to occur with this issue, buy it. If the inevitable price drops of the stock scare you, stay away.
T or AT&T is a familiar name to not only investors, but also to many telecommunication consumers as well. It provides wire-line and wireless telecommunications to millions of customers; to individuals, businesses and governments. The company's headquarters is located in Dallas, Texas and was founded in 1983. T has a trailing P/E of 10.4 and a forward P/E of 12.5. It pays $1.84 annually which is a 53% payout and offers a 5.2% yield at the current stock price. AT&T is currently attempting to rid itself of landlines and go completely wireless. This would enable the company to reduce expenses considerably and increase profits. The fly in the ointment is that consumers and regulators are about to create barriers to this initiative.
All the rating agencies I follow are calling T a buy; Credit Suisse, The Street, Ford Equity Research, Zacks and S&P. S&P has a 12 month target price of $38.00. T is a component of the Dow Jones Industrial Index with a dividend that is 2 times the average of its peers on that index. There are many articles on this website that cover AT&T. Here are links to the latest 4. (1, 2, 3, 4)
Conclusion on T
It certainly is easy to like T as an investment. It is in one of the most exciting businesses of our time. Almost everyone wants to own the latest wireless phone and internet devices. As a provider of the services that people want even though there is a great deal of competition, it is in a prime position to cash in on this growing business. I will certainly add it to the accounts that do not already have this stock in the portfolio. As a dividend investor there is plenty to like here and little danger of disappointment over the next few years.
Disclosure: I have no positions in any stocks mentioned, and no plans to initiate any positions within the next 72 hours. I wrote this article myself, and it expresses my own opinions. I am not receiving compensation for it (other than from Seeking Alpha). I have no business relationship with any company whose stock is mentioned in this article. I have positions on T in some of the portfolios I manage. I also have puts on some of the issues covered in this article. It is possible that I may be buying and/or placing puts on some of the other issues covered.