Tesla (NASDAQ:TSLA) has ambitious goals for its innovative approach to electric vehicles. Ambition has never been a limiting factor for Tesla's understated and courageous CEO Elon Musk who so far has taken his fortune to the edge a number of times to advance his concept of the future of the automobile to a gorgeous reality.
The latest bold move is the plan to construct what Musk calls a Gigafactory somewhere in the South Western United States to produce batteries not only for Tesla's but also for third parties.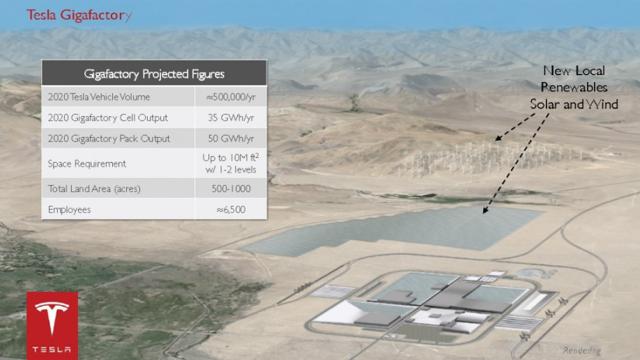 Click to enlarge
The plan has advanced with Tesla's issue of some $2 billion in convertible notes completed last month. The investment industry has a close eye on the plan and awaits announcements of partnerships to build the massive plant. To date, more skeptics than partners have emerged.
Tesla's current battery supplier is Panasonic (OTCPK:PCRFF). Panasonic's CEO made diplomatic comments to reporters essentially saying the $5 billion plant was a larger project than Panasonic would prefer.
The Wall Street Journal reported that Daimler's (OTCPK:DDAIF) electric vehicle program manager saw the panned Gigafactory had huge disadvantages as well as benefits.
I don't think Musk is too troubled by the industry skeptics. He has proven many wrong in the past. But there is a reality he must face - the clock is ticking on the project.
It seems to me that the construction of a 10 million square foot facility and hiring and training some 6,500 workers is at least a two-year project. I and my former automotive team have led the building a few automotive parts assembly plants on a much smaller scale, most recently two facilities totaling about 500,000 square feet in Oakville, Ontario. I can assure readers it is not something that comes together overnight and of course no detailed planning can really take place before site selection and permitting are complete.
To me that suggests the earliest this facility could be in operation might be early 2017 assuming site selection is completed sometime this year. Delay in finding partners or financing will push that out further.
Musk no doubt has spoken with some of the larger automotive parts suppliers with balance sheets able to stand the scale of his program. Johnson Controls (NYSE:JCI) supplies lithium ion batteries to Daimler and Ford (NYSE:F) and could reasonably put up $1 billion or so if it saw potential.
Magna International (NYSE:MGA) also comes to mind - its Magna Steyr unit is already a supplier of components for electric vehicles. Magna has one of the cleanest balance sheets in the industry and CEO Don Walker is more than capable.
There are not many other companies with the expertise and financial strength to support the Tesla project and if either JCI or Magna did have an interest I expect we would have heard that by now.
Without a strong partner or some very substantial additional financing the Gigafactory project seems a distant hope right now. That is the rub on Tesla. The stock price implies Tesla will get the project going and be able to ramp up its own production.
Barron's March 29, 2014 article entitled: "Tesla's Giga-Plan Looks Too Ambitious" pretty well captures the problem facing Tesla. It could also be a problem for Tesla investors.
I am a great admirer of Elon Musk and have been bullish on Tesla for a while. At its current price of $210 or so, the stock seems to discount a lot of success and ignore the issues Tesla faces.
Accordingly, I am short the name through options. I would be a buyer at a price of $150 or less and I expect we will see that price in any market downturn over the coming months.
Disclosure: I am short TSLA. I wrote this article myself, and it expresses my own opinions. I am not receiving compensation for it (other than from Seeking Alpha). I have no business relationship with any company whose stock is mentioned in this article.