Western Asset Mortgage Capital Corporation (NYSE:WMC) focuses on investing in, financing and managing primarily residential mortgage-backed securities. Although the core investment strategy is focused on Agency RMBS, WMC may opportunistically supplement the portfolio with RMBS that are not guaranteed by a U.S. Government agency or U.S. Government-sponsored entity, or non-Agency RMBS, commercial mortgage-backed securities and other asset-backed securities. Quick and dirty description: mREIT that plays in the agency and non-agency space.
On April 4th, WMC announced that they had issued shares:
Western Asset Mortgage Capital Corporation (the "Company") today announced that it has priced a public offering of 13,000,000 shares of common stock for total estimated gross proceeds of approximately $193 million. The Company has also granted the underwriters an option to purchase up to an additional 1,950,000 shares of common stock. The offering is subject to customary closing conditions and is expected to close on April 9, 2014.

Concurrently with the completion of this offering, the Company will issue and sell in a private placement a number of shares of common stock at the public offering price of this offering to Western Asset Management Company, the manager of the Company, that is equal to 5% of the aggregate number of the shares sold in the offering (excluding any shares that would be sold if the underwriters exercise their option to purchase additional shares), subject to a maximum purchase price of $10,000,000.

The Company intends to use the net proceeds of the offering primarily to purchase Agency RMBS (residential mortgage-backed securities), Non-Agency RMBS and CMBS (commercial mortgage-backed securities), focusing primarily on Agency RMBS and for general corporate purposes.
What might have driven this decision? Let's take a look: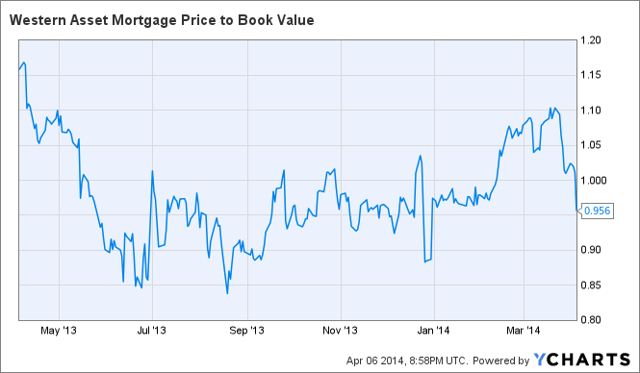 Click to enlarge
WMC Price to Book Value data by YCharts
The price had been staying above book value for over a month, so it was a great time to "reload" the equity component of the balance sheet to allow for more leverage and the ability to take advantage of opportunities within the market. After having bottomed out near 80% of book value, the premium was just too tempting. The result: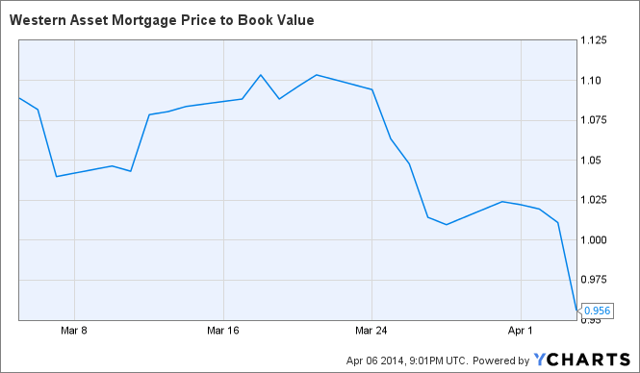 Click to enlarge
WMC Price to Book Value data by YCharts
As you might expect, the stock got hammered (-5.4%) and has fallen below book value again.
The question, then, is does this present a decent opportunity to get involved?
Let's take a look under the hood of this mortgage REIT.
The best place to start is the dividend. This is the attraction of the mortgage REITs, so it all comes down to the sustainability of the dividend. If we look at the dividend versus peers Annaly Capital (NYSE:NLY), Hatteras Financial (NYSE:HTS), Two Harbors (NYSE:TWO) and American Capital Mortgage (NASDAQ:MTGE) we see the following: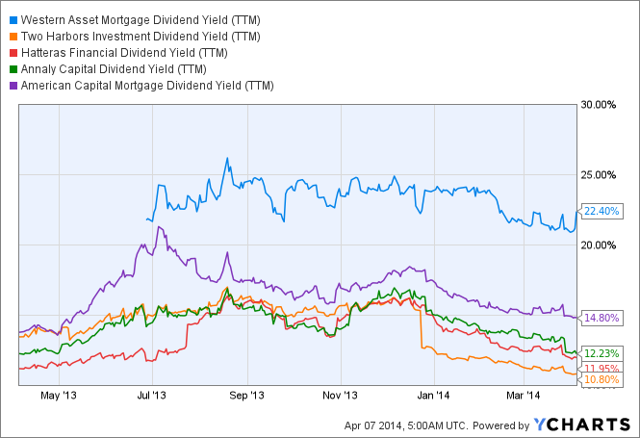 Click to enlarge
WMC Dividend Yield (TTM) data by YCharts
It's all about the yield here.
If the investment thesis is the yield (dividend), then what supports the dividend? With mortgage REITs, it is a combination of net interest spread, leverage and portfolio stability. Let's look at these factors:
The portfolio has been shifting over the last year, increasing the non-agency RMBS and CMBS component (note that CMBS is still very small although the scale makes it look larger for illustrative purposes):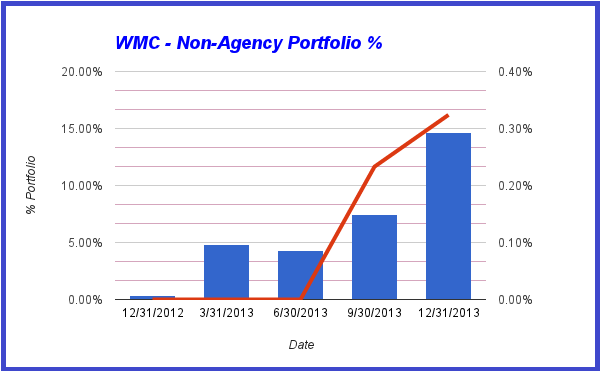 The non-agency RMBS component, however, is not exaggerated. Western Asset Mortgage Capital is becoming a hybrid mREIT. The characteristics of their portfolio as of year-end 2013 and 2012 were:

Click to enlarge
The shift is noticeable. What caused this? As I see it, two things caused the shift in focus: A change in management and opportunity. The original CIO, Stephen Fulton, retired in September, 2013, and was replaced by the former head of non-agency bonds, Anup Agarwal. The opportunity is and was the ability to transition into credit related mortgages (non-agency, CMBS...) to compensate for the lack of supply in the agency market (QE3).
Adding credit based mortgages, due to the additional risk (credit/default risk) should be additive to the net interest spread. Let's look at WMC: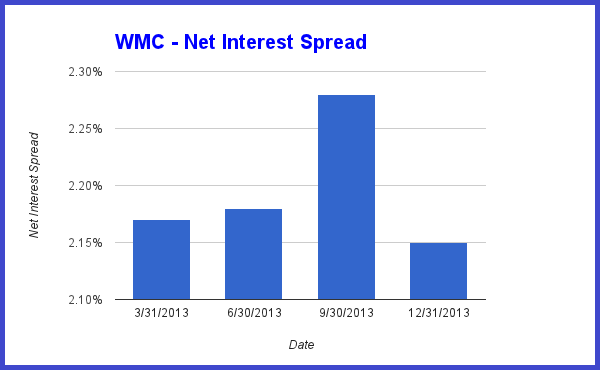 Not quite the desired effect. Why? Cost of funds. From the Q3 and Q4 presentations:
9/30/13:
3.42% adjusted gross yield
1.14% fully hedged cost of funds
Net interest spread of 2.28%
12/31/13:
3.61% adjusted gross yield
1.46% fully hedged cost of funds
Net interest spread of 2.15%
The increase in the cost of funds (now being broken out by asset type, whereas Q3 was not) overshadowed the increase in gross yield.
But as a check, a look at the peer group's net interest spread should help: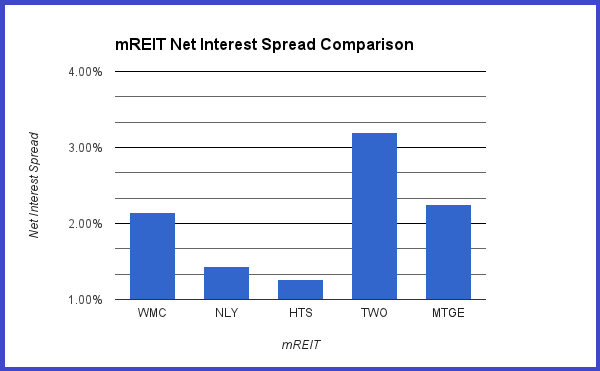 WMC is where they should be relative to more agency focused peers Annaly and Hatteras as well as a hybrid peer American Capital Mortgage. Two Harbors (just written about here) is an outlier. While the NIS hasn't been increasing due to the addition of credit sensitive mortgages, it is not "out of whack" versus peers.
Credit based mortgages, as stated above add a separate form of risk, and as a result, less leverage is used in hybrid portfolios. WMC is no exception. The following is the leverage meter over the last year: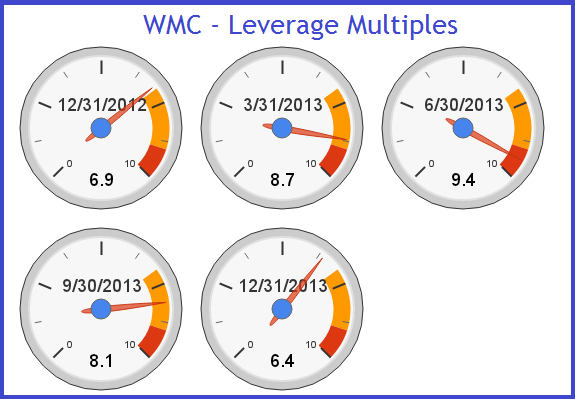 After redlining earlier in 2012 (9.4x is just plain high), leverage dropped off as more credit based securities were added to the portfolio.
In terms of leverage, WMC appears to in line relative to peers: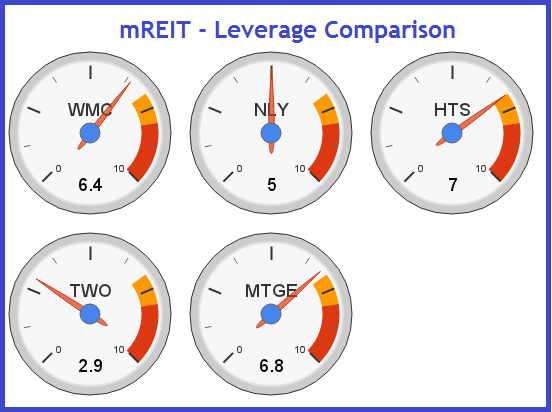 From the above chart, I would observe that, again, TWO is an outlier and NLY is underlevered (although they too have been adding credit sensitive mortgages).
Without being able to add additional leverage to the portfolio in order to offset the reduced net interest spread, income will fall, reducing the ability to fund such a large dividend.
So how do they do it? How do they pay such a large dividend which creates this above market yield?
Let's go to the Q4 earnings release:
Core earnings for the fourth quarter were $17.2 million
dividend declared on December 19, 2013 and paid on January 28, 2014, which consisted of $19.4 million in cash
They pay out more than they take in, that's how. Was Q4 a "one off"? Let's go to the Q3 earnings release:
Generated core earnings of $20.1 million, or $0.83 per basic and diluted share
Declared a $0.90 per share regular dividend for the quarter
Recently, WMC announced:
... that its Board of Directors has declared a cash dividend of $0.67 per share for the first quarter of 2014. The dividend takes into account the approximately 10.5% increase in shares outstanding resulting from the stock portion of the Company's 2013 fourth quarter dividend.

The Company also announced its estimated book value per share, as of February 28, 2014 was approximately $15.18.
On these points, one must realize the dividend on a "pre-share" basis is approximately $0.74, down from the third quarter dividend of $0.90. Book value is also lower by $0.09 as of February 28th.
The share issuance, hybrid transition and uncovered dividend remind me of something from the "go-go" years, specifically Chuck Prince (ex CEO of Citi) once said:
"When the music stops, in terms of liquidity, things will be complicated. But as long as the music is playing, you've got to get up and dance. We're still dancing,"
I know he was not referring to the dividend, but it just serves to remind me that actions and activities that cannot occur on a regular and consistent basis are destined to bring pain.
Bottom Line: I believe that the dividend will have to be reduced again to accommodate the new share sale, and further if WMC wants it to be sustainable (covered). While gains have fueled results (and lead to the Q4 share dividend), core earnings have to cover the dividend at some point of the cycle of raising capital to pay existing holders has to be repeated. Book value erosion will continue given the dividend policy and share issuance. Ultimately, the dividend will be relied upon to create positive returns (after book value loss) and is, in my opinion, at risk. While the yield is attractive, one must realize the risk that affords it. My position in WMC is a smaller one, currently at/near 1-2% of income portfolios, and will become smaller as dividends are not reinvested.
Charts are drawn from company (WMC and peer group) financials and compiled by the author (except where noted). Additional sources are company presentations (for WMC and peer group).
Disclosure: I am long WMC, TWO, NLY, NRF. I wrote this article myself, and it expresses my own opinions. I am not receiving compensation for it (other than from Seeking Alpha). I have no business relationship with any company whose stock is mentioned in this article.
Additional disclosure: This article is for informational purposes only, it is not a recommendation to buy or sell any security and is strictly the opinion of Rubicon Associates LLC. Every investor is strongly encouraged to do their own research prior to investing.