By Todd Shriber & Tom Lydon
Just a short while after dividend exchange traded funds hauled in over $29 billion in 2013, making the genre the biggest contributor to the growth of smart beta ETFs, some of the largest U.S. dividend funds have been bleeding assets in 2014.
Year-to-date, the three largest U.S. dividend ETFs have lost $848.5 million in assets combined. That group is comprised of the Vanguard Dividend Appreciation ETF (NYSEARCA:VIG), the SPDR S&P Dividend ETF (NYSEARCA:SDY) and the iShares Select Dividend ETF (NYSEARCA:DVY). Perhaps surprisingly, VIG is the worst offender in that trio having lost $462.5 million.
One dividend ETF that has seen inflows, albeit a modest $23.5 million, is a fund that some income investors are already familiar with as evidenced by its $1.8 billion in assets under management. That being the WisdomTree LargeCap Dividend Fund (NYSEARCA:DLN).
Given its flirtation with $2 billion in AUM, it is inaccurate to call DLN "obscure" or even "overlooked." It is, however, worth revisiting this ETF's advantages compared to rival funds. For example, DLN is up 3.1% this year compared to 1.3% for VIG while being 80 basis points less volatile than VIG, the largest U.S. dividend ETF, according to ETF Replay data.
Although not jaw-dropping, DLN sports a distribution yield of 2.3%. VIG's trailing 12-month yield is more inline with that of the S&P 500 at 1.9%. DLN differs from funds such as SDY, VIG and others in that its components are not weighed by length of dividend increase streaks. Rather, the WisdomTree LargeCap Dividend Index (WTLDI), according to WisdomTree:
Is dividend weighted annually to reflect the proportionate share of the aggregate cash dividends each component company is projected to pay in the coming year, based on the most recently declared dividend per share.
That allows DLN to blend sectors that are shaping up to be new sources of dividend growth along those sectors that have already shown themselves to be home to plenty of consistent dividend raisers. For example, technology and financial services, two of the three leading sources of S&P 500 dividend growth over the past several years, combine for over 29% of DLN's weight.
Due to rampant dividend cutting by banks during the financial crisis, many bank stocks do not have long enough dividend increase streaks to qualify for admission into ETFs like SDY and VIG. And because the concept of dividend growth is relatively new in the tech sector, that group is also lightly represented in many payout ETFs. SDY has just a 4% weight to tech. As of the end of February, VIG's combined tech and financial services weight was just 11.5%, according to Vanguard data.
Still, DLN offers comfort for the income investor looking for the dependable dividend growth of sectors such as staples, healthcare and energy. Those groups combine for nearly 37% of the ETF's weight and eight Dow stocks are found among DLN's top-10 holdings.
Dividend growth not only fosters added income and returns, but can also act as an inflation-fighting tool. Since the early 1970s, when inflation ran as high as 11% per year, aggregate annual dividends of the S&P 500 have grown more than 1,000%, to $34.99 from $3.16 a share, according to the Wall Street Journal.
Due to its light exposure to the utilities sector (just 5.7%), DLN has lagged the utilities-heavy DVY this year as Treasury yields have come in. However, when interest rates do rise, that scenario would likely reverse because DLN allocates over 29% of its combined weight to technology, consumer discretionary and tech, the three best-performing sectors in rising rate environments.
Over the past three years, DLN has outpaced some of its rivals while being less volatile. Plus, DLN pays a monthly dividend. Its rivals mentioned here do not.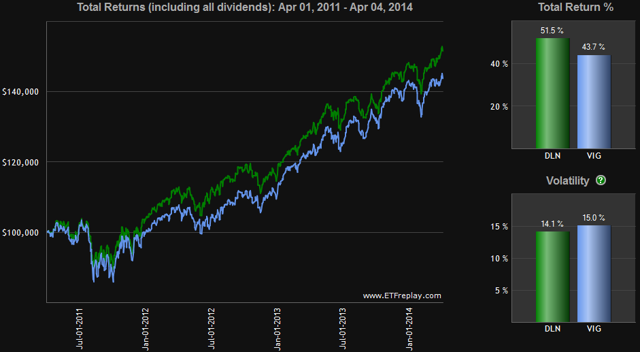 Chart Courtesy: ETF Replay
Disclosure: I am long DVY. I wrote this article myself, and it expresses my own opinions. I am not receiving compensation for it. I have no business relationship with any company whose stock is mentioned in this article.