SXC Health Solutions (SXCI) provides pharmacy benefit management and healthcare information technology systems to the medical field and has been a solid company and stock since the end of the brutal 2000-2002 bear market. This has been an extremely impressive stock with huge growth during the entire period and what is more surprising is that it is not a stock you hear about a lot around your usual financial media sites.

Even if you know about the stock, it is still very surprising to see how powerful the growth still is with this company. During the past eight quarters, YOY, EPS growth has come in at 50%, 41%, 56%, 138%, 152%, 96%, 86%, and 34%. Sales growth, during this period, has been even more impressive at 886%, 999%, 999%, 999%, 41%, 21%, 51%, and 55%. If you think numbers like that can't be improved upon, 2010 and 2011 EPS estimates are for gains of 8% and 30%.

With an EPS growth rate of 41%, debt of 0%, a cash flow of $1.99, and a Return-on-Equity of 16% you can clearly see why mutual fund ownership has increased during the past four quarters from 75 to 102 to 109 to 130 funds. This stock is simply a powerhouse of growth in the Computer Software-Medical group.

Fundamentally this stock is about as strong as you can get and that is the same case with its technicals. Despite the market topping out in April and entering a bearish phase in May, this stock has managed to hug the 50 day moving average line and continue higher with plenty of accumulation along the way.

If SXC Health Solutions can continue to base along the 50 day moving average, I would love to go long this stock with a bounce off this key support level and breakout to a new 52-week high. This stocks extreme Relative Strength to the market makes it a possible safe haven if the market decides to stay weak.

If the stock does not breakout and move higher, I would look to exit the position with a close below the 50 day moving average and then reevaluate the trade after it can complete another base.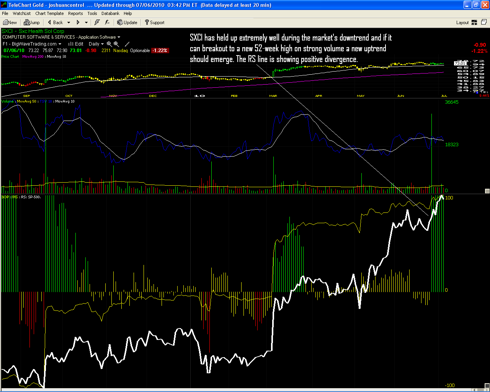 Disclosure: No Position