During the bull market over the past few years we have been buyers on dips and tried at all costs to avoid having to put money to work during the rallies. When we were forced to buy during the rallies we sought out names which had good value and thus far we are pleased with the results. This latest downturn we view as an opportunity as well and believe that there may be some opportunity in sectors that have been the hardest hit. We want to be clear here though, the money we are discussing deploying today would be that capital which is designated for the riskiest portions of one's portfolio.
With the FOMC Minutes coming out today watch for volatility to spike around two this afternoon. We would not expect any surprises, but with a new Fed Chairman who is trying to settle into the job one never knows how the market will react.
Chart of the Day:
One could say that tech stocks overall are a bit rich even at these levels, which we would not argue with based on this chart, however we do think that sticking to names where most of the damage has already been done should take some risk off of the table. We are not buyers of the entire tech sector, but we are interested in certain subsectors and industries.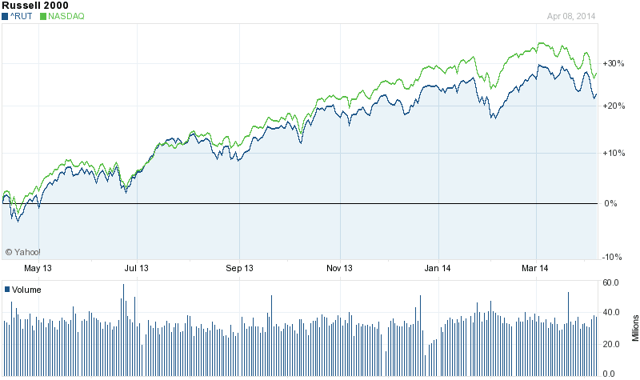 Source: Yahoo Finance
We have economic news today, and it is as follows:
MBA Mortgage Index (7:00 a.m. EST): Est: N/A Act: -1.6%
Wholesale Inventories (10:00 a.m. EST): Est: 0.5% Act: 0.5%
Crude Inventories (10:30 a.m. EST): Est: N/A Act: 4.030 M
FOMC Minutes (2:00 p.m. EST): Est: N/A
Asian markets finished mostly higher today:
All Ordinaries -- up 0.98%
Shanghai Composite -- up 0.33%
Nikkei 225 -- down 2.10%
NZSE 50 -- up 0.71%
Seoul Composite -- up 0.30%
In Europe, markets are trading higher this morning:
CAC 40 -- up 0.31%
DAX -- down 0.02%
FTSE 100 -- up 0.59%
OSE -- up 0.29%
Technology Stocks
The volatility remains high in the technology sector with the Nasdaq having fallen like a rock from its recent highs and the leadership stocks seeming to have lost their way. Yesterday had some positive developments as we saw many of the big tech names move higher on what is probably best described as a dead cat bounce at this moment. The rally higher is continuing today but we think it will take some time for the Nasdaq and the PowerShares QQQ Trust (NASDAQ:QQQ) to retest key levels on the upside.
3-D Printing Names Struggle
It is no secret among our readers that 3-D printing names have struggled in recent months, and we do realize that struggle might be too kind of an adjective to describe the trend among some of the names. We have watched the sector closely, especially the leadership names 3D Systems (NYSE:DDD) and Stratasys (NASDAQ:SSYS), trying to spot an opportunity to re-enter the trade. Thus far our efforts have been fruitless and we are still on the sidelines. We thought around the $60/share level in 3D Systems that a bottom might have been forming, but those levels did not hold when the rest of the market began to weaken and all stocks, especially technology, were brutally taken down.
Although the chart looks ugly with the recent trend, we see hope moving forward...especially as $50/share continues to hold.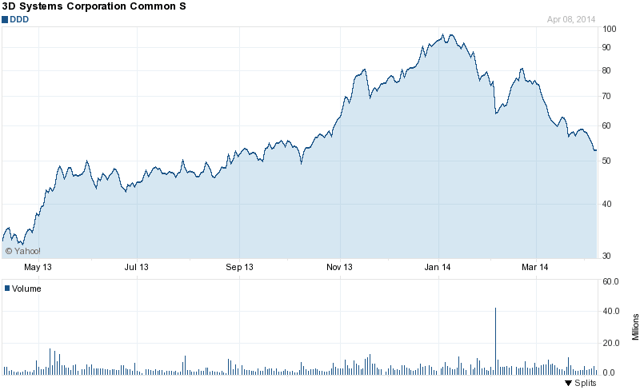 Source: Yahoo Finance
With 3D Systems now approaching the key $50/share level, we think that the stock will find some sort of support soon and the entire industry, including names such as ExOne (NASDAQ:XONE) and Voxeljet (NYSE:VJET) could also see a bounce on the general bullishness.
We would feel much more comfortable with this thinking if Stratasys was trading closer to $90/share, but since it is not we think the proper way to play a possible bounce is to look to 3D Systems now by opening a partial position and then looking to Stratasys if it moves lower to test that $90/share area.
We would hold off a little while longer on Stratasys as we do not have a good handle on it at this time. We would feel far more comfortable opening a position at $90/share than $100/share, but we would point out that $100/share is typically a psychological resistance/support level.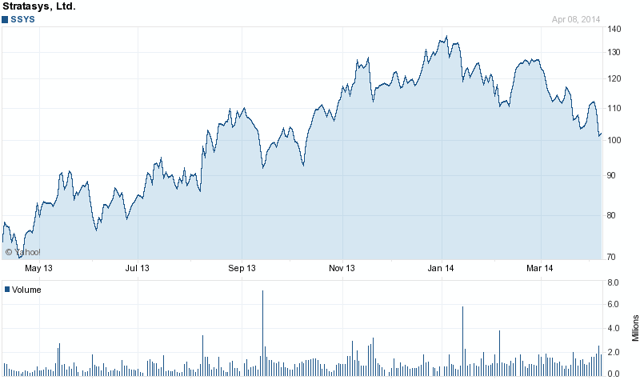 Source: Yahoo Finance
What we do know for sure at this time is that the smaller names, specifically ExOne and Voxeljet, should be avoided until an uptrend is confirmed. Yes, we may leave some potential gains on the table as the smaller names are more volatile, but we could very well avoid some serious losses by sticking with the quality names early on.
Disclosure: I have no positions in any stocks mentioned, and no plans to initiate any positions within the next 72 hours. I wrote this article myself, and it expresses my own opinions. I am not receiving compensation for it (other than from Seeking Alpha). I have no business relationship with any company whose stock is mentioned in this article.