At a recent industry conference, Pioneer Natural Resources (NYSE:PXD) CEO Scott Sheffield stated that the implications of not lifting the crude oil export ban would be felt not only in the oil patch, but also in government coffers and employment. The potential for oversupply in light sweet crude oil exists, and the industry would lay down rigs to compensate for the loss of profitability if projected $70 oil price manifested.
This exact scenario already played out with natural gas. An edited excerpt from my article in D CEO magazine, which highlights the impact on Pioneer:
GROUND ZERO IN NORTH TEXAS

Part of the answer to the second question is: persistently low natural gas prices. Simply put, those prices made it less economic in recent years for producers to drill for and make money off gas. (Natural gas prices reached $13.28 million British thermal units in July 2008, but were continuing to hover under $4 as this issue went to press.) Another big reason for the new boom was the Barnett Shale, which led in turn to the rapid exploitation of other huge shale plays like the Marcellus, in Appalachia. The oversupply of gas, and the resultant low prices, caused E&P firms to look toward oil and "rich" hydrocarbon liquids to improve profitability.

The Barnett was ground zero for the "unconventional" energy revolution. What began in North Texas with the Barnett's gas riches morphed into extracting oil using the identical, cutting-edge drilling technologies - hydraulic fracturing and horizontal drilling - to free up energy from shale formations. Pioneer began ramping up its oil production with horizontal drilling in the so-called Edwards Trend, one of the most productive parts of the Eagle Ford Shale, in late 2008. The company now believes Eagle Ford is the second-largest U.S. oil field, behind the Permian's Spraberry/Wolfcamp play, based on cumulative production plus estimated recoverable reserves.
While the decline of natural gas prices gave rise to the shale oil boom, the energy industry has been a major contributor to the U.S. economic recovery. The energy industry is 8% of gross domestic product (GDP). According to the consultancy McKinsey, up to 1.7 million industry jobs will be created by 2020, and the oil and gas industry supports 9.8 million now. (The overall impact is also chronicled in my short ebook, "Chronicles of an Oil Boom: Unlocking the Permian Basin.") If the back story isn't of interest, the following graph summarizes the switch from natural gas to shale oil from a rig point of view: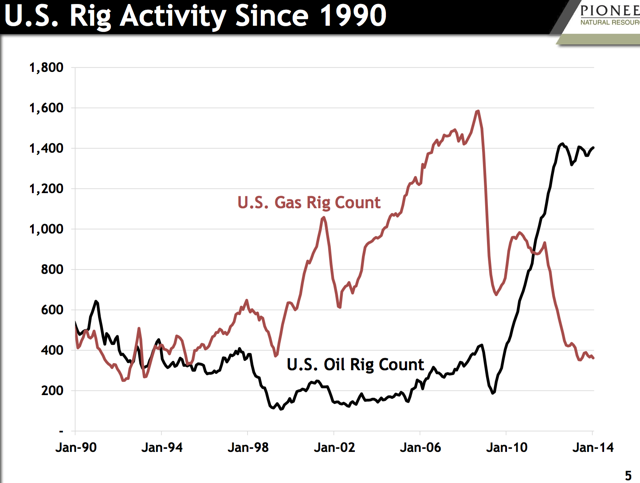 How is this potential supply glut to come about? It arises from the production of the many shale oil plays contributing to light sweet crude oil, which we have imported in the past, and will be producing more of in the future. From our top three crude import suppliers, mainly medium to heavy sour crude, the EIA notes:
These countries generally produce medium to heavy, sour crude oil that is desirable to U.S. refineries, while increasing U.S. crude oil production from tight oil formations is typically of the light sweet quality. Also, with the exception of Saudi Arabia, these countries are near the United States, with Mexico having a short shipping distance for its oil to the large number of refineries along the U.S. Gulf Coast.
However, Saudi Arabia has positions in three refineries, so we will be taking their crude. In addition to Saudi's Motiva Enterprises, Convent, Port Arthur and Norco Refineries are also partly owned by Shell (NYSE:RDS.A) (NYSE:RDS.B).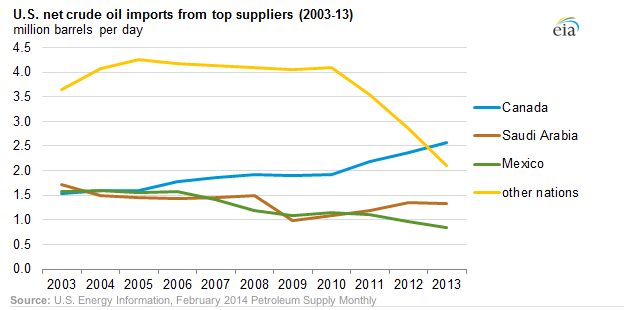 And it's not that we won't be importing oil, but the share of "other nations" crude imports will be displaced by U.S. light sweet from shale oil plays.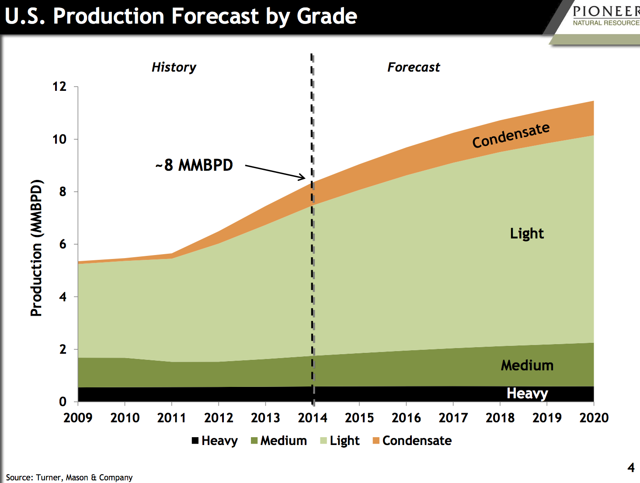 The potential for excess supply can be avoided by lifting the export ban. In the latter half of March, when Russia annexed Crimea, policy circles in the U.S. and Europe debated about the impact of diversifying European gas supply away from Russia. But the U.S. export of natural gas was too far behind events to shape any recourse - U.S. natural gas or energy prowess was a blunt foreign policy instrument. Oil markets are much more global and interconnected than gas markets. If U.S. oil was a global market player, the potential for supply spikes from geopolitical occurrences might be lessened. This was shown to be the case in 2013. (See oil market karma for a price discussion.) In the years ahead, if the supply of light sweet crude increases as expected, the WTI-Brent price differential is expected to increase.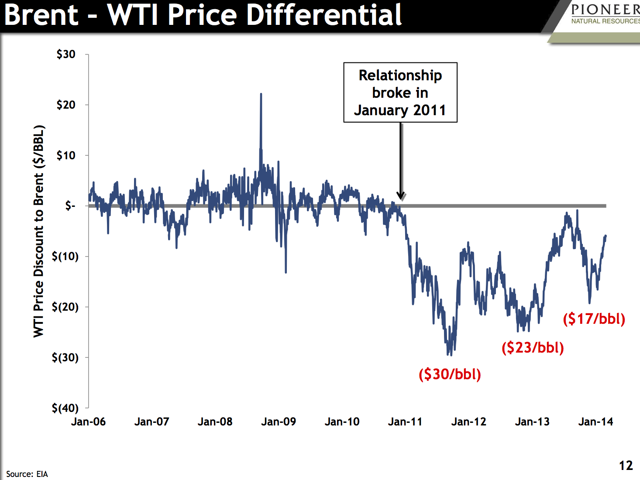 Resources for the Future, the think tank, says gasoline prices would decline for consumers if the export ban were lifted. One other potential benefit would be a potential innovation side show to reduce environmental footprints in producing the resources. If oilfield tech firms believe the market will decline or prove unpredictable, capital will stay on the sidelines. We have seen this post-financial crisis, where policy signals or lack thereof matter. We could see a wave of new ideas that have global carbon reduction potential.
This debate about lifting or the consequences of not lifting the crude oil export ban related to an outdated policy requires a thorough analysis. This is not a time for special interests to extinguish a major issue that has economic, security and trade implications. Trade balances have already improved since we started importing less crude oil, and Citi (NYSE:C) projects a $5 billion surplus in 2020, from a $354 billion deficit in 2011. Petrodollars have been a source of funding for terrorist activity, thus, drying up some financial support would be a welcome development. Natural gas production, part of the unconventionals economic and investment boon, reduces as well, since 60% of natural gas production is associated with oil production.
The economic, geopolitical and investment implications of the crude oil export ban are many. As a lower-cost producer and with a large shale oil inventory, Pioneer could weather some of a supply glut better than other producers initially, but if the higher-case scenario of oil production were to occur, then more E&Ps and oilfield services firms would be hit in succession. This topic requires a detailed analysis considering multiple angles, beyond the scope addressed here. If the export ban is not handled properly by policymakers, this last article about the energy industry's entrepreneurial success story dissipates and the U.S.'s economic potential may be weakened.
(Source material from PXD: "FBR Crude Oil Export Conference Presentation, March 17, 2014)
Disclosure: I have no positions in any stocks mentioned, and no plans to initiate any positions within the next 72 hours. I wrote this article myself, and it expresses my own opinions. I am not receiving compensation for it (other than from Seeking Alpha). I have no business relationship with any company whose stock is mentioned in this article.