The table at the end of this note provides detailed month-by-month data for Halcón Resources' (NYSE:HK) wells in the East Texas Eagle Ford play (El Halcón). The data is through February 2014 and includes oil volumes only (natural gas is a small - typically less than 10% - percentage of the total production stream). The vast majority of the wells are concentrated within a compact area in the north-central portion of Brazos County, Texas. Fresh data (most of which were obtained yesterday) is color-coded in blue.
Latest El Halcón Well Results
Since the end of January, Halcón added another at least fourteen producers to its well list in the El Halcón play.
Perhaps the most notable new well is the Reveille #1H in Brazos County that was turned to sales on March 20 and tested with a very strong IP rate of 1,416 Boe/d (93% oil). This is the strongest oil IP rate achieved by Halcón or any other operator in the play to date. Based on the first two weeks of production data, the well is tracking close to the Stasny-Honza #1H production trajectory. As a reminder, the Stasny-Honza well, which is located about three miles to the east from the Reveille (the map below), produced ~108,000 barrels of oil during its first seven months on production and remains Halcón's strongest well in the play to date.
Another notable recent well is the Wombat #2H which came on production in January and averaged 670 bo/d during February. With the Wombat well, Halcón continues to gradually delineate its acreage to the south from its original focus area in north-central Brazos County. The well's solid performance confirms consistent quality of Halcón's acreage.
I should also mention the result of Halcón's Stifflemire #1H well in south-western Burleson county (which I discussed in full detail in one of my earlier notes). The well came online in early March and tested with a strong IP rate of 1,066 Boe/d (87% oil). The well is Halcón's southernmost step-out well in the play.
In February, Halcón also turned to sales two long-anticipated well groups, the Bruin-Kodiak #1, #2, #4, #5 and Kodiak-Cub Unit #1, #2, #3 (some of these wells were spudded back in November). Based on early production data, it appears that the Bruin-Kodiak wells are tracking reasonably close to the company's 452 MBoe type curve, while the Kodiak-Cub wells are a notch weaker and include at least two wells that may turn out relatively disappointing.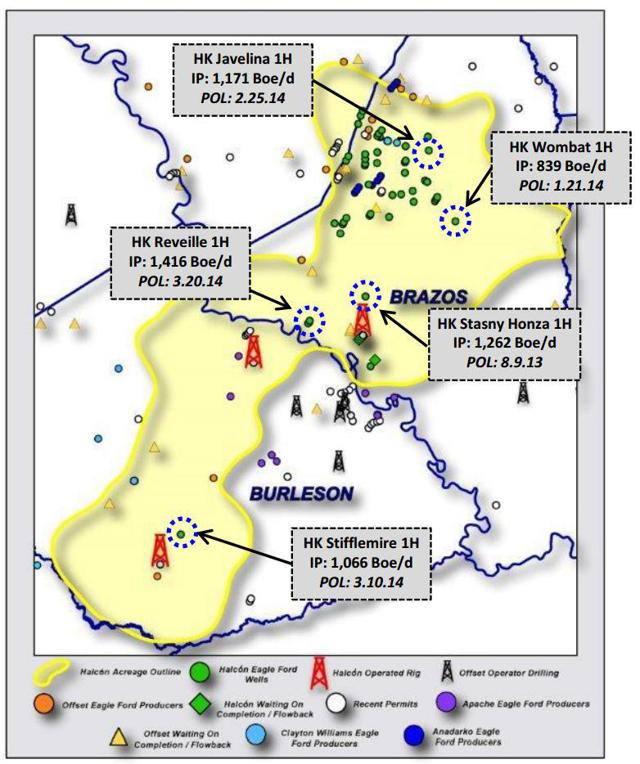 Click to enlarge
(Source: Halcón Resources, April 2014)
In the Eagle Ford, Halcón continues to impress with reasonable consistency of its well results, which was established essentially from the outset, and the low percentage of poorly performing wells. Halcón's operating performance compares very favorably to several recent well results disclosed by Apache (NYSE:APA) for the same area. This is important, as Halcón's well performance justifies substantially higher EUR estimate than the 330 MBoe EIR guidance communicated by Apache during their analyst day.
Production Estimate For Q1 2014
In its yesterday's presentation at a conference, Halcón indicated that its current Eagle Ford production in East Texas is ~9,300 Boe/d net, which compares to 7,138 Boe/d net on average for Q4 2013.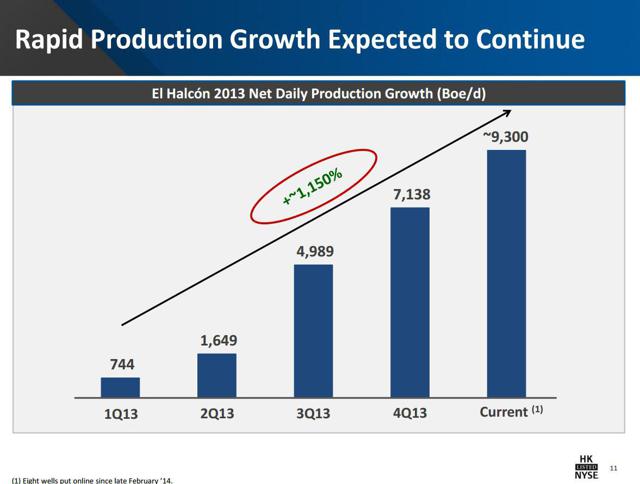 Click to enlarge
(Source: Halcón Resources, April 2014)
It is important to note, however, that the production ramp-up occurred mostly towards the end of the first quarter and the current production rate is more representative of the second quarter volumes. To better understand production dynamics during the first quarter and avoid a disappointment during the approaching reporting season, investors may wish to focus on Halcón's recent well completion calendar.
As the table at the end of this note indicates, Halcón's completion activity slowed down in December and January, with only two wells brought on production during these two months. Budget limitations at the end of the year and the holiday season are likely the factors that explain the slow-down. Pad drilling (Bruin-Kodiak and Kodiak-Cub units) may have also contributed to the lumpiness of production additions.
As a result, as I show on the chart below, Halcón's production volumes declined both in December and January from the strong peak achieved in November. Assuming that my well list captures all Halcón's wells (I cannot rule out that some wells may be on confidential status and therefore "invisible"), average gross production volumes during January-February period were 12% lower than on average during the preceding quarter. While I anticipate that March production volumes will show a meaningful step up, this may not be sufficient to offset the volumetric weakness during the quarter's first two months. I cannot rule out a small sequential decline relative to Q4. In the context of the strong current production rate (~9,300 Boe/d net) highlighted by the company's slide above, this conclusion is counterintuitive. If my estimate is accurate, weak volumes from the Eagle Ford during Q1 may not be fully appreciated by investors and may come as a disappointment when operating results are announced.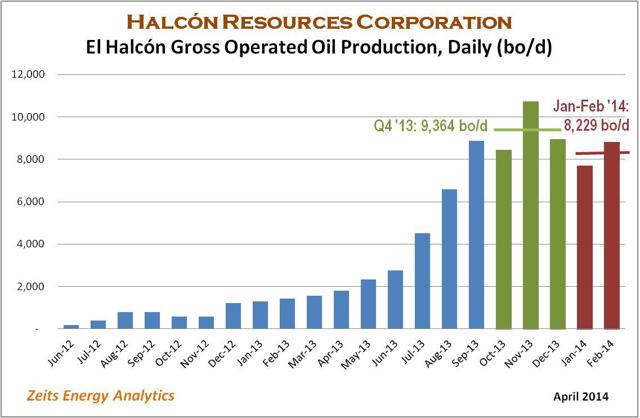 Click to enlarge
(Source: Zeits Energy Analytics, April 2014)
It is important to keep in mind that the slow production growth in El Halcón in Q1 is not driven by a deterioration of drilling results. It is mostly a function of well timing and therefore should not be a concern. In fact, Halcón's slide indicates that the backend-loaded completions calendar during Q1 effectively set the stage for a strong start in Q2.
Halcón's Eagle Ford Position Now Exceeds 100,000 Net Acres
Halcón has continued to expand its acreage position in the East Texas Eagle Ford. The company yesterday announced that it now has slightly over 100,000 net acres in what it believes to be the sweet spot of the play.
Apparently, Halcón was not the acquirer of the asset package recently sold by Clayton Williams (NASDAQ:CWEI) for $71 million. The divested properties included leases in Brazos County that, arguably, would have been a logical consolidating purchase for Halcón. The asset package also included acreage in the South Texas Eagle Ford play (which may be a "no go" from Halcón's perspective). The acquirer is Lonestar Resources (ADUEF, OTC:ADUEY), a small Australia-listed E&P company focused mostly on the Eagle Ford and Bakken plays.
The fact that Halcón sees close to 1,000 future drilling locations on its acreage (using an 800-foot well spacing assumption - which in my opinion may be a bit aggressive as a base case assumption) likely means that the company now has critical mass in the play and is no longer under pressure to aggressively capture additional acreage. The need for financial austerity is another obvious consideration.
El Halcón - Detailed Production Data By Well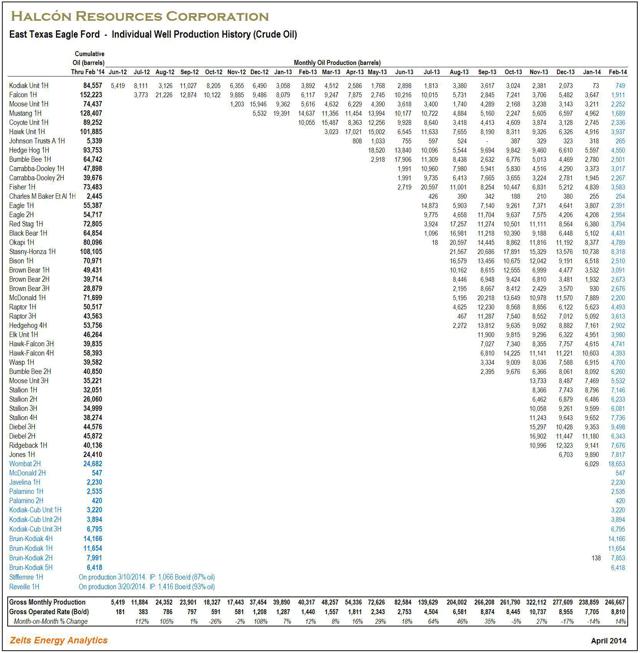 Click to enlarge
(Source: Zeits Energy Analytics, April 2014)
Disclaimer: Opinions expressed herein by the author are not an investment recommendation and are not meant to be relied upon in investment decisions. The author is not acting in an investment advisor capacity. This is not an investment research report. The author's opinions expressed herein address only select aspects of potential investment in securities of the companies mentioned and cannot be a substitute for comprehensive investment analysis. Any analysis presented herein is illustrative in nature, limited in scope, based on an incomplete set of information, and has limitations to its accuracy. The author recommends that potential and existing investors conduct thorough investment research of their own, including detailed review of the companies' SEC filings, and consult a qualified investment advisor. The information upon which this material is based was obtained from sources believed to be reliable, but has not been independently verified. Therefore, the author cannot guarantee its accuracy. Any opinions or estimates constitute the author's best judgment as of the date of publication, and are subject to change without notice.
Disclosure: I have no positions in any stocks mentioned, and no plans to initiate any positions within the next 72 hours. I wrote this article myself, and it expresses my own opinions. I am not receiving compensation for it (other than from Seeking Alpha). I have no business relationship with any company whose stock is mentioned in this article.