Marriott International (NYSE:MAR) has been a leader in my personal portfolio all year long. I decided to re-examine the stock. Should take all of the profits and run, sell a portion of the position and keep some, or let the entire position ride? Here is a list of 10 factors that influenced my decision:
1. MAR has been pampering its investors lately with a gain of 13.33% YTD, closing Tuesday at $55.93. In that time, the S&P 500 Index has barely let out a yawn, with a gain of just 0.19%.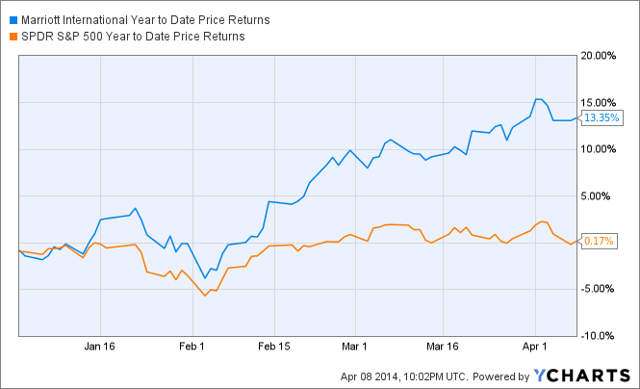 MAR Year to Date Price Returns data by YCharts
Valuation
2. Price/Earnings (TTM) - MAR's trailing P/E of 27.9 represents a 55% premium to the S&P 500 Index P/E of 18.0. The hotel industry however, has an above average earnings multiple of 36.0. This means that, based on past earnings, MAR is actually selling at a 22.5% discount to the industry average.
3. Price/Earning (FTM) - MAR's forward P/E of 22.3 also represents a 12.1% premium to the broader market's average of 19.9, but once again a discount of 38.1% to the industry average of 36.0.
4. Price/Earnings Growth - MAR's expected five-year PEG ratio of 1.8 represents a 22% discount to the industry average of 2.3, and 42% discount to the S&P 500's ratio of 3.1.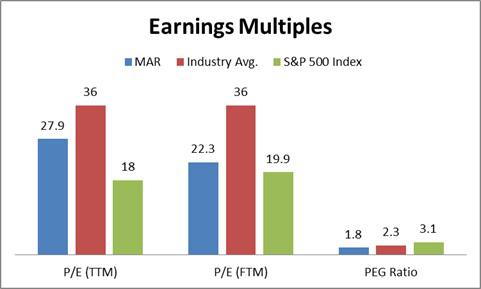 5. Historical Price/Earnings - The current P/E of 27.9 is also below MAR's own historical average P/E ratios. It is currently 11.6% below its two-year average of 31.56 and 24.2% below its five-year average P/E of 36.81.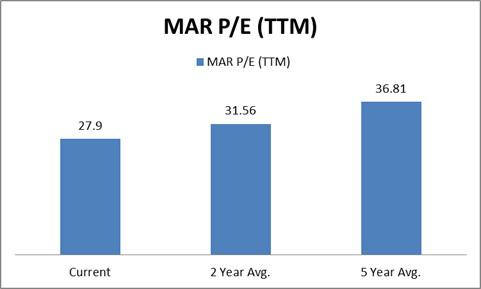 While there are cheaper sectors in which to "buy earnings" within its own industry, it appears MAR may still be undervalued.
6. Global and Still Growing - After the acquisition of PHG (see No. 10 below), MAR now operates or franchises more than 4,000 hotels in 79 countries. Despite such a large existing footprint, MAR is still growing with 1-year and 5-year EPS growth rates well above those of the S&P 500 Index.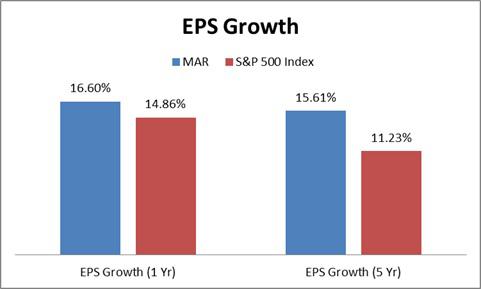 Bullish Technicals
7. Rising Moving Averages - The 20-day, 50-day and 200-day averages are all rising, indicating that prices are rising over the short, medium and long time frames, a strongly bullish signal.
8. Bullish Price Trend - MAR has been consistently registering higher highs and higher lows, going all the way back to last September. This indicates and confirms a consistent upside trend.
9. Nearby Support - The nearest price support level can be found just about 4% below the current price of $55.93 at around $53.50. Should the stock test this level in the near future and close above it, it may be a buying opportunity as the stock is likely then to resume the upward trend.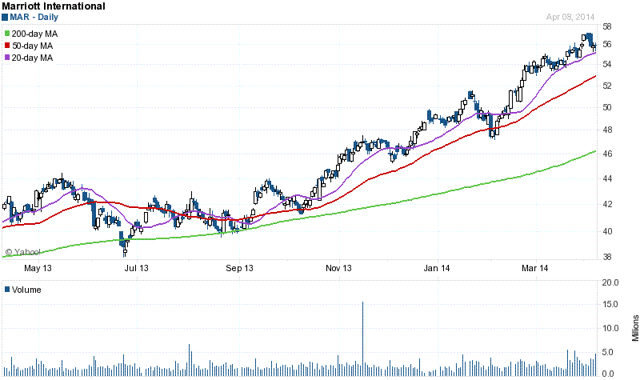 Recent News
10. Acquisition of Protea Hospitality Group - On April 1, MAR became the largest hotel company in Africa, acquiring 116 hotels from South African based PHG. MAR more than doubled its Middle East and Africa Region presence to a total of 160 hotels and 23,000 rooms. The company also stated that it now has more than 65 hotels and 14,300 rooms in the pipeline for the region.
Risks to long-term MAR investors:
A global economic slowdown could negatively effect leisure travel, and in turn, MAR's earnings. While global economic data has been marginally positive in recent months, there is still reason for concern.
Investors could abandon the industry for lower multiple industries within the services sector, putting downward pressure on the stock price.
Increased reliance on foreign earnings have also increased the risks posed by doing business in these foreign jurisdictions.
Natural or man-made disasters could unexpectedly damage or destroy a material portion of MAR's assets at any time and effect its ability to do business in certain regions for extended periods of time.
Conclusion
Given MAR's current valuation, bullish technical signals and continued growth, I believe the stock is still a 'Buy' and worth the associated risks. I decided to let my entire position ride as I believe MAR has more upside in the coming year and beyond.
Disclosure: I am long MAR. I wrote this article myself, and it expresses my own opinions. I am not receiving compensation for it (other than from Seeking Alpha). I have no business relationship with any company whose stock is mentioned in this article.