Units of Kinder Morgan Energy Partners (NYSE:KMP) continued to gain in strength lately. After falling down to a new 52-week Low at $71.32 in March 2014, units of the large-cap pipeline company have now started a forceful recovery. I have to say, that, even though I own Kinder Morgan Energy Partners for my income portfolio, I just love it when my cornerstone income investments trade weakly and Mr. Market allows me to purchase more.
For many investors, this appears to be counterintuitive. How can somebody with a Long position in an equity security welcome lower prices? After all, we are all in it to achieve a reasonable rate of return. The answer is simple: I hold Kinder Morgan Energy Partners for the long term and I don't sweat the stock price in any quarter or any given year. This allows me to see the bigger picture (first-class asset footprint, booming energy business etc.) and also shields me from overreacting to specific news events.
Falling stock or unit prices, in the case of Master Limited Partnerships, allow me to purchase more of a high-yield income vehicle with attractive growth prospects in a booming industry. As such, I am always excited to be able to buy an industry leader like Kinder Morgan Energy Partners at discounted prices. I almost feel like a kid in a candy store. But it never ceases to amaze me, why not more investors act counter-cyclically. Investors with a long-term time horizon are likely to do well with Kinder Morgan Energy Partners despite occasional bumps in the road.
Only one month ago, I have recommended Kinder Morgan Energy Partners for investors who don't mind short-term volatility and who are on the lookout for midstream company exposure at opportunistic prices. Units of Kinder Morgan Energy Partners were quoting at $73.80 at the time and I mentioned the extraordinary value proposition the company was making at the time.
While I don't claim to be superior in terms of market timing, the recent consolidation indeed offered investors an attractive entry point.
Even though units have bounced back from their 52-week Low, Kinder Morgan Energy Partners is as attractive as ever. In a recent article about the midstream business, I pointed out that the energy industry is one of the most attractive sectors for investors. I wrote:
First of all, let's not forget that Kinder Morgan Energy Partners is a true elephant in the room with a market capitalization of $32 billion. Its pipeline network connects the most important shale plays in the United States and I expect solid tailwinds from an ongoing boom in domestic oil- and gas production. Incremental production growth will likely be driven by domestic shale plays and Kinder Morgan Energy Partners is greatly positioned to capitalize on that production growth. Industry dynamics are probably nowhere as attractive as in the onshore oil- and gas business and I anticipate solid growth in industry revenues, -earnings and distributable cash flows for 2014 and beyond.
I am still of the opinion, that Kinder Morgan Energy Partners offers value- and growth oriented investors a solid bargain. Moreover, with a booming energy industry in the United States, I expect significantly higher deal flow in the energy business in general and the scalable midstream business in particular. Higher production levels, throughput volumes and possibly higher commodity prices could set off a consolidation wave in the industry that, ultimately, should lead to higher partnership valuations.
With a buoyant industry providing tailwinds, I believe Kinder Morgan Energy Partners' distributions are safe for the time being (especially after the company reaffirmed its financial guidance for 2014). Kinder Morgan Energy Partners currently pays investors $1.36 per unit per quarter ($5.44 per unit annually) which translates into a solid distribution yield of over 7%. At the same time, Kinder Morgan Energy Partners is likely to further increase distributions in the current fiscal year (I believe we will end the year with approximately $1.40 per unit per quarter in distributions).
In addition, Richard Kinder, Chief Executive Officer and Chairman of Kinder Morgan Energy Partners, is a solid investor in Kinder Morgan, Inc. (NYSE:KMI) and has repeatedly built up his stake.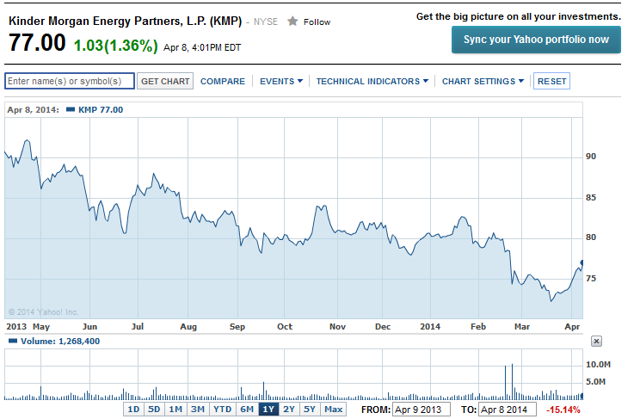 (Source: Yahoo Finance)
Conclusion
Kinder Morgan Energy Partners' consolidation is a good opportunity for income-hungry investors who seek exposure to an industry-leading pipeline company. The pullback in unit price still offers investors a reasonable entry point. Just about a year ago, Kinder Morgan Energy Partners was trading at over $90 per unit and there is no reason why the pipeline company cannot achieve the same valuation in 2014 -- especially if KMP continues to increase its distribution stream and proves the ever-lasting Bear story of unsustainable distributions wrong.
Disclosure: I am long KMP. I wrote this article myself, and it expresses my own opinions. I am not receiving compensation for it (other than from Seeking Alpha). I have no business relationship with any company whose stock is mentioned in this article.