Earnings estimates have fallen sharply for UTi Worldwide (NASDAQ:UTIW) following disappointing Q4 results on March 31. It is a Zacks Rank #5 (Strong Sell) stock.
Since I last wrote about UTi Worldwide as the Bear of the Day on September 12, 2013, shares have plunged nearly 30%.
UTi Worldwide Inc. provides supply chain services and solutions around the globe.
Fourth Quarter Results
UTi Worldwide reported disappointing Q4 results on March 31. Adjusted earnings per share came in at a loss of 15 cents, missing the Zacks Consensus Estimate calling for a loss of 4 cents.
Revenues declined 2.1% year-over-year to $1.076 billion, which fell short of the consensus of $1.104 billion.
CEO Eric Kirchner stated that "[r]esults... continued to reflect a lackluster global economy and difficult operating conditions" and that " pricing pressure continued to weigh on margins."
Estimates Plummet
Following the weak Q4 results, analysts have revised their estimates significantly lower for both 2014 and 2015. This sent the stock to a Zacks Rank #5 (Strong Sell).
This pattern of missing estimates and negative revisions is nothing new for the company. It has missed the Zacks Consensus Estimate in 7 out of the last 8 quarters, and consensus estimates have plummeted over that stretch, as you can see here: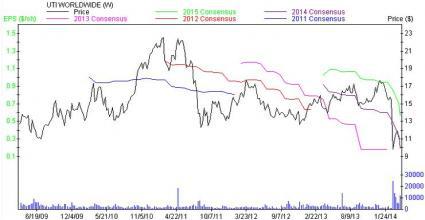 The current Zacks Consensus Estimate for 2014 is $0.19, down from $0.61 ninety days ago. The 2015 consensus is $0.56, down from $0.95 over the same period.
Valuation
Although shares of UTIW have fallen significantly, the valuation picture does not look compelling here. Shares trade at a lofty 55x the 2014 consensus estimate and 19x the 2015 consensus. And it trades at 4.8x tangible book value.
The Bottom Line
With estimates continuing to fall and shares trading at a premium valuation, investors should consider avoiding UTi Worldwide until it can turn things around.