Back on January 3, my article titled "General Motors Risk Is Very High In The Short Term" was published. In it I explained that the factors affecting Ford (NYSE:F) at the time were also affecting General Motors (NYSE:GM). These included a buildup of inventory and pricing pressures.
With that fact in mind, I postulated that General Motors would close the performance differential to Ford, which implied significant weakness for General Motors' stock. I also explained that if the effects felt by General Motors were similar to those hitting Ford, then General Motors' 2014 consensus EPS estimates had downside to $3.81 from the $4.65 consensus prevailing at the time. All of this has come to fruition.
Share performance
This is how the two shares behaved (Source: Yahoo Finance):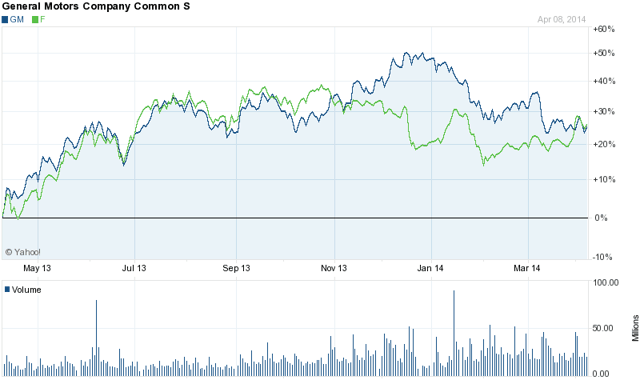 It's plain to see that the share outperformance General Motors had is entirely gone. This naturally happened due to the market understanding that the factors affecting Ford were also affecting General Motors. And obviously, it also helped that General Motors issued a profit warning leading to earnings estimates being cut as predicted.
Earnings consensus
This is how General Motors' 2014 consensus EPS moved (Source: Yahoo Finance):

I had predicted that the 2014 EPS estimates could fall all the way to $3.81 per share. They actually fell a bit more, to $3.62, but it was close anyway. Either way, this thesis is fully played out.
The way forward
With the thesis that GM would match Ford and its earnings estimates would be cut having entirely played out, the question that remains is "what about now?"
Now, what we have here is two equities that are rather cheap, and the way forward is rather unpredictable. This is how the market goes, some situations present themselves where the outcome is easily predictable, but then the majority of time the outcome is rather random.
Given that both stocks are now somewhat cheap and most of what was predictable has played out, I have to go neutral on GM here. The problems regarding excess inventory are still present, and so I can't really go positive in the names no matter if the previous situation has played out.
Conclusion
As predicted in early January, GM was facing the same problems as Ford and thus would likely share the same fate. This happened fully, both to the share price and to EPS estimates.
With the prediction having come true and with no further clues as to what happens next, I am going neutral on GM here. While both GM and Ford are not expensive equities, the excess inventory problem remains unsolved, so I can't turn positive.
Disclosure: I have no positions in any stocks mentioned, and no plans to initiate any positions within the next 72 hours. I wrote this article myself, and it expresses my own opinions. I am not receiving compensation for it (other than from Seeking Alpha). I have no business relationship with any company whose stock is mentioned in this article.