Shares of Zillow (NASDAQ:Z) and Trulia (TRLA) appear to have bottomed after consolidating in the last six months. The consolidation came on the heels of strong price advances which drove their share prices more than 200% higher in the first nine months of 2013. Both companies are growing their revenues rapidly, as they continue to benefit from strong growth trends in online real estate. Zillow and Trulia are experiencing high volatility, and this is in part due to high short interest. With their share prices stabilizing and turning up, the uptrend may accelerate on short-covering. Their share price performance in recent weeks is particularly encouraging, given the strong selloff in the momentum space.
Two dominant themes: strong revenue growth and increased advertising spending
Zillow has grown its top line rapidly in the past two years. Revenue growth in 2012 and 2013 was 77% and 69% respectively. Analysts are expecting a 49% increase in revenue in 2014. The company delivered Q4 earnings and revenue ahead of estimates, and guided 2014 revenue above consensus. Quarterly traffic grew 57% Y/Y to 54.4 million average monthly unique users on mobile and web. Adjusted EBITDA in Q4 was $15.2 million, a significant increase over $6.8 million in Q4 2012. EBITDA margin expanded 600 basis points to 26%. Zillow continued to gain market share in 2013. According to comScore, Zillow has combined and mobile web traffic that is double the size of its two closest competitors. The company's mobile strategy is delivering strong growth, as visits via mobile devices nearly doubled year-over-year, and nearly 400 million homes were viewed on Zillow on a mobile device. Two thirds of Zillow visits now occur on a mobile device.
Trulia is also making progress, and the company is delivering strong revenue growth. Trulia's revenue growth in 2013 was 111%, while analysts are expecting a 72% increase in 2014. Q4 EBITDA was $7.7 million compared to just $0.6 million in Q4 2012. Monthly unique visitors in Q4 were 35.3 million, a 49% increase over Q4 2012. Mobile monthly unique visitors were 14.3 million, an 86% increase from 7.7 million in the same period last year.
Both companies are investing aggressively in marketing. Zillow launched a TV-ad campaign last year and has spent $40 million on marketing in 2013. Zillow expects to spend $65 million in 2014, while Trulia announced that it will spend $45 million through its national marketing campaign. This shows that both companies are getting very aggressive, and intend to increase their market share. The increased spending is going to have a negative effect on their bottom lines.
What might lead to short-covering?
A combination of falling share prices and rising revenue and EBITDA has caused a significant contraction in Zillow's and Trulia's valuations. Zillow's forward EV/EBITDA was cut in half, from more than 150 to 68, while Trulia's forward EV/EBITDA fell from 120 to 52. Although these are still high multiples, these companies are still in their early stages of growth, and have plenty of room to grow into their valuations. Based on both forward P/S and EV/EBITDA ratios, Trulia seems to be a better trade than Zillow, although we can justify Zillow's premium due to its leadership position.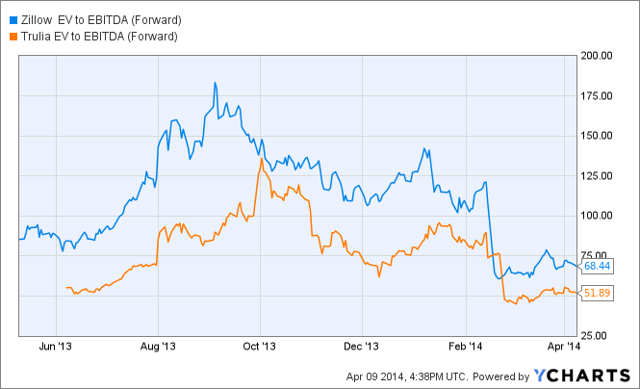 Source: ycharts.com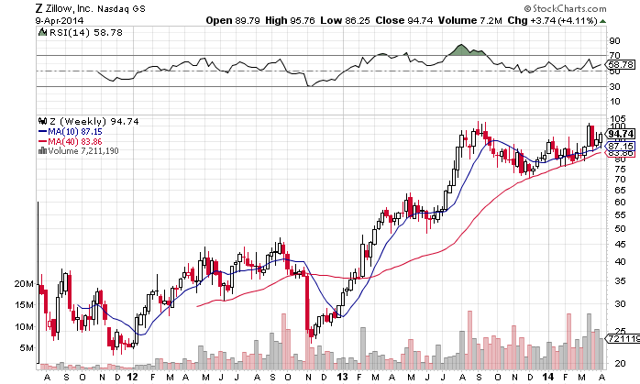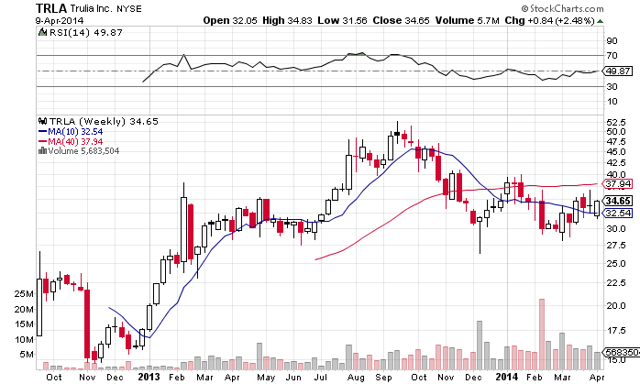 Source: Stockcharts.com
Zillow looks better momentum-wise, as it is near its all-time highs, while Trulia has a long way to go to reach its September 2013 highs. Since their valuations have contracted significantly and as their share prices point that the consolidation might be turning to another uptrend, the two factors might lead to short covering. The increased marketing spending will certainly affect the bottom line in 2014, but I expect the long-term profitability to be much better once the "ad wars" are over, and once they establish a stronger footprint in the market. Good news surrounding the housing market could add fuel to the fire, since both companies are dependent on the movements of the housing sector. I believe this may be the case going forward, as the housing market might have been affected by bad weather in recent months, and the recovery might continue in the following months.
Short covering might lead to significant buying demand. Zillow's short interest stands at 7.2 million shares, or 18% of its free float. Trulia's has 10.3 million shares short, or 28% of its free float. These numbers translate into approximately five days of short-covering based on the current average trading volume for both stocks.
Conclusion
A combination of strong growth and high short interest can lead to significant price gains. Zillow's and Trulia's forward multiples are consistent with their expected strong revenue and earnings growth in the next couple of years. Both companies are investing aggressively and should benefit from growing awareness and an expanding user base. I expect the housing recovery to be back on track soon, as it was most likely negatively impacted by bad weather in previous months, which might help Zillow's and Trulia's share price going forward.
Disclosure: I have no positions in any stocks mentioned, but may initiate a long position in Z, TRLA over the next 72 hours. I wrote this article myself, and it expresses my own opinions. I am not receiving compensation for it (other than from Seeking Alpha). I have no business relationship with any company whose stock is mentioned in this article.