To no one's surprise, Frontier Communications (NYSE:FTR) is down sharply on heavy volume after its stock spin-off from Verizon (NYSE:VZ). Actually, there must be someone who is surprised, but apparently they are part of a small group of Verizon shareholders who were backpacking in the wilderness or who get terribly bored thinking about money or something.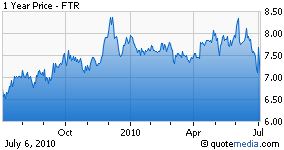 On my weekly charts I see that over the last 20 weeks FTR has had an average of about 29 million shares change hands each week. Last week the volume was 110,589 shares with the price opening the week at 7.56 and finishing Friday at 7.35. Yesterday by lunchtime on the East Coast we saw 27,332,000 shares change hands and the price was down nearly 5% at 7.01.
It doesn't take a Jesse Livermore to detect the current trend in the spin-off stock here, but so what? The question is always whether there is a workable opportunity in this action and if there is, how can we get on the profitable side of it?
Sooner or later this kind of thing usually gets over done, but in my limited experience, prices have an incredible ability to stay "too high" or "too low" for too long, getting me too nervous and/or too financially stressed to hold on until the price comes back to "reality" (which is an odd choice of words since reality is clearly the price shown right on everyone's screen at every moment.)
So, what to do? For myself, (since as I mentioned in a previous post, my ADD won the day another time and I was amazed to find myself the proud owner of 12 shares of FTR,) I am going to hold onto the shares received in the stock spin-off for their entertainment value if nothing else.
When and if I buy more FTR in the future will be determined by the trading plan that I put together some time ago far from the heat and confusion of the specific companies and businesses and business cycles. Having tried to catch one falling knife too many, I find that having a plan and sticking to it is the only way I can stay sane and effective.