Aluminum is the most abundant metal found in the earth's crust. But this bounty hasn't recently carried over to shareholders of Alcoa (NYSE: AA).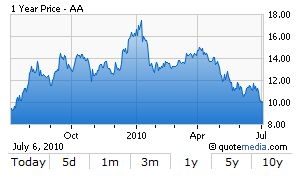 Although Alcoa is the largest aluminum producer in the U.S., it is also one of the worst performing aluminum companies on the New York Stock Exchange (NYSE). Since January, the stock has dropped –43%. And analysts expect it to keep lagging the aluminum industry for the remainder of 2010.
In contrast, shares of Alumina (NYSE: AWC) are down -34% while Kaiser Aluminum (NYSE: KALU) has dropped –21%, since the start of 2010.
Aluminum companies -- especially Alcoa -- are hard hit because supply of the metal currently far outstrips demand.
This is the case for several reasons. China, the world's largest producer and consumer of the metal, is seeing an economic slow down. Europe is in a debt crisis. And, in the U.S., consumer confidence has fallen while domestic factory orders have dropped.
As a result, less goods with aluminum as a key component -- such as gas turbines, jet planes, and soda cans -- are being produced and sold. Aluminum prices are, therefore, expected to remain flat, at around $2,000 per tonne, for the duration of 2010 and in 2011. This is at minimum a –35% drop from peak prices in 2008 which were at $3,070 per tonne.
In mid-April, Alcoa was one of the first companies to kick off the 2010 earnings season.
Results were disappointing. Revenue for the period fell -- and was 5.8% below expectations. Analysts projected the company would generate $5.2 billion. Instead, Alcoa brought in only $4.9 billion. In the year-ago quarter, revenue was $4.2 billion. A drop in demand for aluminum -- from hard hit sectors like auto and aerospace -- contributed to the lower than expected number.
For the upcoming second-quarter, to be reported on July 12th, analysts expect revenue will increase +21% to $5.1 billion, compared to $4.2 billion in the same period a year ago. However, global economic weakness, especially in Europe and China, may hurt the company's sales more than expected.
For the full 2010 year, the 14 analysts who follow the company project revenue will increase +10.5% to $20.4 billion, compared to $18.4 billion in the full year of 2009. But since there is excess aluminum supply on the market, metal prices may fall, hurting the company's revenue.
The earnings outlook is similar.
Alcoa's first-quarter earnings came in well below expectations. Analysts projected the metal and mining company would earn +$0.11 per share. Instead, Alcoa reported a loss of -$0.20 per share. In the first-quarter of 2009, earnings were -$0.61 per share. Restructuring costs, combined with one-time charges associated with closing two aluminum smelters hurt the company. Following this negative report, analysts with Deutsche Bank, JP Morgan, and UBS downgraded the company.
For the upcoming second-quarter, analysts expect earnings will increase to +$0.14, compared to -$0.26 in the year-ago quarter. However, oversupply of the metal combined with slower growth in China, could negatively impact results.
For the full 2010 year, analysts expect Alcoa will see an earnings turnaround. Earnings are projected to rise to +$0.60 compared to -$0.80 in the full 2009 year. But analysts with JPMorgan believe this projection may be overly optimistic. Because aluminum prices are falling, while refining costs are rising, JPMorgan estimates the aluminum company will actually only earn +$0.53 per share.
It's worth noting that, over the past 90 days, analysts estimates have been consistently lowered. Three months ago, analysts expected second-quarter earnings to be $0.27 and full-year earnings to come in at $0.83. A month ago, these numbers were dropped to $0.17 and $0.67 respectively. And a week ago, analysts again downgraded their projections to $0.15 and $0.61 respectively.
Alcoa is also somewhat overvalued based on its forward PEG ratio (price to earnings divided by growth rate). The company's forward PEG is 1.1. A PEG under 1 shows fair valuation.
Additionally, the aluminum company has a poor return on equity (ROE) of –5.6%. In comparison, the S&P has an ROE of approximately +15%.
Given that slow economic activity is likely to hurt the company's future revenue and earnings growth, traders may want to consider shorting the company.
If Alcoa's second-quarter results (reported on July 12th) come in below expectations, the stock is likely to drop sharply.
In this case, an appropriate initial price target for AA's shares would be $8.91. This price is near a low level the stock has historically hit many times in the past.
If traders enter the position before the earnings report and the stock does rise, risk could be limited by setting a stop-loss at $11.03.

Based on yesterday's closing price of $10.21, traders could potentially make +11% profit.
Disclosure: Author holds a short position in AA