At the beginning of the year, I decided to pick a stock each month, which fits my overall long-term view of the global economy in terms of how well it is positioned to thrive within the economic conditions I expect we will experience for the next few decades. My overall view is that the global economy will be sluggish, as already witnessed to be a trend since 2008. In view of this, I am looking at companies that fit the profile and business model which I think will give them an edge over the competition and help them survive and thrive, despite the overall negative economic environment. The focus is less on latest quarterly results, and more on whether the company in focus has the right products and is well-positioned for the next few decades. This is meant specifically for those looking for long-term buy and hold opportunities, with little downside and potential for regular steady returns on investment.
My previous picks are Kimberly-Clark (NYSE:KMB), Suncor Energy (NYSE:SU) and Barrick Gold (NYSE:ABX). In the case of Kimberly-Clark, I identified global demographic trends as the main reason to consider the company due to aspects such as its leading role as an adult disposable diaper producer through its Depends brand. In the case of Suncor Energy, the current Canadian oil sands price discount due to transport bottlenecks, as well as a large reserve that can be extracted at a steady price compared to competition in other oil extracting regions where there is a tendency toward rising cost due to lower quality reserves are the main attractions. In the case of Barrick Gold, it is a large gold miner with decent quality reserves, which can be extracted at a price that is lower than the current industry average.
My pick for this month is Abbott Laboratories (NYSE:ABT). It is a well-diversified healthcare company, which offers four main product categories. There is the pharmaceutical sector, the nutrition products sector, the medical devices sector and diagnostics.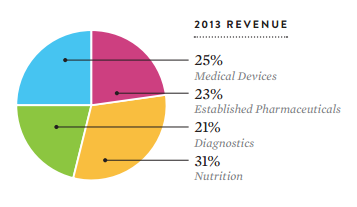 Source: Abbot 2013 report
Many of the products Abbott produces and markets have strong staying power in the face of tough economic times. Products such as Similac will not go out of style just because global economic growth is sluggish. This fact alone makes Abbott a very good long-term candidate, in my view. It is the diagnostics sector, however, which has me most interested in this company, but before I get to the details in regard to the specific product and why I see a bright future for it, I want to first introduce the current vital financial aspects of the company.
It has a market cap of $58.5 billion, net sales of $21.8 billion and net earnings of $2.58 billion. Net sales increased 2% compared to 2012, while net earnings declined significantly from the almost $6 billion achieved in 2012. Based on 2013 results, this company seems somewhat expensive for the short-term, with a P/E ratio at over 23. I should also mention that this is a dividend-paying stock, which currently pays quarterly 22 cents per share. My interest is in the long term, and as such my main concern is looking at products which, I believe, will have a bright future, and therefore, have the potential to add significantly to the company's value. In the short-to-medium term, however, we can expect sluggish returns on investment due to the unfavorable price of the stock.
The product I find intriguing is its i-STAT hand-held portable diagnostic devices (weighs about a pound, and is the size of a larger remote control). It is currently the only such device that is FDA-approved for use at a patient's bedside and in emergency rooms for clinical diagnostics (the name i-STAT is derived from the Latin word statim, which means immediately or instant). Tests which previously were done in laboratories, needing significant investments in space, equipment and personnel, can now be done with a hand-held device. The wireless version of the product received FDA clearance in 2011 and since then became a commonly used tool in hospitals, emergency services and doctor's offices. The wireless technology allows for the transmission of the collected data, saving time in emergencies and allowing for quick, cost effective diagnosis.
i-STAT provides dozens of tests, from ordinary electrolytes to troponins, which are markers of myocardial infarction (heart attacks). It is especially useful when it comes to infant testing, because it only requires a single drop of blood, while regular labs often require a few milliliters, and for monitoring respiratory and circulatory (CO2 and O2 pressure, hemoglobin) parameters in patients hospitalized in intensive care units.
This product may not be new, but it is a product with much future potential as further innovation makes its use more widespread, and cost-effectiveness will likely help it penetrate markets once it becomes possible to adapt it to established procedures around the world. This is a product that will transform laboratory medicine as it evolves through constant improvement and innovation and becomes a more and more accepted device, around which new medical practices will evolve.
The fact that this product has such great potential to be a platform for great innovation, not only in technological terms, but in terms of medical procedures which the product will likely help shape perhaps for many decades to come, makes it a story worth watching and perhaps being a part of by making it part of one's long-term holdings. There may be some downward pressure on this stock for the short term, but I think there is great upside potential for the long term.
Disclosure: I have no positions in any stocks mentioned, and no plans to initiate any positions within the next 72 hours. I wrote this article myself, and it expresses my own opinions. I am not receiving compensation for it (other than from Seeking Alpha). I have no business relationship with any company whose stock is mentioned in this article.