By Todd Shriber & Tom Lydon
Last week, European Central Bank President Mario Draghi gave his most overt hints to date that the ECB is mulling some form of quantitative easing.
ECB easing, assuming it happens, would arrive under the guise of bolstering the Eurozone economy. But, with the euro viewed as one of the most overvalued developed market currencies in the world, it is not a reach to say the central bank is looking to help export-driven nations, including Germany, by possibly forcing the value of the euro lower. The CurrencyShares Euro Currency Trust (NYSEARCA:FXE) is up 5.2% in the past year.
It could pay to not get too excited about any action by the ECB. Said S&P Capital IQ in a research note:
ECB actions may turn out to be belatedly insufficient to forestall abating price pressures (disinflation) from transitioning to declining living costs (deflation) in which households are encouraged to save, rather than spend, in anticipation of further decreases in the prices of goods and services-thereby depressing domestic demand, discouraging capital spending, and debilitating aggregate economic activity akin to what the Japanese economy has experienced for the past two decades. Descending core euro-land 10-year sovereign debt yields, apparent in a widening gap vis-a-vis U.S. Treasuries of the same duration, confirm intensifying market concerns about the prospect for eurozone deflation.
The ECB next meets on May 8 and investors can prepare for the possibility of bond buying by the central bank with a pair of bond ETFs, including the PowerShares International Corporate Bond Portfolio (NYSEARCA:PICB). PICB, home to $220.7 million in assets under management, is rated marketweight by S&P Capital IQ.
The ETF holds investment-grade corporate bonds denominated in the G-10 currencies, including the euro. In terms of exposure to action by the ECB, PICB features five Eurozone countries - France, Germany, Italy, the Netherlands and Spain - among its top-10 country weights. Those nations combine for about 48% of the ETF's weight. PICB has a 30-day SEC yield of 2.03% percent and an effective duration of 5.59% years, according to PowerShares data.
Another fixed income ETF to consider is the $284.6 million SPDR Barclays International Corporate Bond ETF (NYSEARCA:IBND). IBND is also rated marketweight by S&P Capital IQ. IBND offers exposure to six Eurozone nations with France and Germany combining for nearly 28% of the ETF's weight.
IBND, home to nearly 540 issues, has a 30-day SEC yield of 1.19% and a modified adjusted duration of 4.97 years. Said S&P Capital IQ:
If the ECB were to implement a quantitative fixed-income purchasing program targeting government bonds, eurozone sovereign issuance of intermediate and long-term duration would probably benefit the most - warranting an overemphasis in debt and mixed asset portfolios. On the other hand, in the event the monetary authorities were to focus their purchases on corporate bonds in lieu of government issuance, investors should overweight the former of intermediate and long-term duration. If, however, the central bank were to target both government and corporate debt, overemphasizing holdings of both fixed income sectors of the same duration would be recommended.
Among equity-based Europe ETF options, S&P Capital IQ rates the iShares MSCI Germany ETF (NYSEARCA:EWG) marketweight. The $5.9 billion EWG, the largest Germany ETF, is heavily exposed to German exporters that would stand to benefit if a weak euro environment. Consumer discretionary and industrial names combined for almost 37% of EWG's weight.
German stocks, while less expensive than U.S. or U.K. counterparts, are pricier compared to peripheral Europe equivalents.
Investors looking for an ETF that has already been on the move higher this year while offering exposure to a still discounted market can consider the marketweight-rated iShares MSCI Italy Capped ETF (NYSEARCA:EWI). According to S&P Capital IQ:
Italy's comparatively inexpensive P/E would seem a bargain if newly installed Prime Minister Matteo Renzi were to get both houses of Italy's legislature to enact his comprehensive program of political and macroeconomic reforms.
PowerShares International Corporate Bond Portfolio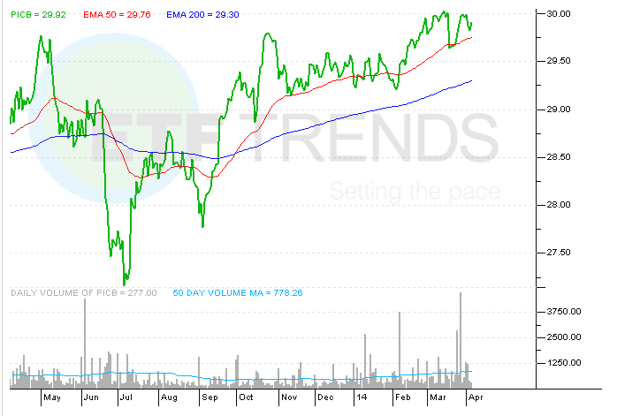 Click to enlarge
Disclosure: I have no positions in any stocks mentioned, and no plans to initiate any positions within the next 72 hours. I wrote this article myself, and it expresses my own opinions. I am not receiving compensation for it. I have no business relationship with any company whose stock is mentioned in this article.