Offshore drillers have been getting hammered in the market the past few months as demand for rigs has waned, driving rates to decline and causing analysts to cut forecasts. Although oil prices have remained relatively stable, a decrease in capital spending programs by oil exploration companies has been the primary driver for the decrease in demand of these offshore rigs.
Offshore drilling companies have become a popular destination for income investors looking for high yields. But with the downturn in the industry, should investors be concerned with the safety of these fat dividend payments? Today we will look at one of those high yielders, Ensco plc (NYSE:ESV). With a current yield near 6.0% and a recent history of impressive dividend growth, Ensco offers an enticing income option.
Utilizing our Dividend Safety scoring system, let's look at some important metrics that provide insight into Ensco's dividend health.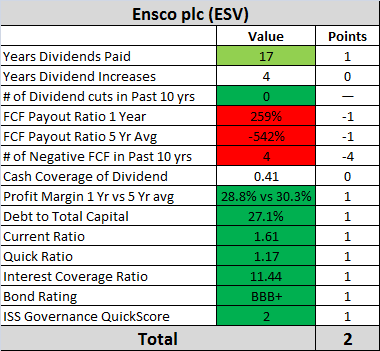 Using our analysis, there are two things that should immediately jump out at investors.
1) The company has not been generating free cash flow to keep up with its dividend payment.
2) The company has an enviable debt load, especially for an offshore driller.
So why do Ensco's free cash flow payout numbers look so bad? The company significantly increased capital expenditures in 2012 and 2013 in order to build additional offshore rigs. The company currently has seven offshore rigs under construction that are expected to come on-line in the next 2-3 years. These new rigs are intended to drive future growth for the company, which would allow it to continue to grow its dividend.
Because Ensco's management decided to primarily fund these new rigs internally, the company has been able to keep its debt level quite low. Ensco enjoys an investment grade bond rating, low debt-to-total capital, and has enough cash on hand to comfortably cover its debt payments.
If Ensco's investment in the new rigs does provide the growth expected, then the current valuation and dividend yield provide investors a nice entry point. But if the market for rigs continues to deteriorate and the new rigs are forced to be idle, then the company may need to take on debt in order to cover the current dividend payment.
Disclosure: I have no positions in any stocks mentioned, and no plans to initiate any positions within the next 72 hours. I wrote this article myself, and it expresses my own opinions. I am not receiving compensation for it. I have no business relationship with any company whose stock is mentioned in this article.
Additional disclosure: The 4% Portfolio Retirement Service has made no recommendations on ESV.