Latest Well Data
The table below provides well-by-well initial production test results (24-hour tests) for SandRidge's (NYSE:SD) operated Mississippian and Woodford wells in the State of Oklahoma. The data set includes wells that saw first production during the first quarter of 2014 and for which operating data is in the public domain as of April 9, 2014. While the table below should capture the vast majority of such wells, the 32-well set is being referred to as "sample." Color-coded in blue are wells that have been added to the list since my last update a month ago.
Among the newly reported results, two wells belong to the "notable" category:
The Grunewald 2710 #1-7H in Alfalfa County tested with 772 barrels of oil and 2.2 MMcf of natural gas per day (1,133 Boe/d on a two-stream basis). The test was conducted 13 days after the first production date. The well had an open hole completion with 825,000 pounds of proppant used. The well's location is Section 7, Township 27 North, Range 10 West. A sister well was drilled within the same section in March (no production data currently available).
The Dryer 2407 #1-6H in Garfield County tested with 493 barrels of oil and 1.8 MMcf of natural gas per day (786 Boe/d on a two-stream basis). The well used an open hole completion.
SandRidge added another two wells to its Woodford Shale evaluation program, one in Grant County and one in Major County.
The Sons 2505 #1-22H15 in Grant County had a long lateral (7,045 feet completed length) and used 1.5 million pounds of proppant. The well tested with an un-commercial rate of 36 barrels of oil and 0.6 MMcf of natural gas per day. The test was conducted a month after the first production date.
The McCollum 2311 #1-22H in Major County had "regular" lateral length (4,150 feet completed) and used 2.2 million pounds of proppant. The well tested with a more encouraging rate of 123 barrels of oil and 1.0 MMcf of gas per day. The test was conducted three weeks after the first production date. The IP rate still falls short of what would be needed to prove commercial potential of the company's Woodford program.
The results for a well drilled using bilateral design, the Henslee 2805 #1-16H in Grant County, was a disappointment. The well tested with a weak 36 bopd and 0.6 MMcf/d from two laterals. The poor test result, however, does not condemn the well design and is likely a reflection of poor rock quality at that location.
SandRidge used open hole completion design in the vast majority of its Mississippian wells brought on production during the first quarter.
As I wrote in my earlier notes, Garfield County has emerged as a new focus area for SandRidge. In fact, Garfield is so far the only county in which SandRidge had consistently strong well test results during the quarter. The majority of wells drilled in Garfield county for which results were analyzed are located within one township.
SandRidge's test results continue to be characterized by wide well-to-well variability. Oil rates ranged from 18 barrels per day to 803 barrels per day. Among the 32 wells in the sample, over one-third have high likelihood of being non-commercial.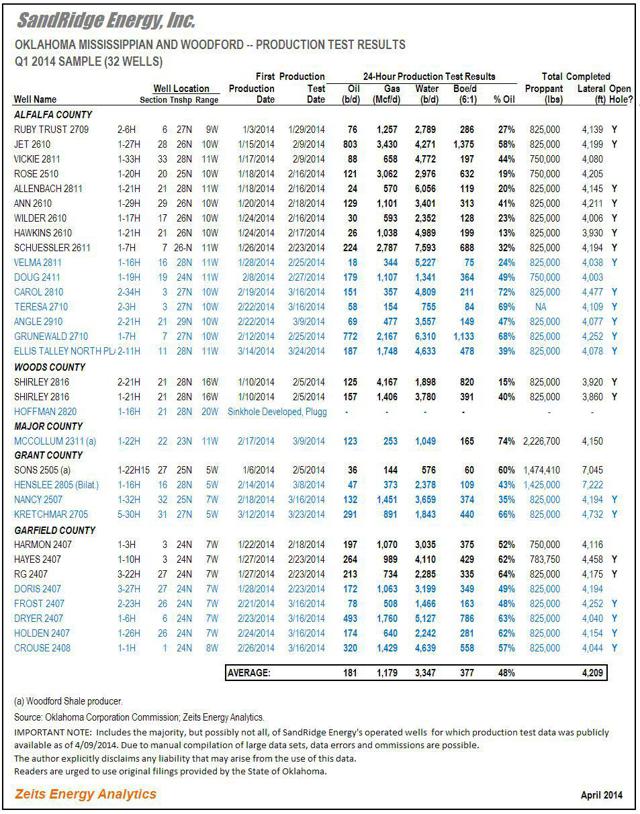 (Source: Zeits Energy Analytics)
Well Test Results: Quarter-On-Quarter Comparison
The 32 wells presented in the table above are not yet indicative of the expected operating outcome for the first quarter of 2014 as they represent approximately 40% of all wells that, in my estimate, SandRidge will turn to sales in the Midcontinent during the quarter. However, the data set is large enough to be taken in consideration when estimating the company's Q1 2014 operating results. (The well list will be updated in my follow-up notes as results become available).
The table below shows a quarter-by-quarter comparison of test results for SandRidge-operated wells in Oklahoma. The 32 wells turned in line in Q1 2014 had weaker oil production rates than in 2013, while natural gas rates were stronger. Overall, the quarter is shaping up as a "middle-of-the-road" quarter in terms of well quality.
Based on my analysis of SandRidge's spudding activity in Oklahoma, the company will turn in line during Q1 a smaller number of wells than the quarterly average during 2013. As a result, it is difficult to expect a strong production growth quarter in the Mississippian. While a more accurate assessment will not be possible for another few weeks, I am currently estimating a flattish quarter in terms of oil production volumes in the Midcontinent.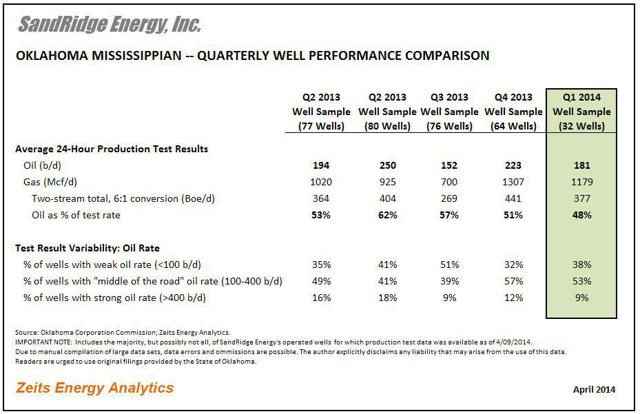 (Source: Zeits Energy Analytics)
It is important to note here that the 24-hour production test rate, which is the primary focus in this analysis, represents a very different metric than the 30-day IP rates reported by the company in its quarterly press releases or the first-month rate used as a parameter in the company's type curve. Moreover, in select cases, the test rate may be an inaccurate predictor of the well's peak 24-hour rate or peak 30-day rate. However, the analysis of the 2013 data shows a distinct correlation between the average test rates for the Oklahoma well samples and the actual average 30-day production rates disclosed by SandRidge.
Disclaimer: Opinions expressed herein by the author are not an investment recommendation and are not meant to be relied upon in investment decisions. The author is not acting in an investment advisor capacity. This is not an investment research report. The author's opinions expressed herein address only select aspects of potential investment in securities of the companies mentioned and cannot be a substitute for comprehensive investment analysis. Any analysis presented herein is illustrative in nature, limited in scope, based on an incomplete set of information, and has limitations to its accuracy. The author recommends that potential and existing investors conduct thorough investment research of their own, including detailed review of the companies' SEC filings, and consult a qualified investment advisor. The information upon which this material is based was obtained from sources believed to be reliable, but has not been independently verified. Therefore, the author cannot guarantee its accuracy. Any opinions or estimates constitute the author's best judgment as of the date of publication, and are subject to change without notice.
Disclosure: I have no positions in any stocks mentioned, and no plans to initiate any positions within the next 72 hours. I wrote this article myself, and it expresses my own opinions. I am not receiving compensation for it (other than from Seeking Alpha). I have no business relationship with any company whose stock is mentioned in this article.