Gold & Silver miners had a very hot start in 2014 after a dismal 2013, but have pulled back a bit recently. This might present some buying opportunities. This is especially true if the situation in Ukraine escalates potential boosting silver & gold prices.
Hecla Mining (NYSE:HL) reported impressive production growth and guidance this morning. It is a good opportunity for speculative investors looking for a play in the sector in the mid-cap space.
Company Overview:
Hecla Mining develops and produces unrefined gold and silver bullion bars to precious metals traders. Its primary productive assets are in Alaska and Idaho. The company has been in existence for over a hundred years.
Production Guidance:
In updated guidance today, Hecla's management stated it expects to produce 2.5M silver oz. in Q1. This is up 32% Y/Y.
Hecla also says it will produce 46,269 oz. of gold. This is more than triple the output Y/Y.
Production at Green's Creek is level with 1.8mm ounces produced last year. However, silver coming from its Lucky Friday mine has quadrupled to ~700,000 ounces Y/Y.
The turnaround story recently outlined by 24/7 seems to be intact. Their thesis is the stock could double if the chips fall right. The stock traded at this level ~18 months ago. Three years ago, the shares were over 300% higher.
Valuation:
The stock sells for 80% of book value. Hecla should do a little better than breakeven in 2014 but post a dime a share in profit in FY2015 according to the consensus. These estimates could easily be revised up given latest production figures.
Insiders:
Although the stock and company have been troubled over the past year, insiders continued to voice optimism through frequent insider buys over the past year. This were no sales and this is encouraging.
Technicals:
Finally, the stock is right over short term technical support level. Reassuring from a different perspective (See Chart). SPECULATIVE BUY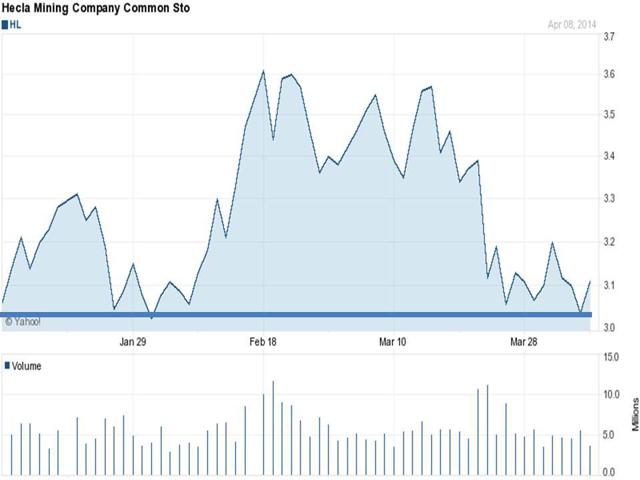 Note: I have the long dated bull call spreads on Hecla. I find this strategy works well with cyclical stocks whose underlying value is determined in a large part to underlying commodity prices. It provides me with my desired risk/reward profile on these speculative plays.
Disclosure: I am long HL. I wrote this article myself, and it expresses my own opinions. I am not receiving compensation for it (other than from Seeking Alpha). I have no business relationship with any company whose stock is mentioned in this article.