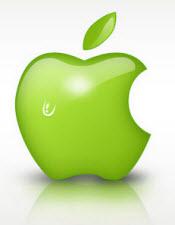 I seldom write about Apple (NASDAQ:AAPL). The coverage of the stock and company's every move is assiduous. I tend to only speak up when I perceive the company is on the brink of a major paradigm shift. I posit Apple is at a major inflection point as we speak. Rumors are swirling that Apple plans to launch the long awaited iWatch. I posit the company may have played it right by making a fashionably late entrance to the wearable tech category. When Apple does release the long awaited iWatch, you can be sure all eyes will be transfixed upon it.
Furthermore, Apple is said to be planning a multitude of new product launches and upgrades as well in 2014. In the following sections I will distinguish what is real from repartee regarding Apple's supposed product launches. I will then do my best to distill a judicious buy or sell recommendation on stock.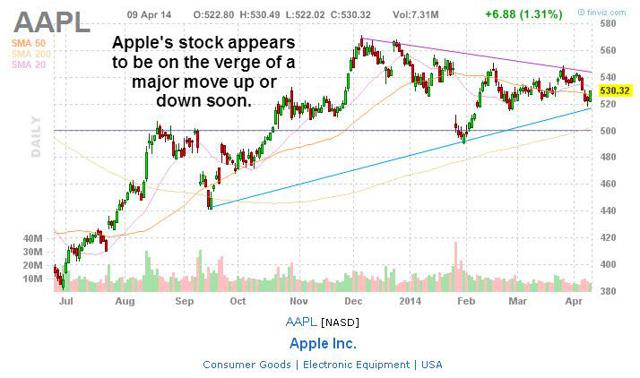 Click to enlarge
(Chart provided by Finviz.com)
The launch of the long awaited iWatch and other new products
Apple may be gearing up to release a slew of new products in the second and third quarters of 2014.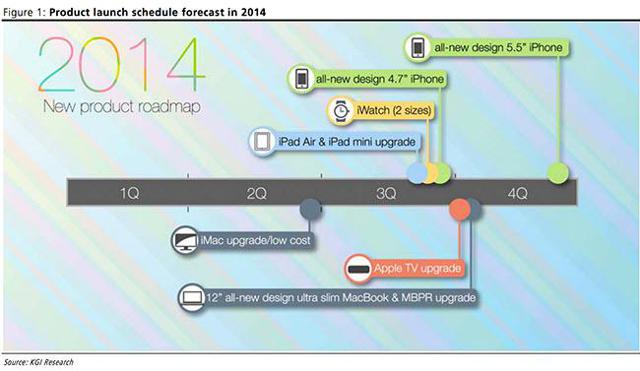 Click to enlarge
The new products include; new iPad Airs, iPad minis, two different sizes of a new product category for Apple the iWatch, a new 4.7-inch iPhone, a much needed Apple TV upgrade, a new 12-inch MacBook and an update to the MacBook Pro lineup.
In a recent report by Appleinsider, KGI analyst Ming-Chi Kuo stated,
"We believe the rumored iWatch will be Apple's most important product this year, carrying much more weight than iPhone 6," Kuo added, "as market feedback for the product should reveal whether Apple still has the ability to continue making game-changing products with Tim Cook at the helm."
I believe the third quarter of 2014 will be a make or break quarter for Tim Cook and Apple. The company has been incessantly raked over the coals for losing its mojo since Tim Cook took the helm from Steve Jobs. Apple has been blasted for merely being evolutionary rather than revolutionary in regards to product innovation. I posit this upcoming product release cycle will be the jaw dropper we have all been waiting for -- in one way or another. It is go big or go home time for Apple in my book. And based on the recent chatter I've heard, I say Apple's going big.
Rumors suggest the iWatch will have some never before seen functionalities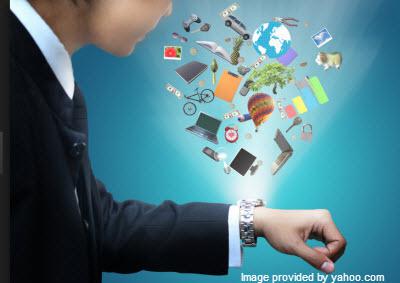 According to the rumor mill, Apple's entry into the new wearable product category may have been worth the wait. The iWatch will allegedly have sensors able to measure numerous health-related parameters. The smartwatch supposedly can track heart rate, pulse, blood oximetry and can provide proximity/gesture control for smartphone and wearable computing products within range.
According to Barclays's chip analyst Blayne Curtis the iWatch may also have an ultraviolet light sensor supplied by Silicon Labs. Curtis states,
"Silicon Labs recently announced a family of products featuring the industry's first digital ultraviolet index sensors. These chips measure UV exposure to aid those with elevated risk of sunburn or just a general concern about excessive sun exposure, and we believe they may be of appealing to OEMs looking to differentiate in a crowded market."
The device may also feature functionality which helps wearers ensure that they get enough exposure to bright sunlight each day as well. A recent report from Digitimes publicized Apple ordered as many as 65 million units of the iWatch for 2014 from suppliers. If all these reports are true, I believe Apple will recoup much of the cachet the company has lost over the past few years.
Apple's iWatch is the single most important product launch for Apple this year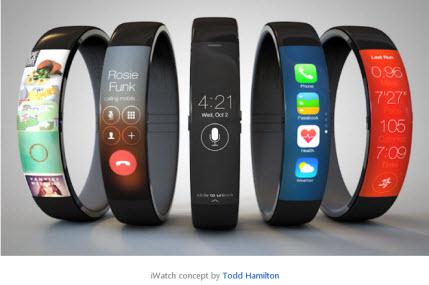 I posit the launch of the iWatch will be the single most important product launch for Apple this year. Now, mind you, I realize the sheer size of Apple makes it hard for any new product to significantly move the needle vis-à-vis the company's financials. What I'm talking about is a return to the mythical ability of the Jobs era Apple to invent products no one ever even imagined they needed much less wanted. I believe Apple will succeed and shareholders stand to benefit greatly.
Downside Risks
Apple's downside risks are many. First, the competitive environment for Apple is vicious. A relentless onslaught of new products and competitors attempt to disrupt the status quo on a daily basis. Furthermore, macroeconomic and geopolitical risks which are out of the company's control could take a turn for the worse at any time.
Conclusion
Apple is currently trading for a dirt cheap valuation due to the fact many growth investors have given up on the stock. Unwittingly or not, this has made Apple one of the most undervalued tech stocks on the market.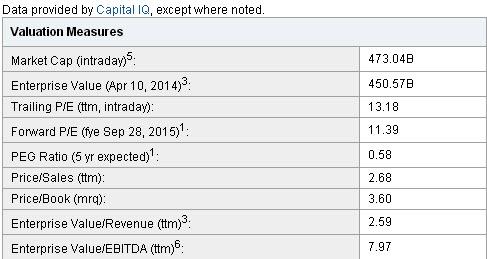 (Table provided by Yahoo.com)
I posit Apple has reached a major inflection point. It is time to put up or shut up. Ultimately Apple's future depends on the replacement demand for its established products and the success of the company's new products such as the iWatch. If Apple is able to execute flawlessly over the next couple of quarters and the new products are received well, I see the stock revisiting old highs. Hopefully, Apple has saved the best for last.
Disclosure: I have no positions in any stocks mentioned, but may initiate a long position in AAPL over the next 72 hours. I wrote this article myself, and it expresses my own opinions. I am not receiving compensation for it (other than from Seeking Alpha). I have no business relationship with any company whose stock is mentioned in this article.