It's that time of the month again. We've gotten the latest round of short interest data from NASDAQ. One name that really stands out this time around is Tesla Motors (NASDAQ:TSLA). The electric vehicle maker saw a large drop in short interest in the second half of March. Today, I'll break down the latest short interest and analyst news, and discuss where Tesla stands today.
The latest short interest update:
A couple of weeks ago, Tesla made my notable moves list for the middle of March short interest update. During the first half of March, short interest in Tesla came down by more than 2.6 million shares. That was the largest single update short interest drop since the end of May 2013 update. Well, the second half of March showed an even greater drop, as you can see in the chart below.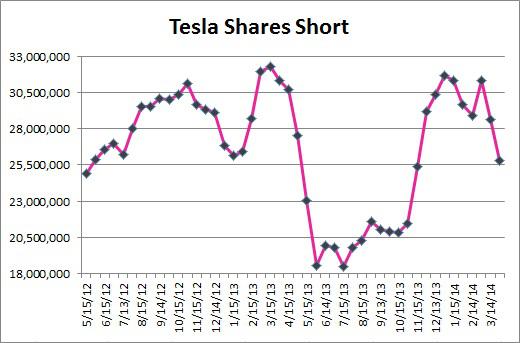 In the second half of the month, short interest declined by nearly 2.9 million shares, a drop even larger than the first half of the month. For the month, short interest dropped by more than 5.5 million shares, the largest monthly drop since May 2013 which saw a drop of roughly 8.9 million shares. Short interest in Tesla is at its lowest point since the middle of November 2013, and is down by 18.56% so far in 2014. The most recent high was set with the end of December update, at roughly 31.65 million shares. The current number is just over 25.77 million.
Even with all of this short covering in March, Tesla remains a highly shorted stock. Based on share data from Yahoo! Finance, nearly 21% of Tesla's outstanding share count is short. With Tesla's float being a lot lower than the outstanding share count, nearly 29% of the float is short. While those numbers are a bit off their recent highs, it still means that Tesla has short squeeze potential.
What are the analysts saying?
I mentioned in my most recent Tesla article that the stock was shaking off some worries about Q1. Initial thoughts were that vehicle deliveries were struggling, but a report out of Norway changed that prevailing notion. However, I did note that analysts were starting to take down their earnings per share numbers. Take a look at the table below, and pay careful attention to what's happened in the last 30 days. You can see all estimates here.

The 2014 EPS average has dropped by 13 cents in the past month, and the 2015 average is down by nearly 20 cents. Revenue estimates have mostly stayed the same, and in fact for 2015 they are on the rise. My guess is that analysts are increasing their cost estimates a little, plus increasing their share count numbers. Remember, Tesla has a lot of convertible debt, and if converted the share count would rise a bit. A majority of Tesla's 2014 profits are expected to come in the second half of this year, with around 60% of the year's revenues expected in the second half as well.
Recently, Baird has been the only firm really talking about Tesla. Strangely enough, the research firm noted that Q1 could be lackluster, but argued that shares should be bought ahead of other upcoming catalysts. Just a day later, the analyst at Baird reiterated a $275 price target and Outperform rating, on the news of Tesla's leasing program for small and mid-sized business.
Overall, analysts are mostly positive on Tesla. The average rating for shares is a 2.4, implying a slight to moderate buy. 3 analysts have Strong Buy ratings, 3 have Buys, with 6 Holds, and 1 Underperform. The average price target is $227.42, with the median price target a dollar or so below that. The price target range is $75 to $325.
Where Tesla stands now:
Tesla closed Wednesday just under $217. As you'll see in the chart below, the stock is just a little bit under its 50 day moving average. Additionally, it's in the middle of its bollinger band range.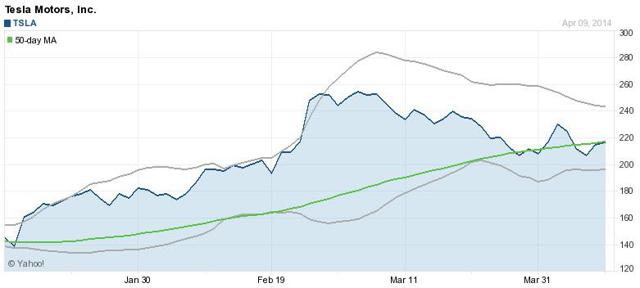 The next major catalyst for this stock will be the Q1 earnings report. However, it is possible that the company could pre-announce some Q1 numbers, like it did with Q4 deliveries. Should that occur, obviously that would be a major catalyst. At this point, I still like Tesla as a long term investment. However, I probably would advise investors to be careful with the current uneasiness in the market. Some of the momentum names have fallen out of favor, and with another leg down, Tesla would probably fall towards $200. If Tesla could get close to its lower bollinger band, I think it would be a better buy then. Buy on the pullbacks, like the one we just saw that sent shares close to $200.
Final thoughts:
The end of March short interest data showed another large drop in the number of shares short, coinciding with the recent fall in shares. Tesla short interest is down almost 20% so far this year. However, the stock remains highly shorted, meaning further squeezes are possible. Analyst estimates have come down recently, which will make it easier for the company to beat. I still like Tesla going forward, but I would suggest waiting for the next pullback to buy.
Disclosure: I have no positions in any stocks mentioned, and no plans to initiate any positions within the next 72 hours. I wrote this article myself, and it expresses my own opinions. I am not receiving compensation for it (other than from Seeking Alpha). I have no business relationship with any company whose stock is mentioned in this article.
Additional disclosure: Investors are always reminded that before making any investment, you should do your own proper due diligence on any name directly or indirectly mentioned in this article. Investors should also consider seeking advice from a broker or financial adviser before making any investment decisions. Any material in this article should be considered general information, and not relied on as a formal investment recommendation.