On Friday, April 4, the Huffington Post ran an article which discussed how U.S. Congressional Representative from California and former Speaker of the House Nancy Pelosi stated that "America has finally replaced all the jobs that were lost under the Bush economic policies." Mrs. Pelosi is obviously playing politics here by attempting to appeal to her own voter base. Intelligent people can debate for hours, if not longer, as to what the true causes of the recession and resulted job losses were as well as how much the policies of each party contributed to the recession or to the so-called "recovery" from it. For my part, I have no interest in such a debate. However, I do wish to examine the facts behind Mrs. Pelosi's statement and the facts indicate that she is very, very wrong.
The Huffington Post article suggests that Mrs. Pelosi was referring to the fact that private sector payrolls reached 116 million in March, a number that slightly beats the pre-recession peak of 115.9 million which was hit in December 2007. However, Mrs. Pelosi fails to consider that the U.S. population has grown since 2007 and this has resulted in there being many more people of working age than there were back then. Therefore, a much greater proportion of the population is without a job than prior to the recession. Evidence of this can be found by looking at the Civilian Employment-to-Population ratio.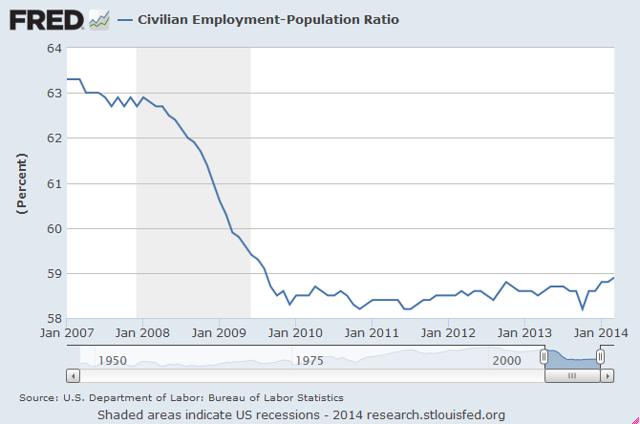 Source: St. Louis Fed
This chart, which comes from the Federal Reserve Bank of St. Louis, shows the percentage of the U.S. working age population that is employed in civilian employment. As the chart shows, the percentage of the working age population that is employed fell dramatically during the recession, falling from just over 63% in January 2007 to just under 59%, and has not recovered since. Thus, all of these "positive" job gains that are being reported every month by the Bureau of Labor Statistics are just barely enough to keep up with the growth in the working age population.
Another figure that we can look at to determine the strength of the employment recovery is the labor force participation rate. The labor force participation rate is the percentage of the working age population that is either employed or unemployed but looking for a job. In a strong economy, this figure is usually 67-68%. The reason why it is not 100% is because people that are not looking for work such as homemakers, students, and early retirees make up the remaining 32-33%. However, this figure also shows us those unemployed people that are considered "discouraged" and are not included in the official unemployment rate. Here is the chart showing this figure on a monthly basis from January 2007 until now: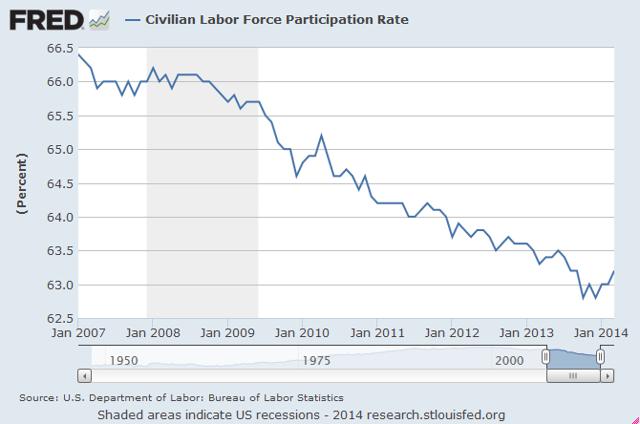 Source: St. Louis Fed
As this chart shows, the labor force participation rate has been steadily declining since January 2007 and shows no signs of recovering. The only explanation for this is that there are a growing number of people who do not want to work for whatever reason. The decline in the labor force participation rate cannot be explained by the aging of the population because it only considers citizens that are of working age. Thus, the only real explanation for this is that the employment situation in the United States has not improved and the average person can see this and so is doing something other than looking for work.
One thing that is frequently lost among the news headlines is that not all jobs are created equal. What I mean by this is that not all jobs offer similar wages and benefits. There is evidence that these new jobs that have been created as a part of this "recovery" pay wages that are substantially less than the jobs that were lost during the Great Recession. As can be expected, this forces those individuals and families into a lower standard of living than they had prior to the start of the Great Recession. This is thus a move backward economically for even many of those people that have managed to find jobs, which is also far from the story being told by the mainstream media and politicians.
The remainder of this article will focus on this evidence.
On March 7, 2014, Zerohedge published an article detailing the various industry sectors that added jobs in February. Their conclusion, which was derived by analyzing the jobs report from the Bureau of Labor Statistics, was that the majority of the jobs created have been in relatively low paying sectors: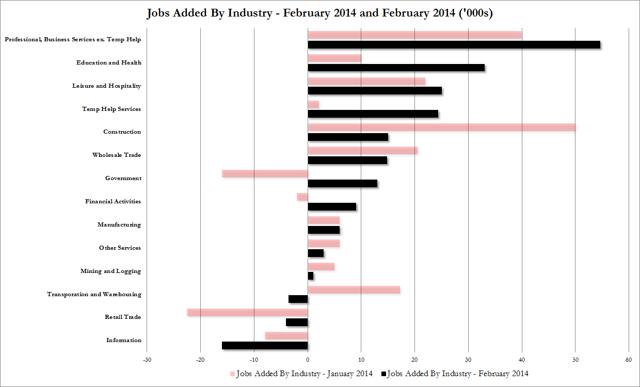 Source: Zero Hedge
As the chart shows, with the exceptions of construction, professional services, and possibly healthcare (depending on what jobs those are), virtually all job creation has been in low-paying sectors such as temporary help and hospitality in both January and February. In addition, one of those sectors that added a significant amount of jobs in January, construction, rapidly decreased hiring in February. Meanwhile, high paying sectors such as information technology actively slashed positions in January and increased the pace of job reductions in February. All in all, over half of the job gains from January to February have been in low-paying sectors. Admittedly, these are much better results than what we have been seeing since the end of the recession as I will show in just a few minutes.
The March jobs report got Nick Colas of ConvergEx to dig deeper to verify that most jobs growth has indeed been in low-paying sectors. He put together this chart that shows the average wage in each of the sectors listed in the previous chart: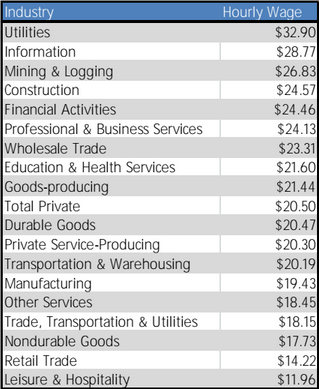 Source: Zero Hedge
This chart further lends support to the thesis that the majority of jobs growth has been in comparatively low-paying sectors. Information Technology, which is the highest paid sector on both charts, has been actively shedding jobs. Another high-paying sector, Mining and Logging, has added virtually no jobs. The relatively high-paying Construction and Professional Services sectors have been adding jobs lately but that does not change the fact that most of the jobs that have been created since the Great Recession have paid much less than the jobs that were lost.
We see further evidence of this by looking back further than just the last two months. For example, an article published on Thinkprogress.org on June 7, 2013 states that the majority of the jobs created since the recession ended have paid wages of less than $14 per hour. The Washington Post pointed out the same thing last year, stating that midwage occupations paying between $13.83 and $21.13 per hour accounted for 60% of the job losses during the recession. However, 58% of all jobs created from 2010-2013 paid less than $13.83 per hour. Thus, although there may have been some job creation in higher-paying sectors in January and February (although low-paid sectors still dominated job creation), we still have a very long way to go to replace the middle-wage jobs that were lost in the recession.
According to the Bureau of Labor Statistics, this situation in which the majority of job creation is in low wage occupations is likely to persist for quite some time. Lauren Eyster of the Urban Institute reflected on this on the organization's blog. According to the BLS, only three of the top twenty fastest growing occupations from 2012 to 2022 have a median salary over $40,000 per year. Only one of these, registered nurse, is in the top five growing occupations over the same time period.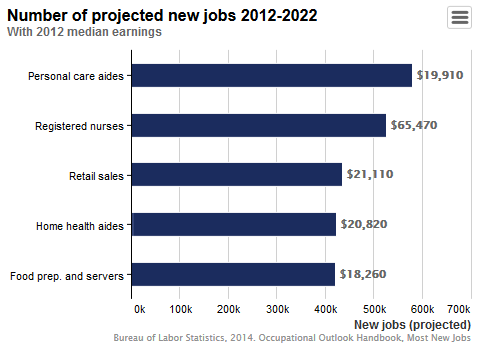 Thus, it appears as though the oft-promoted "jobs recovery" may still force Americans to settle into a lower standard of living than what we have grown accustomed to.
Disclosure: I have no positions in any stocks mentioned, and no plans to initiate any positions within the next 72 hours. I wrote this article myself, and it expresses my own opinions. I am not receiving compensation for it (other than from Seeking Alpha). I have no business relationship with any company whose stock is mentioned in this article.