Chinese regulatory officials already approved the sale of D&S to Microsoft (NASDAQ:MSFT). This development is very important since China's anti-trust body gave its permission without hindering Nokia's existing licensing program for its 30,000 patents. Nokia (NYSE:NOK) did a nice +3.03% movement yesterday because of this news.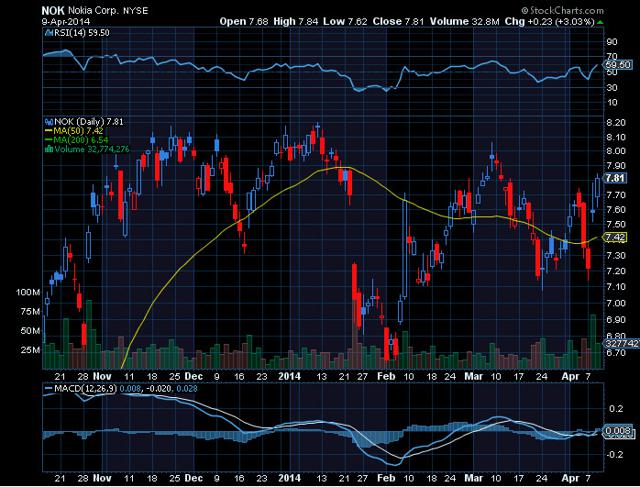 The Moving Average(50) for NOK is 7.42. The MA(200) is 6.54. Elementary statistics compels me to believe that 8.50 for NOK this April is not farfetched. Investors are sitting on the fence, salivating like vultures waiting for that $7.2 billion meat to drop in Nokia's lap.
Twenty days is a long time. I'm therefore raising cash at the moment so I can increase my NOK position. Alpha Omega Mathematica (NYSEARCA:AOM) rates Nokia a Hold. However, I'm a poker grinder so my mathematics is more risk-friendly than Shiv Kapoor's. I realize that the Momentum indicator from Alpha Omega Mathematica is a decent reason to gamble that NOK is a BUY. I'm an event-driven investor, the Chinese approval is a momentum event that compels me to believe NOK will hit $8.50 soon. Nokia's 52-week high is $8.20 so it is close to my near term PT of $8.50.
Analyze these charts from getaom.com. If you are as adventurous as me, you will agree that NOK is a good BUY at current price levels. Those who disagree can just HOLD on to NOK while the D&S deal is not yet completed.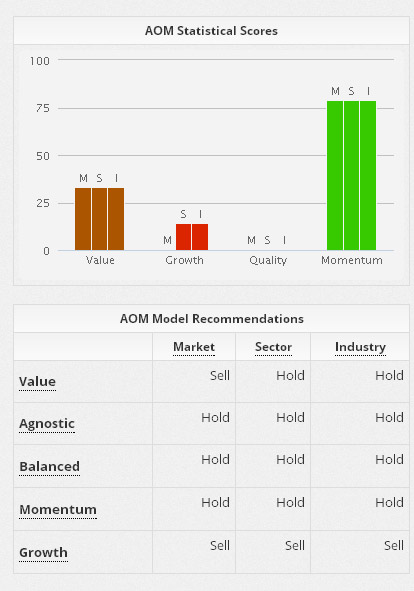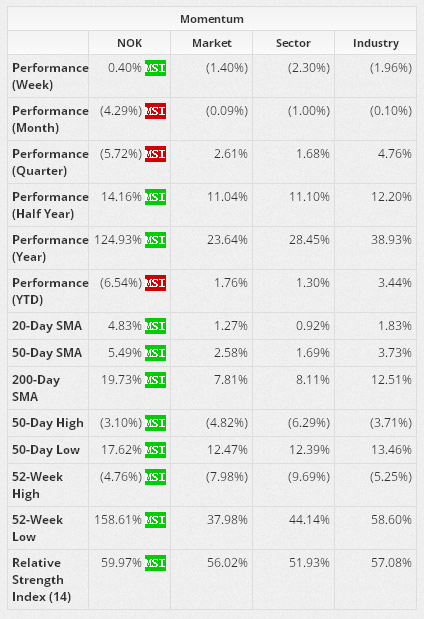 Betting on Momentum Events Is Better Than Relying on Fundamentals
The Momentum Strategy model from AOM favors tickers that have high momentum indicators. All those green highlights and bars indicate that NOK has a high overall momentum indicator - a strong tell that it is worth betting more money on.
The stock market doesn't rely on fundamentals or mathematics. It is driven by propaganda and events. Here's the fundamentals chart for NOK for you to evaluate. We all have different metrics in evaluating a company. I understand that NOK has an atrocious P/FCF ratio but I like its P/S ratio.

Source:Finviz
Nokia is far from being a dangerous bubble stock-level ticker like TSLA and DDD are now. Judging by the low Short Float %, the shorts are also afraid of the $7.2 Billion hammer from Microsoft.
If I follow what Graham/Buffett books taught me, NOK won't be in my portfolio at all. However, I know that fund managers don't rely solely on fundamentals. They are gamblers with billion-dollar bankrolls. They rely on market tells or events to make big bets. The best retail investors and day traders are also event-driven gamblers.
Indian Tax Issue
The Indian Tax issue is annoying but I believe Microsoft and Nokia can close the deal this month with or without the Chennai factory. If not, I'll have to wait until next month for my Price target of $8.50. This tax issue is a negative event that is holding down NOK. Resolving this Indian tax problem is top priority for Nokia and Microsoft.
I wish Rajeev Suri and Nadella could talk to the right politicians so this problem goes away. I believe that reasonable Indian leaders will compromise on the tax issue if Suri eats humble pie and flatter the necessary people. India is also holding its nationwide elections from April 7 to May 14, 2014. Shutting down the Chennai plant will be bad publicity for political leaders.
I am a newbie to politics but I understand that elections cost a lot of money. A healthy campaign contribution to the right political candidates can help Nokia improve its relationship with the Indian government.
It is very important that Nokia and Microsoft retain the goodwill of the Indian market. Next to China, India is the biggest market for smartphones and tablets. Going thermonuclear against the Indian leaders will only cause Microsoft and Nokia more grief.
The $7.2 billion Can Buy Control Of BlackBerry
Comments on my previous Nokia articles said a NOK+ALU or NOK+JNPR merger is never going to happen anytime soon. I therefore would like to entertain the idea that Nokia might be interested in merging or buying BlackBerry (NASDAQ:BBRY). The two former leaders of the phone industry are the biggest casualties of the iPhone and Android phones. NSN plus BlackBerry Enterprise Services and QNX, makes for a formidable tandem.

Source: Google Finance
Microsoft probably won't mind a union between NOK and BBRY. The three companies all have a common enemy in Google (NASDAQ:GOOG). The $7.2 billion cash can go a long way in convincing John Chen and Prem Watsa that a merger with Nokia is better for the two companies.
The enterprise services division of BlackBerry is a money making unit that can add to Nokia's NSN revenue stream. The BlackBerry QNX asset is a great complement to Nokia's HERE maps. Microsoft can use both QNX and HERE maps for its Windows for Automobile. QNX OS is also great for the coming Internet of Things Revolution. BlackBerry Messaging is another attractive asset that Nokia can profitably use with targeted ads.
The 44,000 patents of BlackBerry can be monetized more effectively. Nokia's 30,000 patents are worth 3 to 9 billion euros. BlackBerry's patents may also be worth as much. Together, the patents licensing income can easily exceed a billion dollars each year. BlackBerry won't even need to sell phones anymore and just rely on licensing income to add to its MDM business.
However, if Microsoft allows it, Nokia's existing global distribution network can help sell lots of BlackBerry Z3 entry-level phones. I might be wrong but technically speaking, Nokia won't be violating the D&S sale terms if they help BlackBerry sell its new phones. If it is not allowed, 2016 is just around the corner. Nokia can make Android and BB OS phones without any legal impediment within two years.
Conclusion
The $8.50 price target is a momentum event-driven, speculative bet on my part. I'm not encouraging you to follow my lead. It is a simple alternative to Alpha Omega Mathematica's Hold rating for Nokia. Do your own due diligence and risk calculations.
Seppo and other NOK fans here at Seeking Alpha, prefer that Nokia uses the $7.2 billion to improve its NSN business. However, I reiterate that a Nokia and BlackBerry merger in the future will be good for the two companies. Considering the vast patent portfolio of BlackBerry, it will be great to have Nokia controlling them.
BBRY is relatively cheap to buy now but persuading Prem Watsa and John Chen won't be easy.
Disclosure: I am long NOK, BBRY. I wrote this article myself, and it expresses my own opinions. I am not receiving compensation for it (other than from Seeking Alpha). I have no business relationship with any company whose stock is mentioned in this article.