Since the start of this year, automakers were reporting lackluster performances that had made analysts confused and wondering whether it was the harsh winter or some other unexpected downward trend in the industry that was crippling the auto sales. But now as the new auto sales data for March 2014 makes its appearance, it can be said that the lackluster performance pertained to the critical snowy weather during January and February. Since winter is over automakers have experienced a boost in sales making March the best seasonally adjusted sales month since February 2007. US March Auto sales have surpassed analysts' expectations since 16.4 million vehicles were sold during the month while analysts had anticipated sales of 15.8 million vehicles on an annualized basis. This has diminished the concern of any unexpected slowdown in the market for now.
What Ford Achieved during March
Ford Motors (NYSE:F) reported much better sales for the month of March after its negative sales growth reported in both January and February. Ford sales experienced an increase of 3.4% y-o-y and the company sold 244,167 vehicles during March 2014. Ford claimed that in the latter half of the month auto sales were boosted and that was the reason behind the enhanced performance. Ford's transaction price per vehicle sold increased 1.7% to $34,372 while its incentive spending is the highest among other auto giants as it stands at 10.7% or $3260 per vehicle sold. Some of the company's other achievements during the month were as follows:
Last month was marked as the best March in terms of retail results in almost eight years with retail sales up 3% year over year.
The Ford Fusion sedan experienced its record high deliveries since its introduction back in 2005 as sales were up 9% y/y.
Ford F-Series and Lincoln brand continued showing their tremendous performance in terms of sales.
The Ford F-series achieved the 70,000 vehicle sales target with 70,940 trucks sold. In the past seven years the Ford F-Series has achieved the monthly 70,000 milestone four times. Since 2008, Ford has not sold such massive volume of F-Series as it sold during March 2014. The Lincoln brand also had a very strong month as total sales were up 31%. Lincoln sales were driven higher by a 72% rise in Lincoln MKZ sales due to its radical redesign setting an all-time high monthly sales record. March was characterized as the sixth straight month of sales gain for the Lincoln brand with an aggregate 27% increase in sales volume over the period. Note that the F-Series and Lincoln brands have been best sellers and showed growth momentums even during the frigid cold and snowy season experienced at the start of this year, as reported in my last article. Due to the improved performance of the company during March the stock rallied almost 5% to $16.32 after the data release.
Ford In Comparison To GM and Toyota
In terms of y/y sales increase Ford is way below other players in the industry as automakers like General Motors (NYSE:GM), Chrysler, Nissan, Toyota (NYSE:TM) and Hyundai have secured more y/y sales increases than Ford. Eyeing the sales volume achieved by Ford during the month, one can see it stands second after General Motors. Ford sold 244,167 vehicles last month compared to General Motors sales volume of 256,047 vehicles. Toyota is third with sales volume of 215,348 vehicles. These three players have successfully crossed the 200,000 vehicles mark unlike the remaining players in the industry as illustrated in the graph below.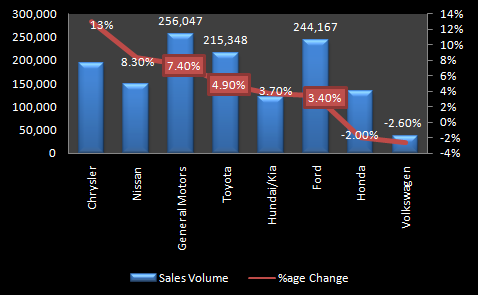 Source: IB Times
If we compare the performance of General Motors, Ford and Toyota during the last three months the results would be as reflected in the graph below. During all three months General Motors and Toyota were ahead of Ford with better sales performance year over year. During March 2014, Ford could only secure a 3.40% increase while General Motors and Toyota experienced increases in sales by 7.4% and 4.90% respectively.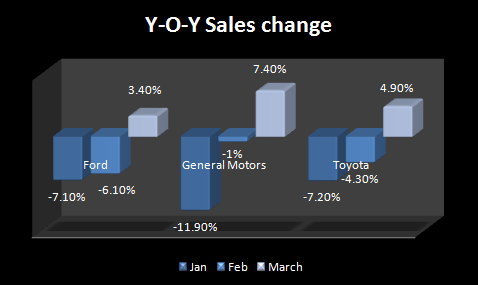 Source: IB times
On the one hand Ford is lacking behind in terms of its sales performance but on the other hand it has not earned the notoriety its rivals have earned due to massive recalls in recent years because of faulty car parts leading to fatalities and investigations by concerned authorities. It is hard to claim that Ford has never been caught in such circumstances nor will it face one in the future but the main thing is that currently there its rivals are facing controversies. It is sad but the true that any bad news for Ford's competitors is good news for Ford and elevates its stock price. Ford's positive movement in Europe, playing on the building consumer confidence in the region and its pace of growth in China, is also a catalyst for the company's future sales. This situation makes us believe that sooner or later Ford will be able to surpass General Motors in terms of sales volume.
The following graph compares the transaction price per vehicle for GM, Toyota, and Ford. Interestingly GM increased its transaction price more than its peers but its incentive spent also increased to accelerate its sales.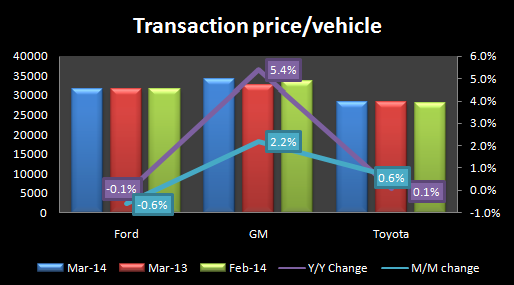 Source: Reuters
According to analysts at cars.com automaker inventories have risen during this year's harsh winter so they had to increase incentive spending y/y in order to boost sales. General Motors increased its incentive spend by 9.8% since February 2014 and this is due to the lack of demand in terms of its sales despite its newly launched line up of Chevrolet Silverado and GMC Sierra Pickup trucks. On a y-o-y basis Toyota increased its incentive spending the most. The increase in incentive spend is in line with the assumption made in my last article that due to piled up inventory March will see huge discounts being offered by automakers in order to reduce their inventories and enhance sales.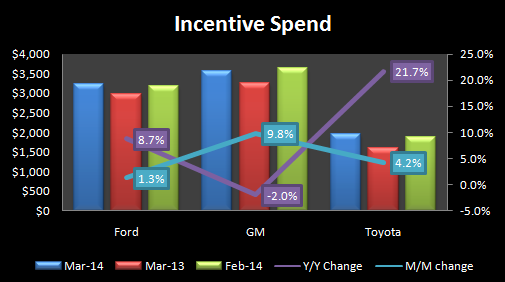 Source: Reuters
Whatever the level of transaction price and incentive spending offered by General Motors Ford earns greater margins than GM as illustrated in the table below. This means that Ford is more internally efficient than General Motors and thus manages to earn higher margins despite its high incentive spending. However both companies lag behind the industry level of margins as well as those of Japan-based Toyota.

Source: Reuters
Ford in India - Another Bright Spot
I have already discussed Europe and China as the bright spots for Ford therefore in this article I will be focusing on India as a potentially lucrative market for the automaker. Ford's sales in India increased by an impressive 57% up from 7,499 vehicles in March 2013 to 11,805 vehicles in March of this year. Ford's domestic sales were up by 21% y/y while Ford India's exports experienced a massive increase of 144% from 2,228 units last year to 5,449 vehicles this year. In the Indian Automotive segment the Ford EcoSport has gained the position of the most popular vehicle ever after securing more than 30 coveted industry awards since its launch in less than a year. This is because the model offers a combination of stylish design, versatile capability, and fantastic value. In essence, Ford's efforts have made India well positioned as a center for manufacturing excellent cars. Moreover Ford expects that the upcoming elections and a newly formed government will make initiatives favorable for the Indian auto industry and that this will also help the company to bolster its operations in the region.
Demand for Pickup Trucks and SUVs is on the Rise
During March 2014 another trend was confirmed regarding the growing demand for trucks (pickups and sport utility vehicles of all sizes). Demand for trucks has been bolstered and according to the International Business Times March 2014 was the seventh consecutive month trucks and SUVs outsold normal passenger cars. This is also reflective of the fact that US consumers have enough confidence in the economy that despite the high cost of acquiring and running bigger vehicles, shoppers are comfortable buying them. In this scenario auto makers like Ford and General Motors will surely benefit from the rising trend because of their truck-heavy brands. General Motors saw a 6.8% increase in sales of Chevrolet Silverado and a 22% increase in GMC Sierra sales despite its struggle to sell its new models. The Ford F-Series' record sales last month (as discussed above) are indicative of the tremendous demand for its pickup trucks.
Considering the boost in demand for Ford F-Series super duty trucks, the automaker aims to enhance production levels at its Louisville truck plant. To increase production by 15% the company has plans to invest around $80 million in its truck plant. Also, Ford is expected to launch a redesigned F-150 this summer. The F-Series super duty trucks carry a more powerful 6.7 liter V8 turbo-diesel engine with a new larger turbo charger that results in a greater towing capacity. The F-Series super duty truck is in competition with the 2014 Chevrolet Silverado HD and GMC Sierra HD from General Motors. Ford's commitment towards its upgraded Ford F-Series super duty trucks production makes it the number one choice for users in USA. However the rising demand will also intimate many players to strengthen their sales in this stream and thus calls for even tougher competition between automakers in terms of deep discounts that may put their pricing power and margins under pressure.
Final Word
The spring thaw has allowed automakers to see their growth momentum once again this year after it had been blocked for almost two months at the beginning of the year. I will reiterate my opinion regarding Ford as I had set in my previous article that this stock has upward potential as it unlocks the growth potential in Europe and China as well as benefits from the rising truck demand in the USA.
Disclosure: I have no positions in any stocks mentioned, and no plans to initiate any positions within the next 72 hours.
Business relationship disclosure: The article has been written by a Gemstone Equity Research research analyst. Gemstone Equity Research is not receiving compensation for it (other than from Seeking Alpha). Gemstone Equity Research has no business relationship with any company whose stock is mentioned in this article.